It's not exactly breaking news that Riley Nash didn't have a prolific season in 2018-19.
Nash, who came to Columbus via free agency from the Boston Bruins, started his first campaign with the Blue Jackets ice-cold: 0-2-2 through 23 games. He picked it up, relatively speaking, scoring two goals in the final six games of the regular season, and also tallied 1-2-3 in seven playoff games.
But ultimately his final tally – 12 points in 78 regular-season games – could qualify as a disappointment. 
The lowest single (full) season points total of his career, coupled with the fact that the forward turning 30 this May, doesn't inspire confidence going forward. But I'd encourage fans to take a closer look when analyzing Nash, who is under contract for two more years at $2.75M per season. 
---
Unlucky Or Bad?
Nash will never be confused for a 50-goal scorer, but he's certainly carved out a reputation as a serviceable forward at the NHL level. His underlying numbers have been solid and suggest he's been the victim of some tough luck, not just this year, but going back a few years. Per NaturalStatTrick, Nash has had a higher scoring chances-for (and high-danger scoring chances for) % than his actual goals for % (all stats 5-on-5) in three of the past four years.
His lone season in Columbus was especially noteworthy, with Nash being on the ice for 52.68% of scoring chances for but only 34.78% (!) of goals scored. His on-ice shooting percentage of 4.17% is only worsened by his personal shooting percentage: 2.6%. Needless to say, his PDO rating of 95.4% is exceedingly low (100 is baseline) given his horrendous shooting percentage. Put another way: when Nash was on the ice, he was responsible for a 55.47% high-danger chances for % but was rewarded with just a 37.93% high-danger goals for %. 
So is Nash just a bad finisher? That's a bit of a stretch as he's had over a 9% shooting percentage (again, 5-on-5) in 5 of his 7 full seasons. The data suggests that Nash was 'expected' to score 6.75 goals last season, which, while still disappointing, would be a nice improvement. 
Let's Talk About Confidence
The one currency coaches have over hockey players is ice time deployment. It's a bit of a chicken-and-egg conundrum, but when you don't play much (and/or with bad teammates), your play suffers. Nash played under 10 minutes average TOI in 35 of 78 regular-season games. In the playoffs, his low was 11:44, and he was unquestionably his most effective during that time. 
Nash scored a huge insurance goal in Game 2 of the first round against Tampa Bay, in which Pierre McGuire compared him to a "50-goal-scorer" and "Mike Bossy" (who, by the way, had nine 50-goal seasons in 10 NHL seasons). 
His play improved later in the year as the stakes were raised and he was given more responsibility. Look no further than the data from Sean Tierney (@ChartingHockey), which shows a drastic uptick in expected goals for in his 'xG rolling avg' chart. (Similarly, you'll note an xG of 8.496 compared to his 3 GF).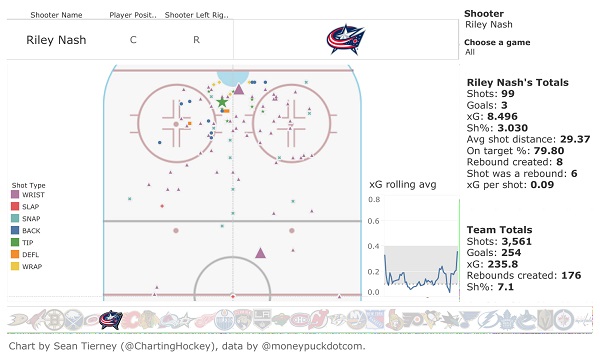 If Nash can simply get off to a better start to the season (spoiler: low bar to clear), he should be able to play with more confidence, which then becomes a self-fulfilling prophecy.
Worst Case Scenario Season
It's no secret that NHL players age about as well as Senator Palpatine, but even so, Riley Nash's game couldn't have just fallen off a cliff in his age-29 season, right?
Thanks to data from Corey Sznajder (@ShutDownLine) and CJ Turtoro (@CJTDevil), we can see that 2018-19 was his worst season (of the past three) by every tracked metric.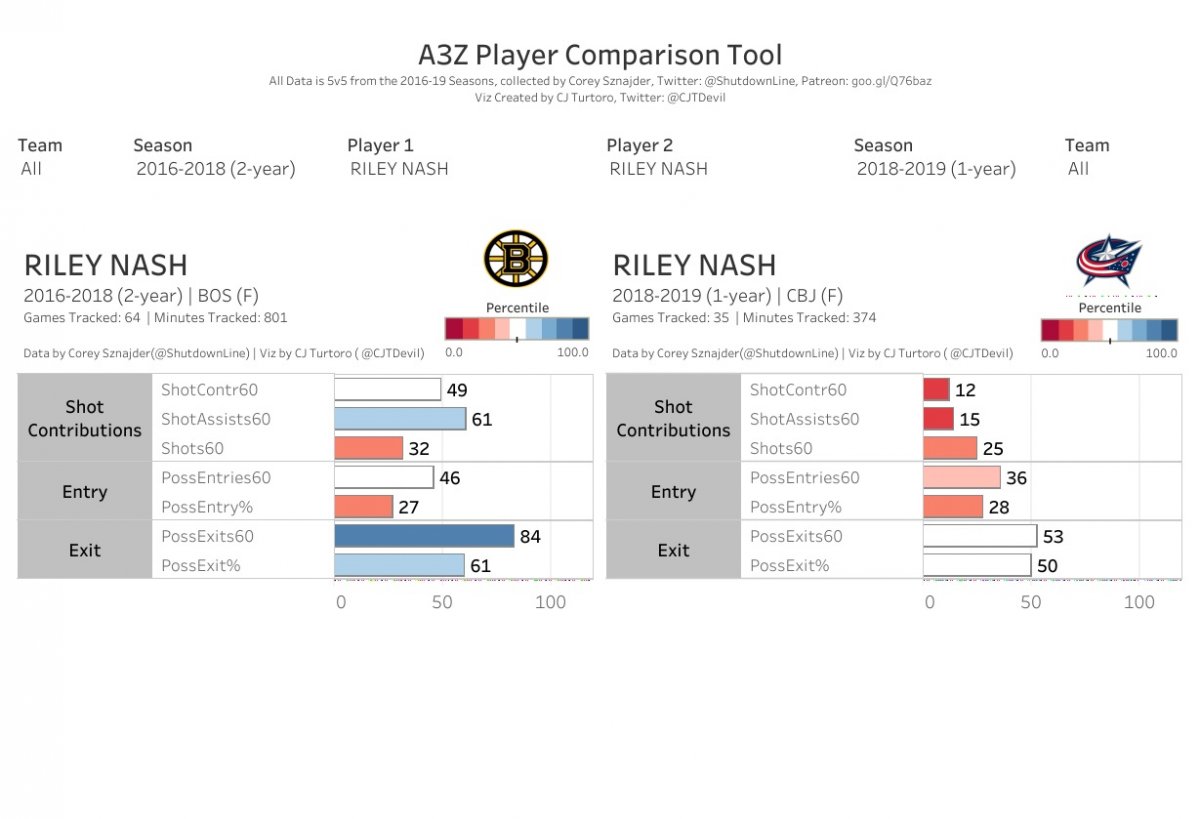 I've already gone into detail about his lack of production compared to prior seasons, but it's worth mentioning his 10:50 average TOI was nearly five minutes less than he had received in Boston in 2017-18, and well below his Carolina Hurricanes/Boston career TOI of 14:04.
Then there's his zone starts deployment. His 29.9% oZS (offensive zone starts %) was by the far the lowest of his career, a far cry from the 45.3% oZS% he averaged in Boston and a light year away from the 54.9% oZS% he averaged in his offensive years with the Hurricanes. Perhaps, then, it shouldn't be such a surprise that his numbers fell off a cliff with the Blue Jackets.
Lastly, let's talk about his linemates. He played much of the season with Brandon Dubinsky and some combination of Markus Hannikainen and Eric Robinson. Not exactly a murderer's row of playmakers. Late in the season and into the playoffs, he played with Boone Jenner, which definitely helped his game. 
Bottom Line
Nash didn't live up to expectations in his first season with his new club. But he also didn't have anything break right. He started nearly 3/4 of his shifts in the defensive zone and yet still managed an impressive scoring chances for %. In return, he was gifted 4th line minutes , a career-low shooting percentage, and the worst goals for % of his career. 
I'm not here to tell you that Nash is going to explode onto the scene in 2019-20. But it wouldn't surprise me one bit if he is a more effective player in the new season simply based on the law of averages.