There's a theme around this year's edition of the Blue Jackets, and I'm not very happy about it.
They are 11-13-4 with a goal differential of -17, already eight points out of a playoff spot in early December. 
Despite this, incredibly, they've outshot their opponents in 21 of their 28 games this year. Most statistical measures peg the Blue Jackets as a good team. 
Team stats heatmap

CBJ is the only team with a plus SV% and a negative goal differential *glares at shooting percentage* pic.twitter.com/kGPf1M5PPo

— Sean Tierney (@ChartingHockey) December 6, 2019
So, what the hell is going on? The Blue Jackets' shooting percentage is a great place to start.
Last night's game against the Rangers is a fantastic microcosm of the Blue Jackets' season so far. 
The Blue Jackets dominated, and I mean absolutely dominated, a pretty good New York Rangers team last night.
Shots on goal were 47-19, Blue Jackets. In the third period, shots on goal were 18-2, Blue Jackets. 
Total shot attempts were 85-39, Blue Jackets. 
High-danger scoring chances were 15-4, Blue Jackets. In the third period, they were 9-1, Blue Jackets.
Now, if you looked at those statistics and didn't know what the final score of the game was, it'd be pretty easy to guess which team won the game, right? Wrong.
Like other Blue Jackets losses this season, they imposed their will for most of the game and fell short. They're doing everything right offensively, except for one crucial detail: putting the puck in the back of the net. 
It's fair to commend the performance of Rangers goalie Alexandar Georgiev last night, who saved 45 of 47 shots, including several highlight-reel stops. However, a goalie can only do so much. 
Per Natural Stat Trick, the Blue Jackets' xGF (expected goals for; a number determined by assigning goal expectancy to shots, taking into account various factors) was 4.88. The Rangers' xGF? 1.39.
Many people will see this and throw out the classic, "Well, there it is. Advanced stats mean nothing. The Rangers won and the Blue Jackets lost."
I'm here to tell you that advanced stats mean everything. The Blue Jackets should have scored 4 or 5 goals last night. The Rangers should only have scored one or two goals.
Two things have been the Blue Jackets' kryptonite this season, more than any other: shooting % and giving up goals in the last minutes of a period. 
When a statistical model expects you to score nearly 5 goals and you score 2, something's clearly wrong. Nearly every Blue Jackets' forward has regressed offensively from last season. The interesting part is that they're clearly creating opportunities, but they just cannot score. Oliver Bjorkstrand had 10 shots on goal last night. Josh Anderson had 7. Pierre-Luc Dubois had 6. That trio had zero goals. But they should be scoring. 
The Blue Jackets dominated the first period last night, barely giving the Rangers time to catch their breath. However, with eight seconds left, the Rangers scored on a broken play and tied it at 1-1. Reddit user u/eatchickendaily compiled a chart of every Blue Jackets' game this season and the goals they have given up in the last 2 minutes of the period. Through 28 games, the Blue Jackets have allowed 11 goals in the final minute of a period, and 15 in the last 2 minutes.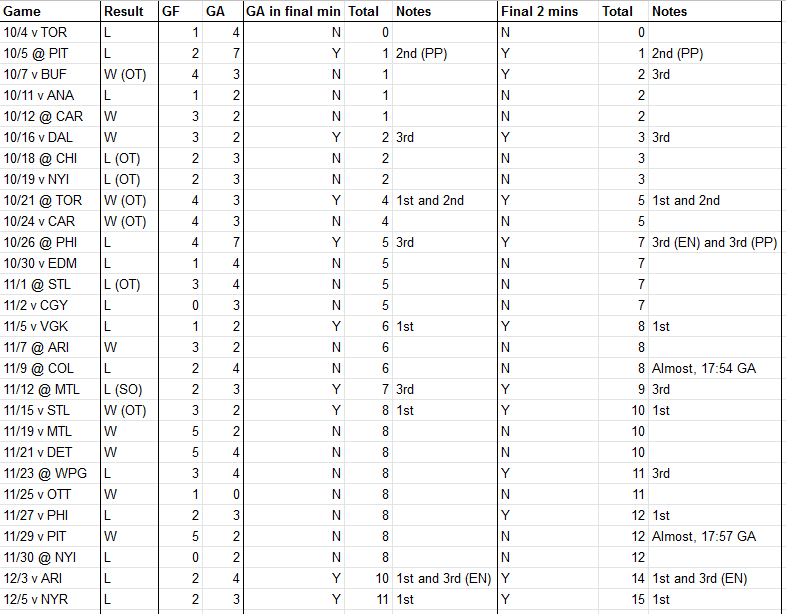 It's not pretty to look at, is it? 
There you have it. Defensive miscues in the final minutes of periods and a shooting percentage of 7.4% (league average is 9.5%) are what have doomed the Blue Jackets to a sputtering start, despite their overall good play. 
The odds are that their shooting percentage will turn around soon if they keep generating as many looks on net as they do. There's no question that this team is missing natural goalscorers, though. That's a different discussion because they have to turn it around with the roster that they have. A roster, if you recall, that was backed by the front office as a playoff team.
Defensively, they can turn it around too. It's just a matter of discipline and knowing the situation. The Blue Jackets have one of the deepest blue lines in the NHL, and it's being tested due to injury right now. They have the talent and the coaching to fix the miscues.
So, are the 2019-20 Blue Jackets a good hockey team?
Signs point to yes, and if they can find ways to improve these two crucial categories, they might have me singing a different tune sooner rather than later.