The words "good power play" and "Columbus Blue Jackets" haven't really mixed lately.
As is per tradition, the Blue Jackets had one of the worst man-advantage units in the league this past regular season (they've been in the bottom-ten in the league the last three campaigns). Entering the "postseason", if we can call it that, though, they will need to change that narrative.
Come playoff time, they certainly changed that narrative last season, and the season prior, at least to start. 
In 2018, the Blue Jackets were 4/8 on the power play in their first two wins against the Washington Capitals. Then, it dropped to 0/17 as they lost four straight games.
In 2019, the Blue Jackets were on 5/10 the power play in their first-round sweep of the Tampa Bay Lightning and 3/11 in their first three games against the Boston Bruins. Then, it dropped to 0/10 as they lost three-straight games.
It clearly wasn't a talent issue, though, especially last year. Having the likes of Zach Werenski, Seth Jones, Artemi Panarin, Cam Atkinson, Matt Duchene all available to be on the same power play unit was a cheat code, and one of the best lineups in the league. So, though the Blue Jackets may not have the talent as they have had in prior years, the hope is that the correct combination can still do the trick.
Now, a great power play doesn't guarantee postseason success, but it definitely doesn't hurt. On one hand, the Washington Capitals had the No. 2 postseason power play percentage in 2018 when they won the Stanley Cup, and the Boston Bruins had the No. 1 this past season when they went to seven games in the Finals. However, the Vegas Golden Knights had the 10th-ranked power play in 2018 when they went to the Finals, and the St. Louis Blues had the 12th (!!) when they won the Finals last year.
So, again, nothing guaranteed, but it won't hurt.
That being said, let's brainstorm about what the best options would be for the Blue Jackets to up their man-advantage game as they take on the high-powered Toronto Maple Leafs who have the league's sixth-best power play and are second in the league in scoring.
---
It's important to note that the Blue Jackets change their formation quite a bit, but they were running out of a 1-3-1 power play unit towards the end of the season. Here are some images below to give you a better picture of this look (thanks blueseatblogs.com):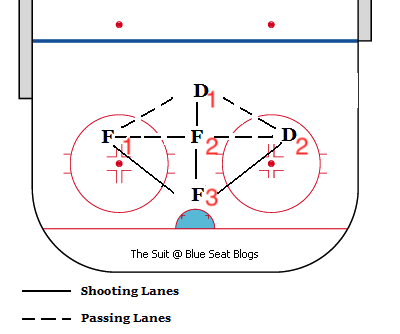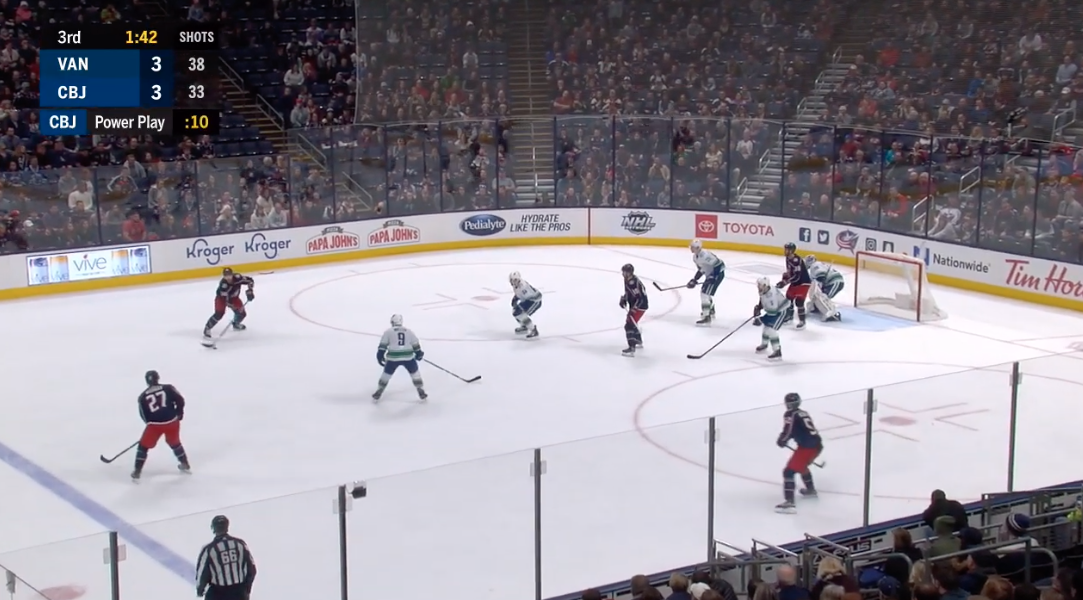 Thankfully, with injured players returning, we won't have to see Alexander Wennberg, David Savard and Boone Jenner on the same power play unit together. I hope I don't speak too soon, but here's how I'd stack it up:
UNIT 1
D1: Zach Werenski
D2: Ryan Murray
F1: Emil Bemstrom
F2: Gustav Nyquist
F3: Pierre-Luc Dubois
Having the NHL's leading goal-scorer amongst defensemen quarterbacking your power play isn't a bad spot to start. Now, Werenski is prone to take more risks than the average blue-liner, so having a stay-at-home presence in Murray as his backup would be a solid selection.
Bemstrom working the wall would be lethal with his wicked slap slot and wrister, giving room for Dubois to manhandle defenders above the blue paint. The traffic that Dubois would draw would also give space for the quick Nyquist to slip in and out of passing lanes and give quick feeds to Murray, Werenski or Bemstrom. He'd also be in a prime spot for a rebound/heavy traffic goal, which he's found success with this season. 
UNIT 2
D1: Seth Jones
D2: Vladislav Gavrikov
F1: Alexandre Texier
F2: Cam Atkinson
F3: Josh Anderson/Nick Foligno
Having Seth Jones of all people on the second unit of your power play is a luxury to say the least. Jones deserves to be on any team's first power play unit, but given that Werenski can be such a weapon offensively, it may be best to split these talents up. This gives room for Gavrikov to jump in the play on the left side as we've seen him do multiple times this season.
Texier was a bright spot in the Lightning series last season, and his shot is almost as deadly as Bemstrom's. Lacing him up on the wall on the second unit should help ease him back into play after a long absence due to injury.
I love Atkinson, but he's not the best with puck handling, and should be put in a spot where his quickness (in skating and getting a shot off) can be best utilized. Getting a pass from Texier or Gavrikov and firing a shot on-net where big Josh Anderson or Nick Foligno are wreaking havoc could be fun to watch.
Speaking of which, if Josh Anderson is healthy, it'd be criminal to not have the man on the power play. He's an absolute pest for opponents - and just a bigger, better Nick Foligno and Boone Jenner. His body can be an excellent screen but also can help work out the pucks down low should it be up for grabs.
---
Power play success isn't technically vital to playoff success, as I said, but the Blue Jackets catching fire in this area of their game would cause fits for the Maple Leafs and start their postseason off on the right foot.
Follow 1st Ohio BatteryFacebook, Twitter, Instagram and YouTube