At the time, it seemed like an innocuous play.
With just under 11 minutes remaining regulation of Game 4 between the Blue Jackets and Maple Leafs, Mitch Marner's pass missed its target allowing Cam Atkinson to jump on the loose puck and start an odd-man rush for Columbus. Atkinson, Alexandre Texier, and Zach Werenski as the trailer were off, and as Texier dropped a pass to Werenski, Marner recovered on the backcheck to disrupt the play and bring down Werenski eliminating the scoring chance.
Atkinson with the takeaway and the breakTexier and Werenski join the rush, and the rover draws the trip for a #CBJ power play pic.twitter.com/36Gt4ASzRn

— Alison (@AlisonL) August 8, 2020
But after the play, Werenski was spotted on the Blue Jackets bench getting attention from head trainer Mike Vogt. The rover took one more 48-second shift on the power play but didn't take to the ice again, and when overtime began, Werenski wasn't on the bench.
This is the play @FOXSportsCbus is citing related to Werenski getting attention on the bench. #CBJ #LeafsForever pic.twitter.com/we0JtAwpKw

— Alison (@AlisonL) August 8, 2020
The Blue Jackets organization has been mum about the defender's status for a series-deciding Game 5 with both John Tortorella (post-game Friday) and Jarmo Kekalainen (Saturday in media availability) declining to provide any update on the player, but TSN hockey insider, Darren Dreger reported that Werenski had an MRI Saturday afternoon.
Zach Werenski scheduled for an MRI this afternoon. Upper body injury. Status for game 5 tomorrow unknown.

— Darren Dreger (@DarrenDreger) August 8, 2020
It would be irresponsible to speculate on Werenski's condition or status for Game 5, but there's no question that the loss of the blue liner would be a large hole for Columbus to fill.
Let's look at what Werenski has been doing in this post-season that will be crucial for the Blue Jackets to address if they want to have a chance to win their qualifying round series over Toronto.
Ice Time
As part of Columbus' top pair with Seth Jones, Werenski has been averaging 26:40 per game, second only to Jones (30:12), but what's perhaps more impressive is that is an increase of almost three minutes per game compared to Werenski's regular season average of just under 24 minutes per game.
Should Werenski be unable to play, another blue liner is going to have to take those minutes and that will be a big ask with David Savard (plus-4.14 minutes), Dean Kukan (plus-3.78 minutes), and Vladislav Gavrikov (plus-3.05 minutes) already seeing increases compared to their regular season averages.
Scott Harrington (minus-4.78 minutes), Markus Nutivaara (minus-1.86 minutes), and Ryan Murray (minus-2.97 minutes) have seen less time compared to games 1-70, but perhaps only Murray is at a skill level commensurate with many of Werenski's contributions and he missed Game 4 with no update on his status to Game 5 from Kekalainen on Saturday.
Defense
Of the three pairings Columbus has used most frequently in the series against the Leafs, Werenski-Jones have been the most effective in terms of driving shot quality the Jackets' way. The visual below from ChartingHockey.com shows each Blue Jackets pairing's performance in terms of how much shot quality they generate (measured by the x-axis, the farther to the right, the more quality created), and also how much shot quality they limit against (measured by the y-axis, the higher on the axis, the less shot quality allowed).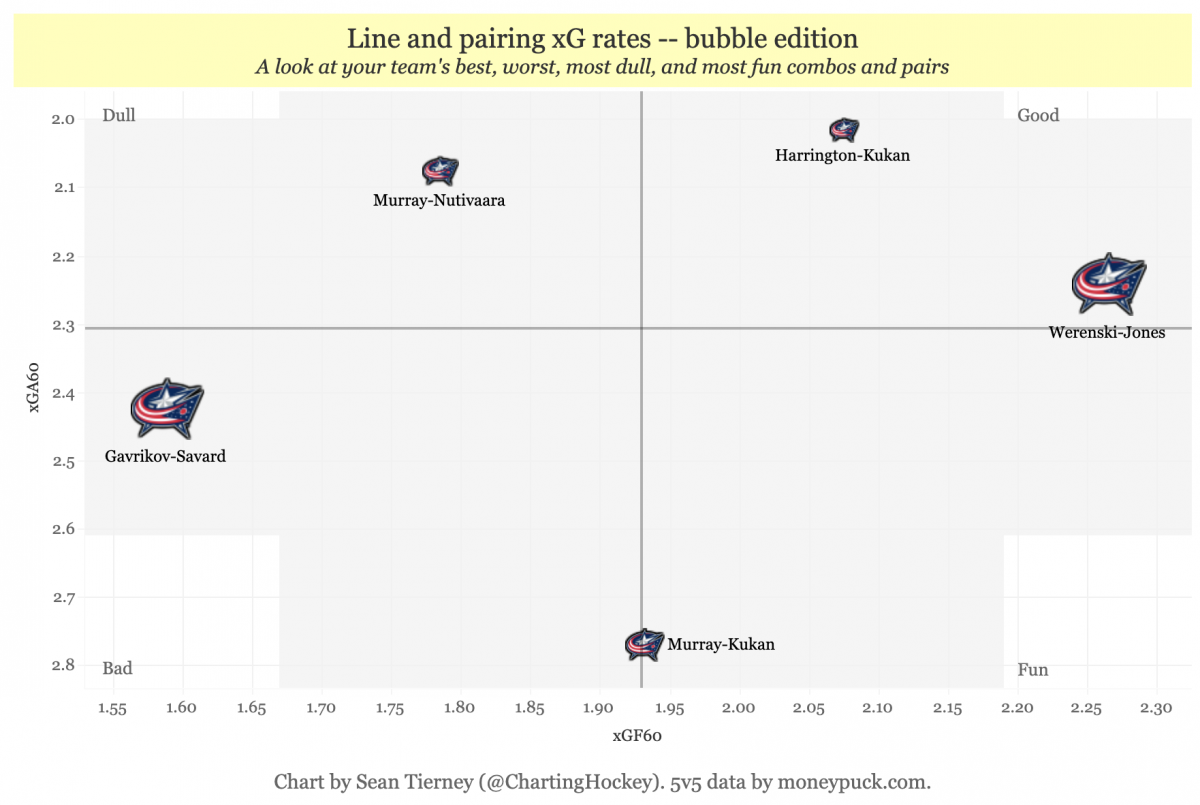 What we see is that Werenski-Jones have blown away their blue line partners in terms of tilting the ice back the Blue Jackets way, and while two sparsely used pairings (Murray-Nutivaara and Harrington-Kukan) were strong defensively, they have an even smaller sample size than the six players that played through Games 1 and 2 and we need more time in our sample (for all pairings to be honest) to know what they are actually capable of.
Regardless, losing half of your most effective D-pair is a red flag.
Offense
Which brings us to offense. We already saw the control Werenski and Jones can bring to where and how the game is being played, what is Werenski doing individually? Well, suffice it to say, the player who led the NHL in regular season goals by a defenseman wasn't slowing down.
In even strength play, according to Evolving-Hockey.com, when we compare post-season performance to regular season play this year, no Blue Jacket skater had a greater increase in how much he was shooting the puck at opponents' net (plus-6.57 shots per 60) and his overall shot quality was up .28 expected goals per 60 minutes of play, the greatest increase among Columbus defensemen, and the fifth-best on the team.
And in an interesting wrinkle, no player in a Blue Jackets jersey was improving more in terms of holding onto the puck. Compared to the regular season, Werenski's giveaways were down 5.13 per 60 minutes of play in the four games against the Leafs. Who was closest after that? Seth Jones at minus-3.43.
So, Werenski was not only holding onto the puck more, he was actively doing the things you need to do – get more shots of higher quality – to score goals.
Only Texier and Pierre-Luc Dubois have been generating more offense in volume and quality than Werenski this postseason.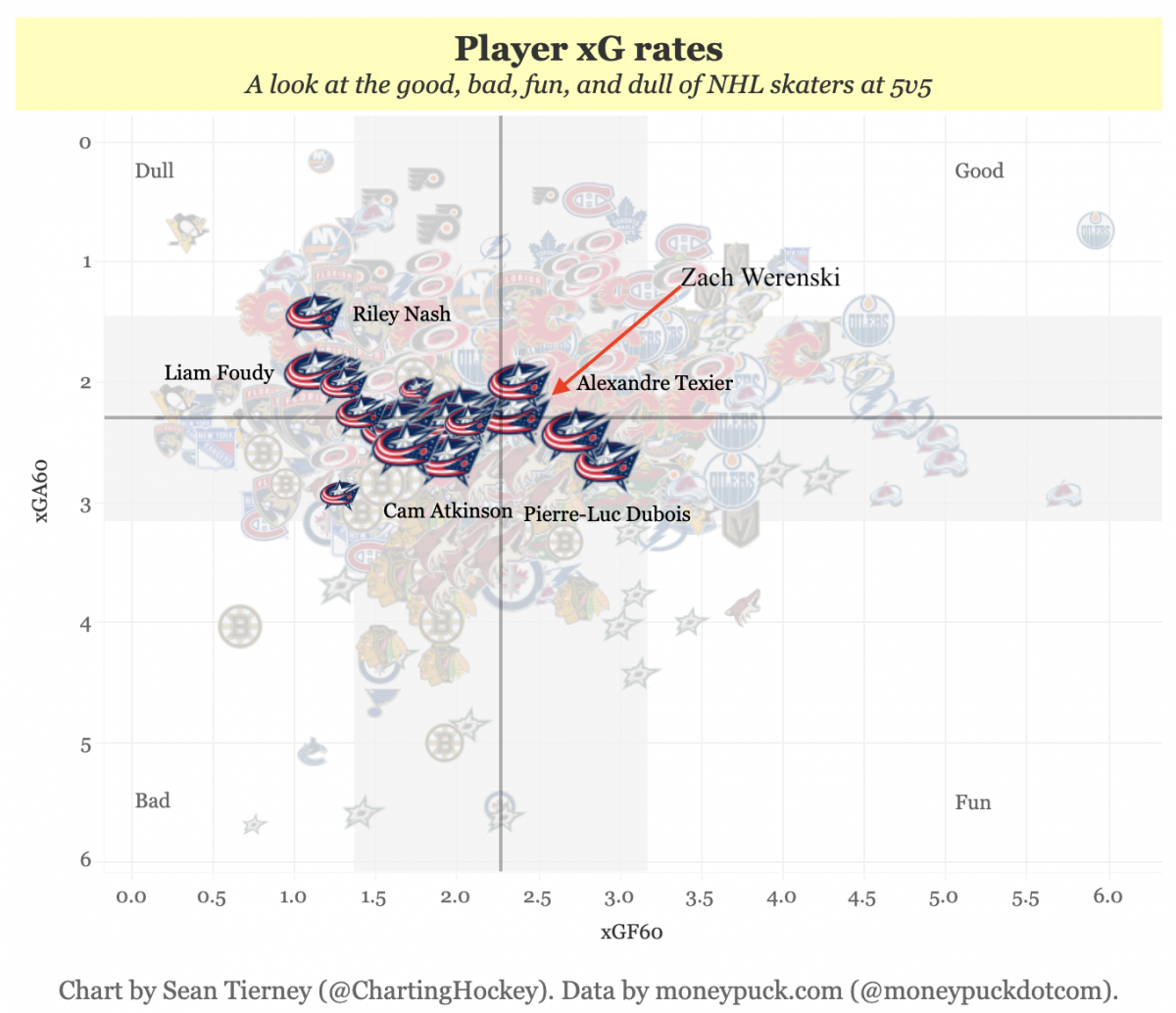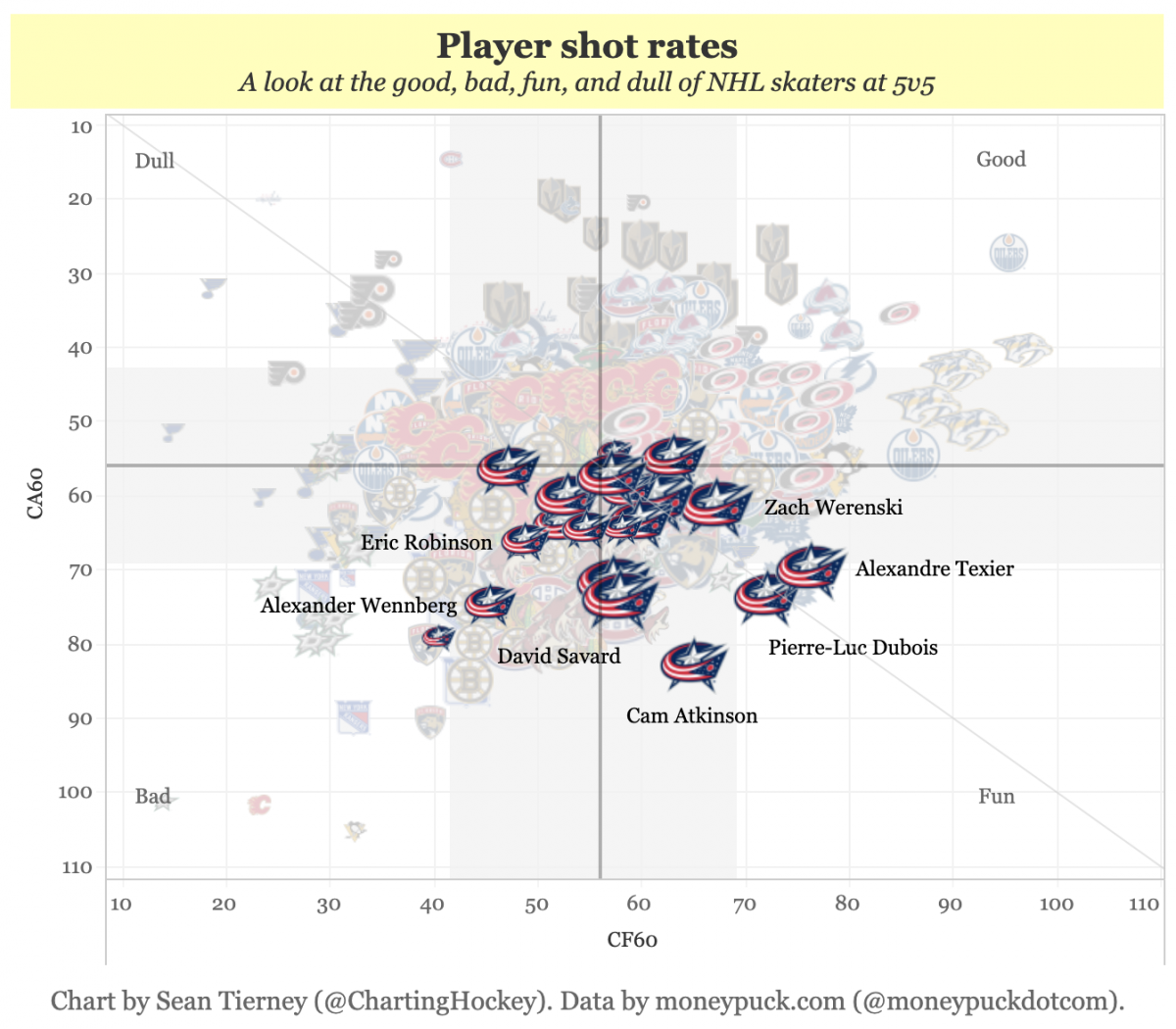 Should Werenski be unable to play, Columbus is going to be even more challenged to create chances at a greater frequency and of higher quality. Candidates who have room to improve in this area? Nick Foligno, Gustav Nyquist, Riley Nash, and Murray all can push to get back to their regular season production levels.
Beyond the Score Sheet
But there's more Werenski has done to help his team and that comes in how the blueliner helps his teammates create. Werenski is a big part of the team's breakout and transitional play. Using tracking data from Corey Sznajder, while a small sample size (Games 1-3), we see that Werenski and Jones are in the company of their team's forwards when it comes to entries into the offensive zone.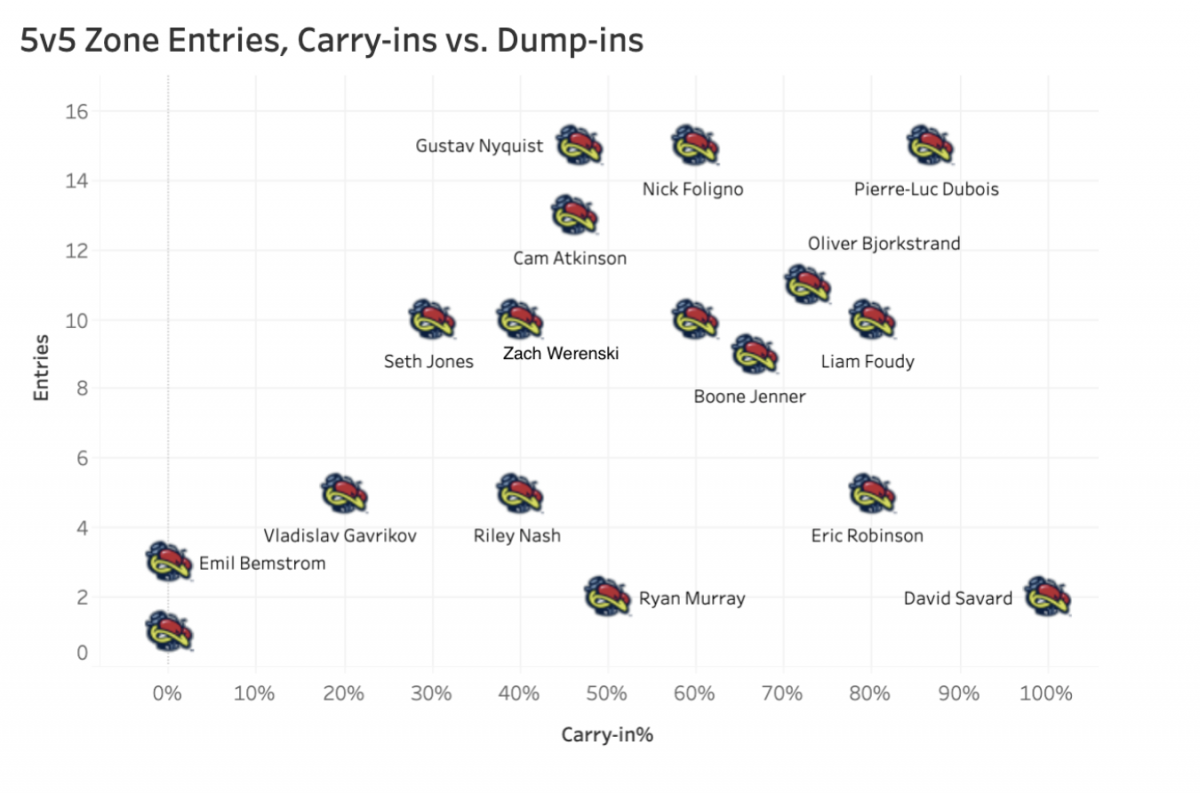 And Werenski also sets up his teammates for offense, particularly on the power play – a unit sorely in need of as much offensive creation as it can muster. Again using Sznajder's data, we see that Werenski, along with Jones, has led the way in shot assists – getting the puck to his teammates so they may take a shot. Without that ability, the Columbus power play is even more hampered in creating plays and more obstacles is certainly something that unit does not need.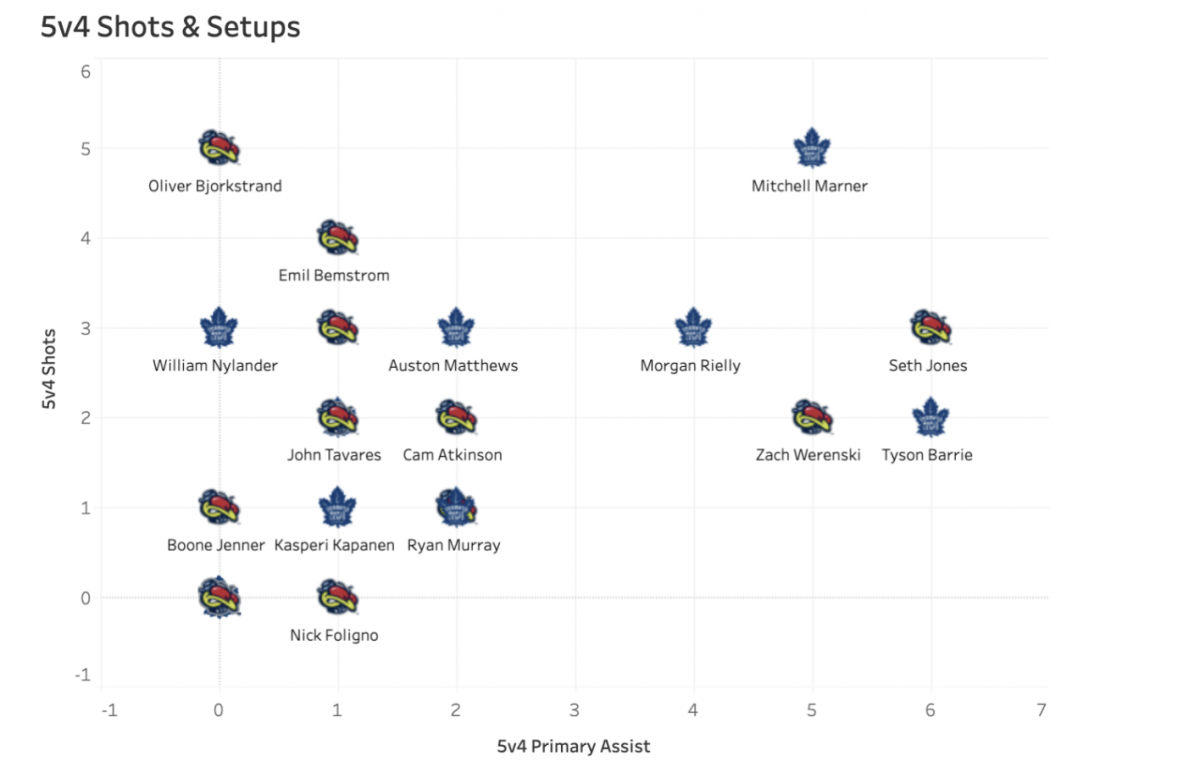 Data and viz via Corey Sznajder
The Waiting Game
A Blue Jackets squad without Zach Werenski is not only hampered defensively, it also has holes to fill on offense, special teams, and just eating up minutes of play. John Tortorella is expected to address the media prior to Game 5 at approximately noon. We'll find out the state of the lineup then, and we'll find out the state of any resulting Blue Jackets adjustments at 8 p.m. when the puck drops.
All data via Evolving-Hockey.com, visualizations via Corey Sznajder and ChartingHockey.com; Data represents even-strength play unless otherwise stated.
Follow 1st Ohio BatteryFacebook, Twitter, Instagram and YouTube