With time to decompress, my opinion remains unchanged.
Tuesday's game should not have ended when it did.

That's not to say that the Columbus Blue Jackets should have won. Here's a hard pill to swallow: The Tampa Bay Lightning, over the entirety of the game, played better. They deserved the win in Game 1 of the first round of the Stanley Cup Playoffs. 

Here's a harder pill to swallow: The Lightning scored their winning goal when they should have been a man down. With the exception of the Tampa faithful, I am yet to see anyone fine with this sequence of events:
 
12 hours later, we don't know how you can make the first call but not the second.#CBJpic.twitter.com/CKJyVGTHOA

— 1st Ohio Battery (@1stOhioBattery) August 12, 2020
Either those are both penalties, or neither are penalties. You could even convince me that of those two plays, the only penalty that should have been called is a two minute minor on the Lightning. Instead of a power play in Tampa Bay's zone, Columbus finds themselves in their own zone, not on the man advantage, and the rest is history.
But here comes the pill that is hardest to swallow: Even if Columbus goes up a man, it probably wouldn't have mattered, because the power play is absolutely dreadful.
I know, they scored on their first power play of the series in that game. Let's take a look:
P-L-D. THE D IS FOR DIESEL. #CBJ pic.twitter.com/CaAribC33M

— 1st Ohio Battery (@1stOhioBattery) August 11, 2020
Alexandre Texier gets off a clean look there, yes, but look at the full sequence of events. Tex gets his shot partially tipped by the stick of Lightning defenseman Erik Cernak. Then it deflects off the glove of Pierre-Luc Dubois, who was ultimately credited with the goal. Even then, the goal needed one last deflection - a ping off the top of the goalpost - before it found its way into the net to give Columbus an early lead. A power play goal, yes, but one that needed three fortunate, split-second bounces to get there. 
Prior to the thrice-deflected goal, the Blue Jackets were 0-for-14 in the bubble when up a man, or 1-for-19 if you're feeling generous and choose to include the exhibition game against the Boston Bruins. If not - and don't forget, exhibition games don't really count - then that means the Blue Jackets played more than one full period of 5-on-4 action, with the only goal during that span being scored by the Maple Leafs.

By the conclusion of Tuesday's fourth longest game in NHL history, Columbus finished 1-for-5 on the power play, bringing their postseason total to (it's valid this time) 1-for-19. That's 5.3% on the power play through a half dozen games, and against two teams who ranked in the lower half of the remaining bubble teams on the penalty kill during the regular season. 
That's absurd, because while Columbus does often struggle to score goals, the talent is there. Texier and Seth Jones picked up the assists on Dubois's power play tally, and they're three of the four Blue Jackets who saw the most time on ice while a man up in Game 1. Gustav Nyquist was also in the top four, and again, is a talented player who we've seen do it before. Cam Atkinson, Oliver Bjorkstrand, Zach Werenski, the story is the same: we've seen them do it before. They're just not doing it right now. 
A possible solution? Liam Foudy. Coach John Tortorella may have been on to something in the two most recent games, as Foudy started to see power play action.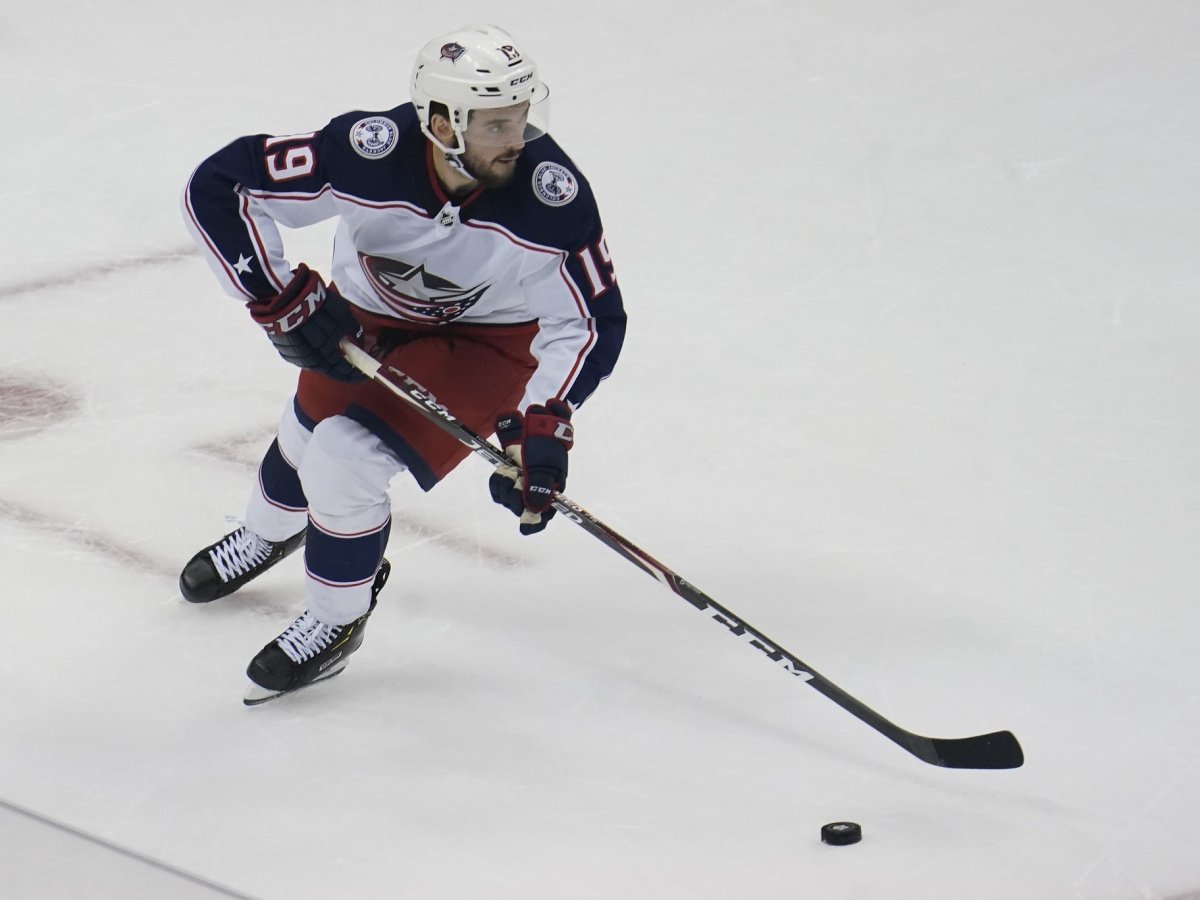 The 20-year-old rookie with just eight NHL games to his name has looked fantastic. His puck-handling ability and crafty skillset have already shown themselves since the restart, and after receiving just five seconds of power play action in the first four games of the postseason, Foudy has seen more than four minutes between the series finale with Toronto and Tuesday's series opener with Tampa Bay. 
Liam Foudy's Increased Ice Time

| Game | Time On Ice | PP Time On Ice |
| --- | --- | --- |
| Game 1 vs. Toronto | 13:19 | 0:00 |
| Game 2 vs. Toronto | 12:35 | 0:00 |
| Game 3 vs. Toronto | 18:18 (OT) | 0:02 |
| Game 4 vs. Toronto | 15:36 (OT) | 0:03 |
| Game 5 vs. Toronto | 17:32 | 2:38 |
| Game 1 vs. Tampa Bay | 42:27 (5OT) | 1:32 |
Even without the additional minutes of overtime hockey, it's clear that Foudy has quickly earned the trust of Tortorella and is being rewarded with more opportunities. Those opportunities are starting to come on the man-advantage, and if he can continue to prove himself as he has so far, Foudy may just prove himself to be the answer to the power play woes.