Alexander Wennberg scored the goal of his life in Game 2 of the Eastern Conference Quarterfinals to put the game on ice for the Columbus Blue Jackets. 
The 25-year old Swede has seen his role diminish in recent years, eventually culminating in a healthy scratch for the duration of the sweep over the Tampa Bay Lightning a year ago. In a sport where momentum and confidence play a huge factor, perhaps this play will propel Wennberg to recapture the confidence that saw him put up a 59-point season in 2016-17.
John Tortorella would agree, but stopped short of heaping praise on Wennberg. He had this to say after Game 2:
"Obviously it's a really big goal for us to give us a little bit of room. He's had an up-and-down few weeks here. He's beginning to solidify his game. He was a very important guy in today's game, not just the goal, but he was put in a lot of different situations. He was very important."
We've all seen the goal, but what exactly happened? And how and why did Wennberg choose this time, of all times, to try a crazy move? Let us help:
Ironically, the video starts with Wennberg making a mistake. Holding a 2-1 lead with 8:43 left in the 3rd period, Dean Kukan was in survival mode. He pitchforks the puck on his backhand, hoping to get it out of the zone but ideally not ice the puck. He didn't get enough on it, and Mikhail Sergachev is able to hold the puck in the zone. Wennberg, much to his coach's chagrin, lets Sergachev off easy and clips him, rather than dumping him to the ice. The Lightning, in the midst of a change, are short a right-defenseman. When the puck squirts to this vacated area, Sergachev dives to push the puck in deep and prevent an odd-man rush against.
Nick Foligno challenges the puck and cancels out with Sergachev's dive, and Liam Foudy picks up the puck near his defending blue line. He head-man's the puck to Wennberg and heads for a much-needed change. Wennberg picks up the puck and, being the pass-first player he is, immediately looks to see if Foligno has beaten his check (Sergachev) up ice. But Foligno didn't, and he, too, sensing a low-percentage two-on-three at the end of a defensive zone shift, turns back for a line change of his own.  
Wennberg gains the blue line and realizes that the would-be-two-on-three is really just a one-on-one with offensive defenseman Kevin Shattenkirk, as the other two Tampa backcheckers are more bystanders than active participants (freeze at 0:08 for a good look). 
Then the play goes from 0 to 60. Here's Wennberg, from The Athletic's Aaron Portzline:
"I tried to think shot first, but then I notice that Shattenkirk is a righty, so that's the side his stick is gonna be on. When a righty poke-checks like that, you can take advantage of it. I saw that, and it was kind of instinct. I thought I'd give it a try."
Wennberg being a lefty on the right side and Shattenkirk being a righty on the left side gave Wennberg the confidence to try a move that's the hockey equivalent of a posterization. Handedness plays a role here because of both his and Shattenkirk's stick and body position. Shattenkirk being a righty on the left side means that he'll have to pivot his feet, flip his hips, and rotate his stick position to recover from anything other than Wennberg dragging the puck to the corner. His goal as a defender is to keep Wennberg wide, but he commits a cardinal sin by committing first to a pokecheck.
Given Wennberg's reputation, Shattenkirk probably figured Wennberg would either go wide and buy time, or, as Wennberg mentioned, get off a shot. In that case, Shattenkirk would want to get stick-on-puck (hence the poke), ramping the puck out of play or at least out of harm's way. The below picture shows how committed Shattenkirk was to the shot. His hips are no longer square to Wennberg, his stick is committed, and he's lunging towards his target. All of these are no-no's for a defenseman.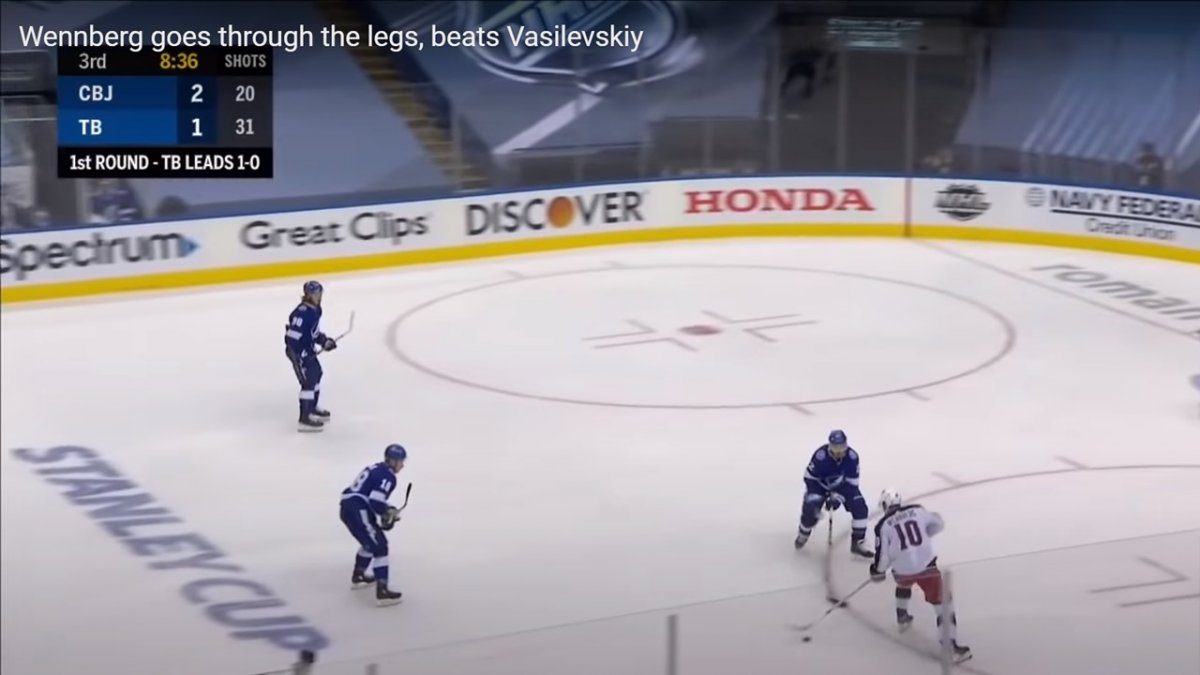 Those are Shattenkirk's defensive gaffes. But what about what Wennberg's body positioning allowed this play to happen? As you can see in the below photo, Wennberg being a lefty allows him to use his stick and left leg to box out and swat away Shattenkirk's stick. By doing so, he establishes inside position and a direct route to the net. From there, all Wennberg has to do is beat a Vezina-Trophy caliber goalie in Andrei Vasilevskiy.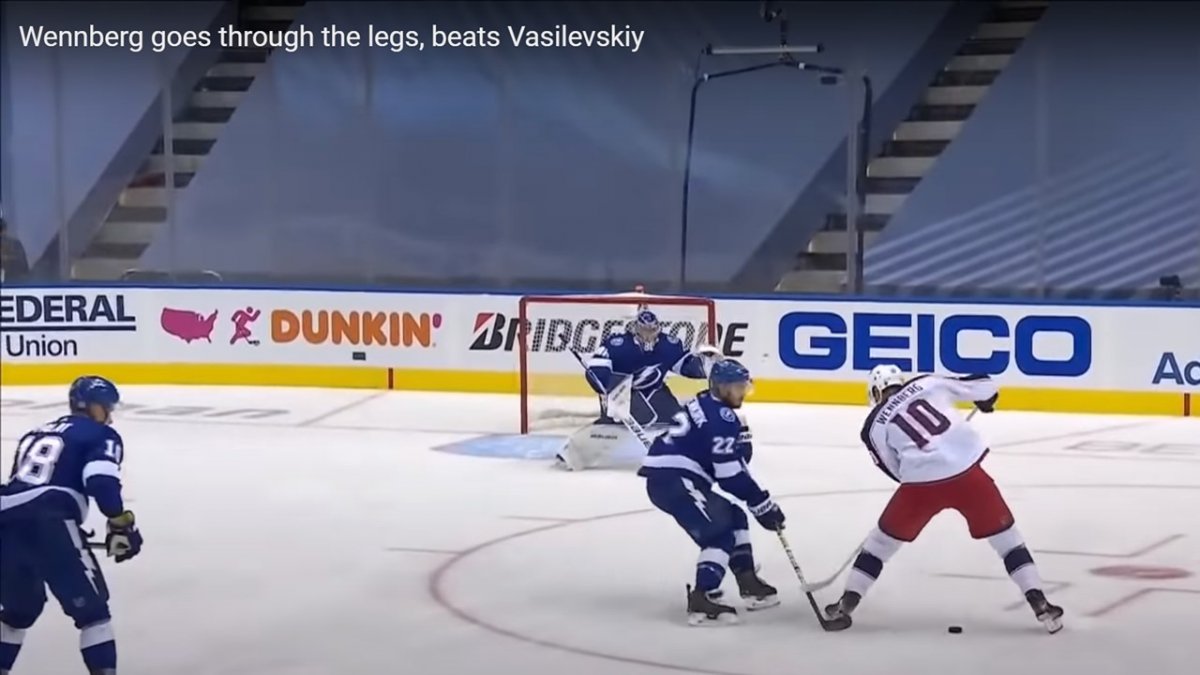 Obviously Shattenkirk did not anticipate Wennberg going backhand skate to stick. At 0:10, Wennberg has evaded Shattenkirk, and none of his defensive help is there to aid him. Shattenkirk sticks Wennberg in desperation, pushing him to the ground. Who knows if a penalty would have been called, but Wennberg nullified that argument by putting the puck low and to the blocker side past Vasilevskiy.
"The way it panned out, I got a good kick with my right skate, the perfect placement. I wouldn't say it was lucky, but the way it all worked out … a lot of things had to happen just right."