Every playoff team creates its own narratives for why it does or does not succeed, and for this Blue Jackets team, one of the biggest positive stories has been play in net – mainly of Joonas Korpisalo. But when you talk about a goaltender who was voted an All Star in the regular season, one might wonder if this is just a question of gaining the national spotlight or truly remarkable play. Is Korpisalo really exceeding expectations? What's behind his remarkable post-season performance?
Let's dig in.
What's in Front of the Net
While both Korpisalo and Elvis Merzlikins rightly deserve accolades for their play in the regular season, often the footnote to that success was the stout defensive play in front of them. In the 70 games before the pause, the Blue Jackets goaltenders played behind the third-best defense in the NHL. According to Evolving-Hockey.com, in 5-on-5 play, Columbus allowed the third-lowest shot quality against in the League (2.08 expected goals against per 60), and were within sniffing distance (.1 expected goals) of the best overall team which was Boston.
In the post-season, it's been a different story. The Blue Jackets aren't just allowing more quality against (2.27 expected goals against per 60), they've fallen to thirteenth best among the 24 teams who've played in the Return to Play phase.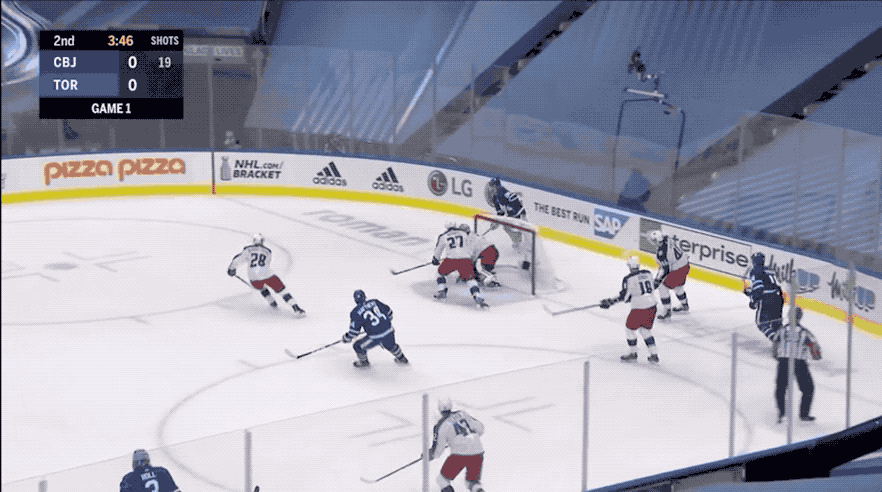 Both Korpisalo and Merzlikins have seen more difficult shots coming at them, and they've also seen more of them overall. In the regular season, Columbus was allowing 40.44 unblocked shots against per 60 minutes of play (10th best overall). In the post season, they are allowing 47.91 unblocked shots against, for a ranking of 22nd among 24 teams (.73 expected goals off the lead).
xG differential

CBJ was a great defensive team during the regular season and maintained a positive xG share while mucking up and grinding down the shot quality in their games.

That's not what we're seeing so far...they're losing the xG battle and Korpisalo's bailing them out. pic.twitter.com/t5hyqzYy9p

— Sean Tierney (@ChartingHockey) August 16, 2020
This is all certainly a concern, but also a topic for a different day. What it tells us in this context is that the challenge in the post-season has definitely been greater for Korpisalo who's played the lion's share of time in net, is he just stopping more or has something changed in his play?
What's Within the Net
Let's focus on what – if anything – is different for Korpisalo. In the regular season, Korpisalo was performing right about at expectations based on the shot quality he faced. But he's far exceeded those expectations in the post-season.
The table below looks at Columbus' goaltending unblocked shot save percentage compared to what was expected (based on shot quality against) and also what percentage of games exceeded season save percentage (quality starts as defined by Hockey-Reference.com) in both the regular and post-season.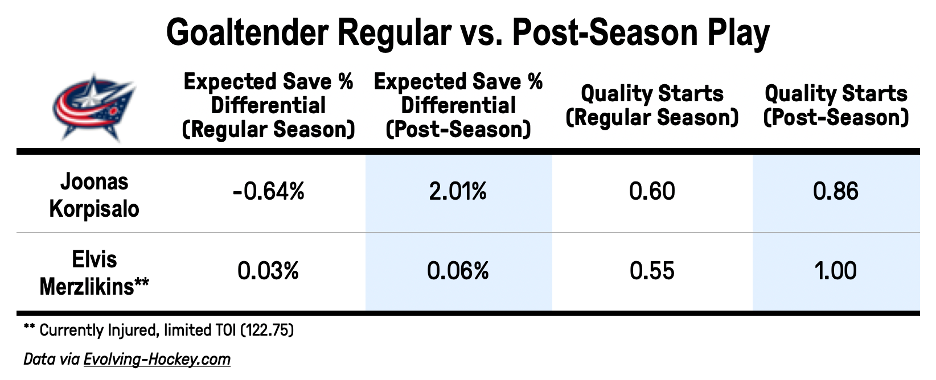 What we see is that both goaltenders, but mainly Korpisalo, are out-performing season averages in save percentage (Quality Starts) and, for Korpisalo specifically, stopping quite a few more shots than expected based on the quality he's facing in terms of the shots coming at him.
But is that because shots are coming at him differently, or is the goaltender just on a tear?
Using shot location tracking data (from the shooter's perspective) here is the change in shot location comparing regular season to post season play for Joonas Korpisalo (a positive number means more shots are coming at Korpisalo at that location, a negative number means fewer pucks are being shot at that location.)
Shot Location Change for Joonas Korpisalo

What we see is that more shots have come at Korpisalo attacking his high glove side as compared to what he saw in the regular season, and there's been a reduction on the other high corner, as well as low stick-side.
So how about what Korpisalo does with those shots?
Save Percentage Change for Joonas Korpisalo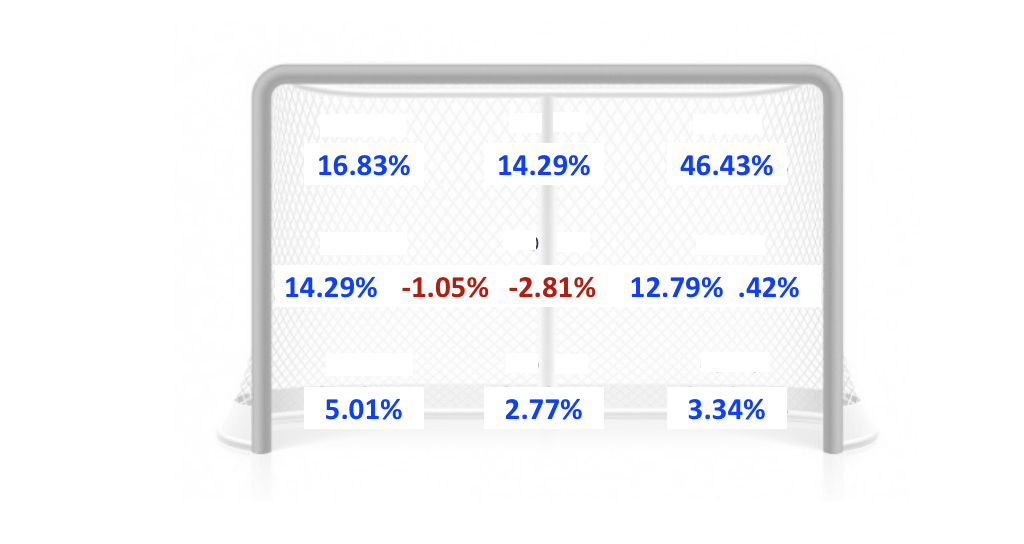 And here we see something impressive. In almost all areas, Korpisalo isn't just out-performing his regular season showing, he's blowing it out of the water, especially with shots fired high.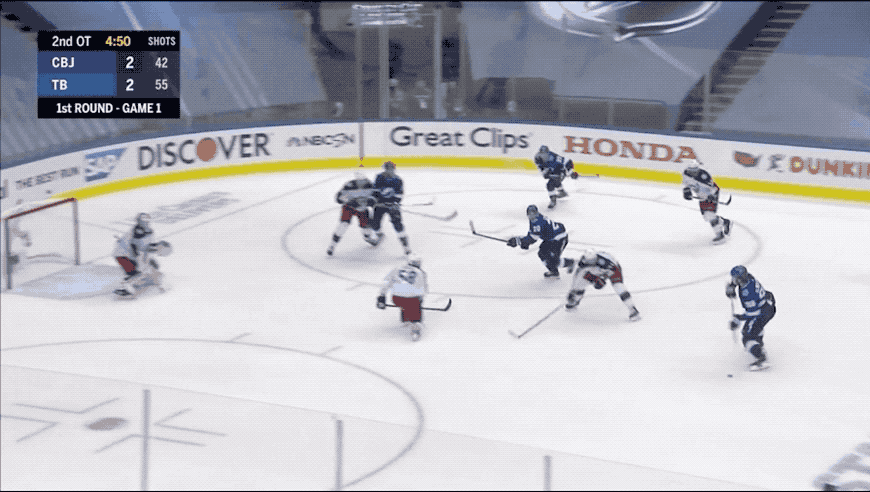 Summary
Suffice it to say that Joonas Korpisalo deserves all the attention he's been getting for his post-season play, and both Columbus goaltenders have faced a harder workload than most in these playoffs and responded well above expected.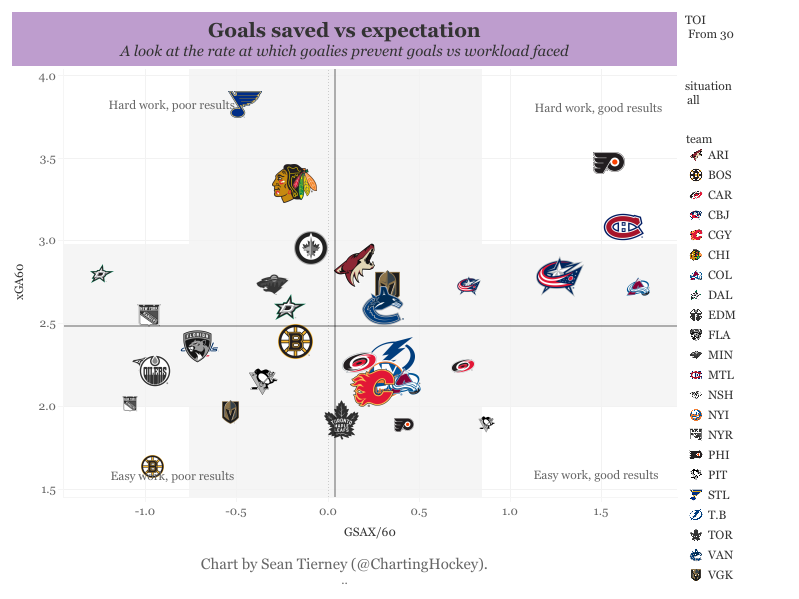 There are of course reasons to be cautious. We are dealing with a very small sample size of post-season data, and such an aggressive improvement in performance may not be sustainable long term, but for now, the Blue Jackets are riding an exceptional span of goaltending that is a large part of the success they've had in these playoffs to date.
All data represents 5-on-5 play unless otherwise stated; all data via Evolving-Hockey.com; Visuals by Alison Lukan and Sean Tierney (ChartingHockey.com)