To find success as a hockey team, an organization must exploit every weapon it has, and for the Blue Jackets, some of those have been found in unique places – including the penalty kill.
Thanks to foundational work by Mike Pfeil and Meghan M. Hall, we've been able to identify an ongoing evolution of shorthanded play from being purely prevention-focused to becoming aggressive and opportunistic. Pfeil and Hall coined this style of play "the Power Kill" and two seasons ago, Columbus was its golden child.
Hall's 2019 work on tracking offense on the penalty kill revealed that the Blue Jackets had set a modern NHL record in shots generated for while playing a man down.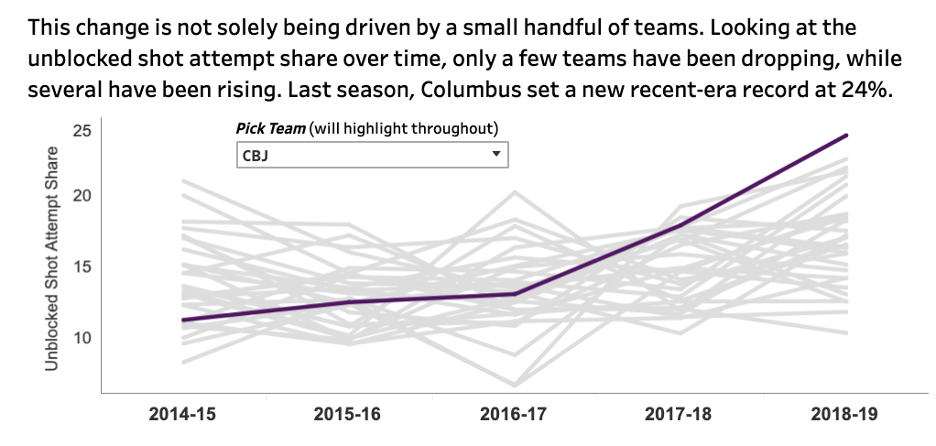 *viz via Meghan Hall
To drive that point home, in 2018-19, according to Evolving-Hockey.com, the Blue Jackets did their job defensively on the penalty kill ranking first in limiting shot attempts against (76.24 per 60) and third in limiting shot quality against (5.69 expected goals per 60), all while coming in third overall in all shots attempts for (19.8 per 60) and 12th in shot quality for (.99 expected goals per 60).
The behavior belied results: the Blue Jackets allowed the fewest goals against on the penalty kill (32) while producing six goals for when playing shorthanded.
Columbus was the team to watch for a power kill clinic.
But throughout the 2019-20 season, the penalty kill seemed to slow.
Certainly injuries were a factor as key penalty killers like Josh Anderson, Cam Atkinson, and Alexander Wennberg lost time due to injury. When the season hit pause, while Columbus was still effective defensively when defending a penalty (third in limiting shot quality and eight in limiting overall shot volume), the aggressive side of play had waned.
The Blue Jackets ranked 14th overall in shot attempts for (15.67 per 60) and 20th in shot quality for (.86 expected goals per 60). The team was still preventing goals against (second overall with 30 GA) but had just one shorthanded tally on the season. It's worth noting that the team's overall goal differential on the season was -3, even half of the shorthanded goals the team produced last year might have made a difference in the win-loss column. The "power kill" seemed to be unplugged.
So the question was: was the power kill gone for good or was it something that could come back with a fully healthy roster? 
With a massive sample size warning, the postseason gave us reason to believe that the power kill could be back in force next season.
We saw flashes of power-killing tendencies first, in the series against Toronto, a team that ranked 15th in 2019-20 in terms of shorthanded shot attempts against and 12th in controlling shot quality against:
And then when facing Tampa, and even more stout penalty killing team that ranked fifth in the regular season in terms of limiting shot quality against when playing a man down and 11th in terms of limiting shot volume by an opponent's power play.
But it wasn't until Charting Hockey's Sean Tierney posted mid-postseason results that a fuller measure of the Blue Jackets' performance came into view. The clip below shows how much shot quality each playoff team created increasing from left to right, compared to how much shot quality it limited increasing from top to bottom. The farther to the right and top a team is, the better their overall performance. The clip starts first showing 5-on-5 play, moves to the power play, and ends on the penalty kill.
Good morning, friends.

Everything on the site is updated.

VGK continues to be the bubble's best at control the flow of quality shots.

DAL's power play seems to be deadly.

VGK is the most power-kill-oriented PK left standing (look at CBJ, jeepers).https://t.co/PnydFvFaGl pic.twitter.com/0XYpyCAOLD

— Sean Tierney (@ChartingHockey) September 12, 2020
Look at where the Blue Jackets end up with that final glimpse at shorthanded play – the team blew away every other playoff roster in terms of how much shot quality it generated when playing a man down.
Summary
Of course, all of this is grounded in just under 40 minutes of shorthanded playing time for the Blue Jackets this postseason, and, as noted before that means our sample sizes demand a huge degree of caution. But when we look at what this team has been able to do in the past on the penalty kill, expecting a return to form seems much more likely after seeing a healthy roster provide glimpse of the power kill once again this summer.
*All data via Evolving-Hockey.com and represents shorthanded play unless otherwise stated.