If you don't have your #1 center and star player locked down, it's probably tough to justify going after any other big names in the meantime.
Sure, it would be nice to have a Taylor Hall or Evgenii Dadonov, but the Blue Jackets need to take care of what they already have first. They have the cap space to go big game hunting, but that cap space will likely be used to first (hopefully) sign Pierre-Luc Dubois to a new contract. Then, GM Jarmo Kekäläinen can use whatever's left to improve his team. That's why time is of the essence regarding a new contract for Dubois.
The Blue Jackets have made moves to get better, through both trades and free agency. Mikka Koivu, who was acquired yesterday and comes with a one-year, $1.5 million price tag, will replace Alexander Wennberg's defensive poise and be a leader on a young team. Max Domi will be the Blue Jackets' second-line center and could be the dynamic one that they've been looking for. 
However, the Blue Jackets likely aren't going after any big names because they don't know how much cap space they'll have left after the Dubois contract. They also still need to complete negotiations with RFA Vladislav Gavrikov.
Another, more scary possibility is that Dubois could receive an offer sheet from another team and sign it. On Friday, Dubois became free to speak with any NHL team regarding a new contract. The Blue Jackets' surplus of cap space could protect them in that instance. Unless the offer was unbelievably high, you can bet that Kekäläinen would match it. Gavrikov is not offer sheet eligible because of his 10.2(c) status.
Offer sheets aren't very common in the NHL, and they're typically matched by the team receiving it. The last offer sheet to be accepted was in 2007, when the Anaheim Ducks accepted an offer sheet for Dustin Penner. 
If the Blue Jackets were to get an offer sheet for Dubois and they accepted it, which is highly unlikely, here's what they'd be looking at in terms of compensation: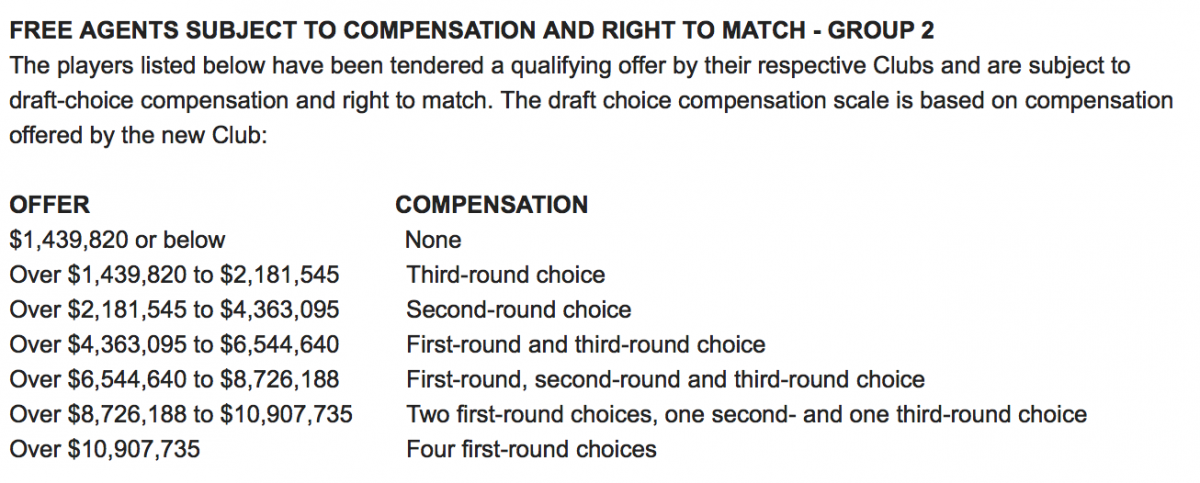 As the free agency period continues, Kekäläinen and co. will be working as fast as they can to get a contract nailed down. If they can get it done sooner rather than later, a big free-agent signing could still be in the cards.