20 games is usually the benchmark for starting to believe what data tells you about a season. With the Blue Jackets crossing that mark this week, it's time to once again look at some key measures for this Columbus Blue Jackets team in an attempt to get a read on how this team is doing, and where they might be headed.
STOCK UP
Power Play Plugged Back In
30.9 percent conversion rate in February
At the start of the season, the Blue Jackets' power play was what fans have come to know and lament. It went 3-for-26 in the month of January for a lowly conversion rate of 11.5 percent. But then Patrik Laine came to Columbus and in February, the Columbus power play has produced nine goals in 30 opportunities producing at a clip of 30.9 percent. Is it Laine? Is it the month of February? Did something change in the water bottles on the bench? Who knows. But for now, it's nice to see this beleaguered side of special teams find success.
Cam Can
Atkinson goes 7-5-12 in February (10 GP)
People were getting tired of waiting for two-time All Star Cam Atkinson to rediscover his offensive touch but it finally came around. Atkinson has not just gotten points on the board, he's leading the team in overall shot quality (3.4 expected goals, .74 expected goals per 60) and is top three in unblocked shot generation (10.68 per 60). It's also worth mention that among all Blue Jackets forwards, only Riley Nash has been better at suppressing offense against. Atkinson had been doing the right things for a while now, and finally the results are coming.
Ros-so-Slick
Roslovic top three in point totals, driving play on ice
Everyone talked about Patrik Laine joining the Blue Jackets but hindsight tells us too many may have slept on the value Jack Roslovic would bring to the team. In 13 games played (seven fewer than the team has played), the forward has climbed to the top of the scoring ranks on the team (4-8-12) and is second among current Jackets in tilting the ice Columbus' way as far as shot quality (Atkinson ranks first). He's also sixth in preventing shot quality against. It's worth watching Roslovic's shooting percentage – he's riding a 19.05 percent conversion rate, which is bound to level out a bit, but overall it's been not too shabby of a debut for the Columbus native.
STOCK DOWN
Defense, where'd you go?
Bottom 10 in preventing shot quality against
Last year, the Blue Jackets were one of the top three teams in the league in terms of preventing any sort of quality offense from opponents. This year…not so much. Columbus currently ranks 21st in the NHL in terms of shot quality against (2.36 expected goals against per 60) and as a result they are 29th in terms of goals against per 60.
Look at a comparison of the defense from last season to this: Blue indicates where shots are coming at a rate lower than league average, and red shows where shots come at a rate higher than league average. The front of the net has been exposed this season and the top of the zone is just a free-for-all. Time to tighten up here.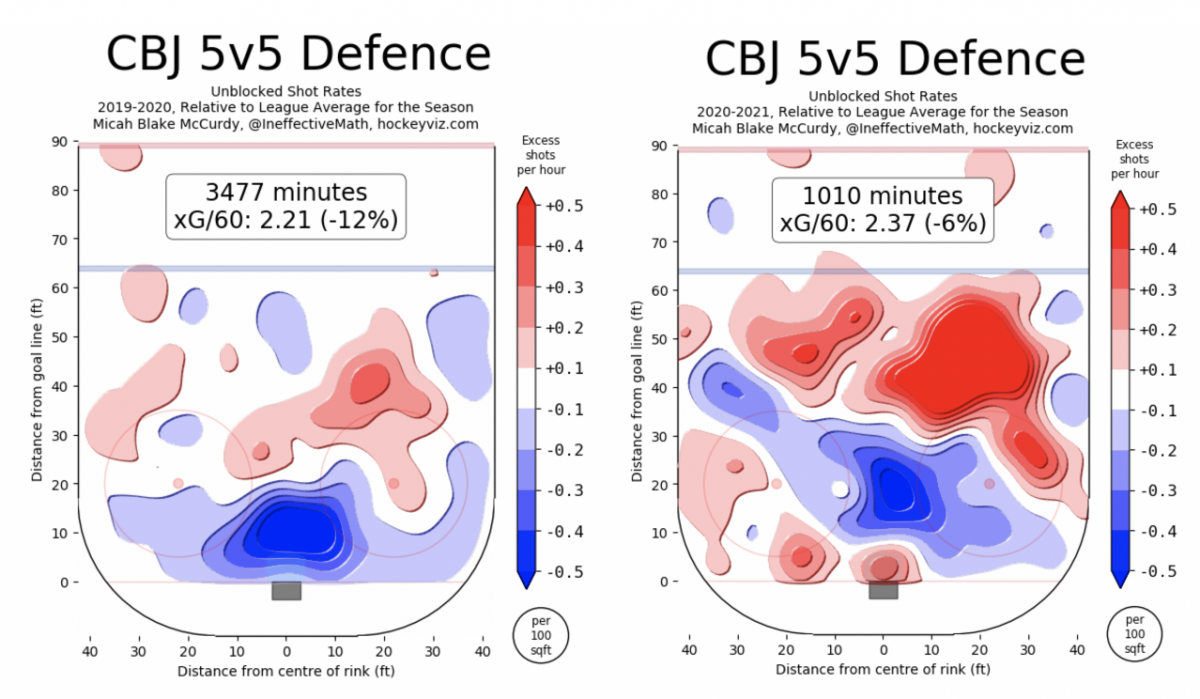 Re-mind the Net
Goaltending below expectations, seven goals against more than average
Joonas Korpisalo and Elvis Merzlikins drew deserved praise after their debut as one of the top tandems in the NHL last season, but this year's performance hasn't been as stellar. Now, of course, as mentioned above they are playing with far less protection in front than previous years, but both are below their expected save percentage even when you factor in shot quality against (Merzlikins: minus-1.25 dFSV%; Korpisalo: minus-1.71 dFSV%) and rank bottom 10 among goaltenders who've faced 100 or more unblocked shot attempts. Merzlikins – in half as much ice time – has saved just over two goals more than expected, but Korpisalo has allowed 9.53 more than average league goaltending would have. The two have worked hard and held things together, but with the defense struggling, these two need to up their game even more.
Penalty Kill Dead
20% drop in effectiveness in February
Much like the Blue Jackets' defense, the penalty kill was something you could always count on to work including its power killing tendencies to drive some offense as well. And while short handed goals have continued to come off penalty killer's sticks this season, there needs to be a renewed focus on keeping opponents from scoring in the first place. After a tremendous start to the season (19-for-22 in 10 games in January), the penalty kill has faltered preventing goals against just 20 times out of 31 opportunities.
All data via evolving-hockey.com and represents 5-on-5 play unless otherwise stated.