This summer has been an exciting one for the Columbus Blue Jackets.
With general manager Jarmo Kekalainen and the rest of the front office having themselves a busy off-season with the NHL Draft and free agency, the aftermath of it all has created a buzz around town for fans of the team.
But what's the national vibe on some of the excitement surrounding the club?
Scott Wheeler of The Athletic dedicates hours to studying the films of hockey's best top prospects.
He recently wrote Who are the top NHL prospects under 23 years old? Scott Wheeler ranks top 50 for The Athletic, ranking the game's exciting top players and prospects. I got to pick his brain (full podcast here) and get his outlook on rookie Kent Johnson (ranked 7th) as he prepares for his first full NHL season.
He also talks about what to expect with a couple of 2022 draft selections including first-round draft picks, defenseman David Jiricek (ranked 18th) and Denton Mateychuk (ranked 28th), as well as a third-round draft pick, forward, Jordan Dumais.
The Athletic's Scott Wheeler on Kent Johnson entering his first full NHL season and whether he's more of a center or wing. Also what to expect out of first round picks David Jiricek, Denton Mateychuk, and what he likes about Jordan Dumais. #CBJ https://t.co/fvC9aSt3Rd

— Will (@willgchase) August 4, 2022
---
Johnson got his feet wet at the NHL level last April when he signed his entry-level contract on Apr. 8 and played in nine games to close out the season. Johnson's been a star everywhere he's played up to this point, from college hockey at the University of Michigan, to a truncated experience in the World Juniors and the Olympics. As he gets set for his first full season with the Blue Jackets, what's a realistic expectation to have for Johnson?
"I think if they play him with the right linemates...if they play him at the top of the lineup...if they play him on the first power play, he's going to have a good year," Wheeler said.
"I think (Johnson) is capable of playing with those kinds of linemates. He's not a guy who is built for playing in a third-line role.
"I think the beauty of Cole Sillinger was that, sure, you hope long term that (Sillinger) is going to be a top-six guy. But because of how physically mature he is, because of how athletic he is, because of how strong he is, and because of just the kind of the scrappiness and feistiness and work ethic that he plays with, you always knew that (Sillinger) was one of those rare skill players who could start playing lower in the lineup and then work his way up.
"Most skill players can't do that. I think it does a disservice to a player like Johnson to be playing in 10-11 minutes a night.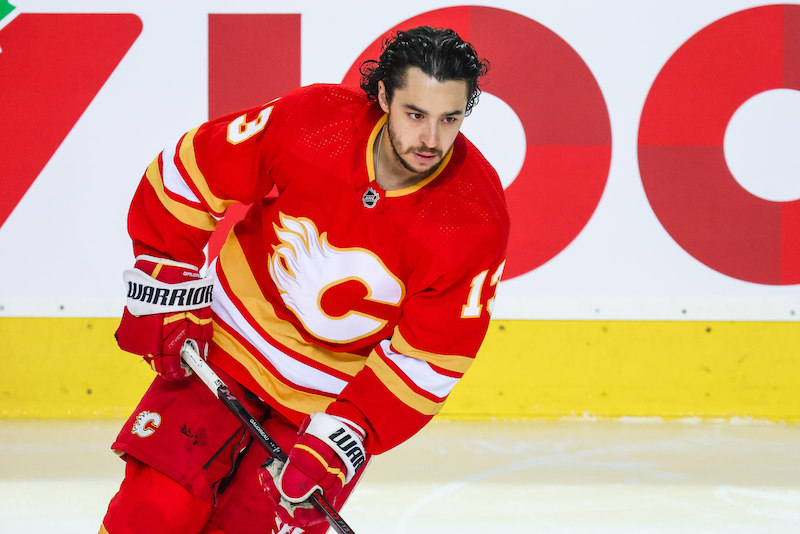 "He needs to be playing with the (Johnny) Gaudreau's, the (Patrik) Laine's, those types of players to be successful. And I think he'll make those types of players better and you'll start to see that sort of skill and flair and playmaking flash more than it did in his stint.
"I've spoken to a number of people about his stint and they thought he was just okay. There were moments but it wasn't consistent. And I think it will be if he gets the right usage.
"Now, whether the coaching staff is prepared to do that is an entirely different thing. If they're intent on winning games and making the playoffs, then maybe Johnson doesn't get the leash that you'd probably hope for him. And maybe it's a little bit more of an up-and-down year than he would hope for.
"But I do think if they go start to finish with him, 82 games and a top-six role, that doesn't mean he's gonna be playing 19 minutes a night but if you're playing him 16 minutes a night, and he's on the power play, I think that's when you'll see him shine and I think he's capable next year if he plays in that kind of a role of putting together a 40 or 50-point season.
"I think at his ceiling he's going to be a much more productive player than that. I truly believe that he's one of the only players from the 2021 draft that's got an opportunity to be a point-per-game guy in the prime of his career. But that's not going to happen instantaneously. And frankly, there's not quite enough talent in Columbus, I don't think, for that to happen.
"As great as a sort of star player in the NHL is, even the stars and in short of (Connor) McDavid or Austin Matthews level, even the stars, their production is heavily influenced by who they play with. There's a 60-point player on Team X who becomes an 80-point player on Team Y.
"I mean we saw it last year with Nazem Kadri, right?
"He'd never been that kind of a player until he was surrounded by all that talent and playing on that power play and in Colorado, so yeah, I think (Johnson's) fine. He'll be fine. He's going to make the adjustment. He's going to make plays. He's going to pull you out of your seat every once in a while. But he's not going to be a star right away. I just expect him to be a solid sort of top nine playmaker, and I think they should use him as a top nine playmaker."
Does Wheeler see him as more of a center or a wing?
"Very good question," Wheeler said. "I tend to like players like him at center. Just because he gets more touches, he has a feel for the puck more often, but I fully expect that he's going to be an NHL winger.
"I just think because of how skinny he is, NHL coaches are going to see him walk into the locker room and say that's not the kind of player that we want scrapping and fighting and playing against 210-pound centers in the NHL.
"Most centers in the NHL nowadays are pretty thick guys. And that's just not (Johnson). He's always struggled to put on weight. He's a very sort of wiry guy. And I think that game lends itself to playing on the flanks, less defensive responsibility, that kind of thing. So I expect he'll be a winger even if he's probably a slightly more productive player down the middle."
Put another way:

It hasn't happened since the #NHL was a six-team league, so the first 12 picks were two trips around the league.#CBJ selected David Jiricek No. 6 and Denton Mateychuk No. 12 tonight in Montreal.

Thanks to NHLStats service for the assist.

— Aaron Portzline (@Aportzline) July 8, 2022
The Blue Jackets are one of the few teams in NHL history to take two defensemen within their top 12 picks in the first round of the NHL Draft. What's the outlook for Jiricek and Mateychuk?
"I love both of them," Wheeler said. "I had Jiricek right where they took him at six. And then I had (Mateychuk) sort of 12-13 all year so they kind of took those guys exactly where they belonged. And I was a big fan of both of those selections. I think they're very different players, I should say that first.
"Jiricek is a very commanding player. He's got presence on the ice. He's a big, aggressive player, defensively and offensively, a very aggressive player. Looks to sort of impact the game and sort of impose himself on the game in a variety of ways offensively and defensively.
"There comes some warts and some mistakes and that kind of thing with a player who plays like that, who plays to sort of command the ice and make things happen. But because of how big and strong and athletic he is, he's capable of playing that game and I fully expect him to become…I'm not sure he's going to become a true number one but I think he's got a real opportunity to become a number two defenseman on a team and be that kind of an impact player.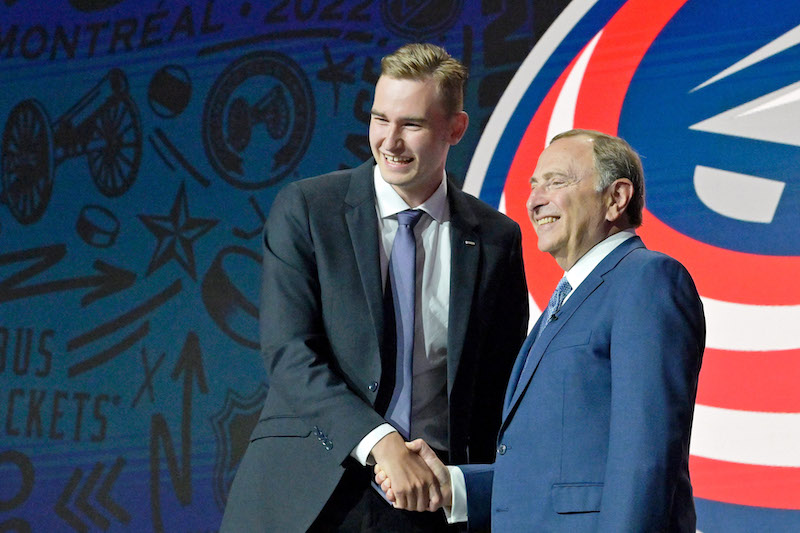 "Mateychuk is awesome. (Mateychuk's) a fabulous, fabulous three-zone player, four corners of the ice. Good in all of them. Great in neutral ice. Just a very complete hockey player.
"I think he didn't get enough love, frankly, for that. People view the five-foot-eleven height listing and they start to ask questions about whether he's going to be as strong defensively as he is offensively. He's an excellent offensive player...creative in the offensive zone...can attack in the offensive zone. Very good in transition.
"But it's his play off the puck that I think really stood out to me this last year. If you ask the guys in Moose Jaw about him, the first thing they'll say is he's as good defensively in this league as there is a player, so it's not just about the sort of offensive defenseman game that he plays. He's also a very capable player defensively and I think he's going to be a top-four guy.
"I would be surprised, frankly, if he's not a top-four guy and not running a power play and all of that.
"I think both of those guys are going to be corners to potentially cornerstone pieces for them long-term and I like Corson Ceulemans who they took last year, too. (Ceulemans) doesn't have the upside that Jiricek and Mateychuk have, but (Ceulemans) had a really, really good second half as a freshman (University of Wisconsin) last year after getting off to a bit of a bumpy start in college hockey.
"So between those three guys, they've got a good thing coming."
That's a nice goal from Jordan Dumais@mhl | #CBJ pic.twitter.com/7dclStpBVP

— Columbus Blue Jackets (@BlueJacketsNHL) July 12, 2022
Dumais wasn't on the Top 50 Under 23 list but Wheeler is a fan of his game and the type of upside Dumais has.
"I love (Dumais') game," Wheeler said. "The knock on (Dumais) was that he's five-eight and his skating stride looks a little clunky. It looks a little awkward. And when you're small and slow, teams typically write you off and I think the beauty of his game is that he's not slow. It might look weird, but he is not slow. I spoke a lot with the people in Halifax about him over the course of that season.
"He led that team in scoring. He led that team in takeaways. He led that team in retrievals. He was their best player along the wall. He won all his races. The little details that you maybe don't expect out of a smaller player, they're all there and I think that elevates him in a way because he's got the skill offensively. He's going to make plays in the offensive zone. He's dangerous. He's creative. There's some cleverness to his game.
"All of that is great. Really high grades. One of the smartest players in the draft. He won the CHL's Most Sportsmanlike Player award this year.
"There are just a lot of little things to like about him. And I think because of the concerns about the skating and size, he was just overlooked by default and teams didn't do enough due diligence on how he was creating all those points he scored. This is a kid who had the most productive draft-eligible season in the QMJHL since Sidney Crosby.
"This was a very, very impressive year for a 17-year-old. He had 109 points. That does not happen often in the 'Q'. At least not for players that age.
"So yeah, just an impressive, impressive player, and I ran into him in St. John. He was at the CHL awards in St. John when I was there, for the Memorial Cup to accept the Most Sportsmanlike award, and he looked bigger than five-eight as well. At least just in terms of running into him. I'm five-foot-ten, five-foot-ten and a half and I don't think he was much shorter than me.
"So I think he might actually be an inch taller than five-eight at this point. So we'll see, but I'm a big fan. Love that pick. That was one of my favorite day two picks."