Primed for a breakout?
Emil Bemstrom recently signed a two-year extension, completing the list of Columbus Blue Jackets RFAs to sign new deals.
The Blue Jackets and Emil Bemstrom have agreed on a two-year contract worth $900K per season ($1.8 million total). Bemstrom is the final RFA to be signed by the Blue Jackets.

— 1st Ohio Battery (@1stOhioBattery) August 3, 2022
Perhaps the move surprised some people, but the deal gives Bemstrom a chance—maybe his last—to prove himself as an NHL regular and fulfill the promise he showed prior to breaking into the NHL. Drafted in the fourth round of the 2017 draft, Bemstrom's name has come highly touted since his draft days.
The native Swede was among the leading point scorers for Djurgardens IF in 2018-19 when he finished second on the team with 35 points, and led the league with 23 goals—the youngest player to lead the SHL in scoring—while dishing out 12 assists. Bemstrom made his NHL debut in 2019-20, showing some of that scoring promise with 20 points (10 goals, 10 assists) in 56 games.
During the middle of the COVID pandemic in 2020-21, Bemstrom was loaned to HIFK of Liiga, scoring 17 points (eight goals, nine assists) in 16 games.
In the NHL later that year, Bemstrom put up five points (three goals, two assists) in 20 games for the Blue Jackets. Last season, Bemstrom had 11 points (six goals, five assists) in 41 games. His time in Columbus has also been marred with different injury stints, and part of his 2020-21 season saw him sent to the taxi squad. Bemstrom scored two goals in four games with the Cleveland Monsters last year.
Upon signing the new contract, general manager Jarmo Kekalainen's quotes indicate the strong belief that the organization has in Bemstrom and that he can be part of the team's future. With the forward pipeline looking a tad clogged, this might be Bemstrom's final chance to prove he can be the player the team thinks he can be.
GM Jarmo Kekalainen on Bemstrom and his new deal: "(Bemstrom) is young and still developing but we believe he has a lot of potential to become an important part of our organization over the next few seasons." #CBJ

— 1st Ohio Battery (@1stOhioBattery) August 3, 2022
In his limited playing time with the Blue Jackets in 2021-22—383:25 ice time—Bemstrom had a 2.45 xGA/60 and -0.47 xGA/60 Rel per Natural Stat Trick, continuing to showcase a strong defensive element to his game, a trait that he has shown since his first season.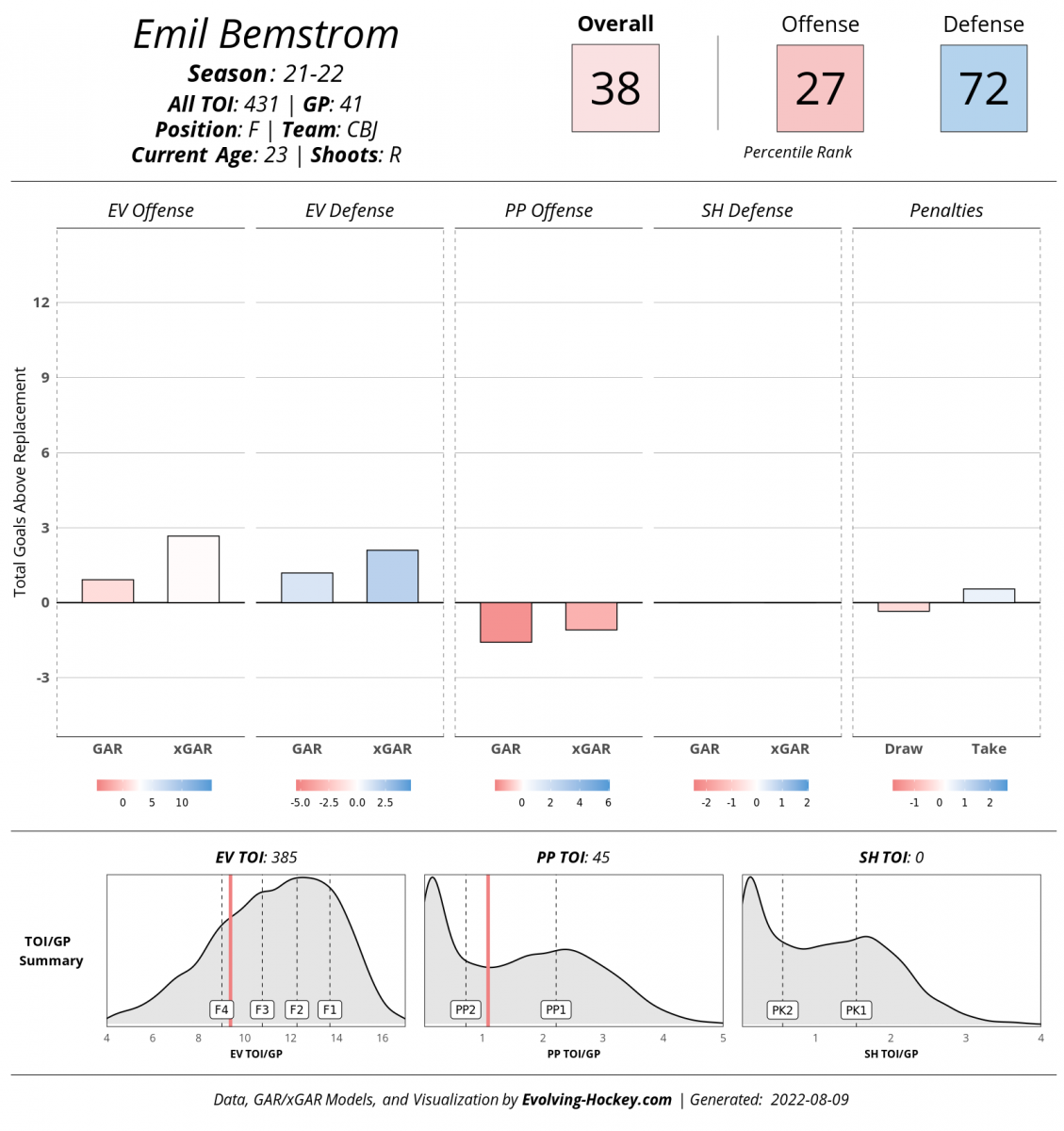 However, being known more for the offense he displayed internationally, that's the part of his game that hasn't been consistent for Bemstrom over parts of three NHL seasons.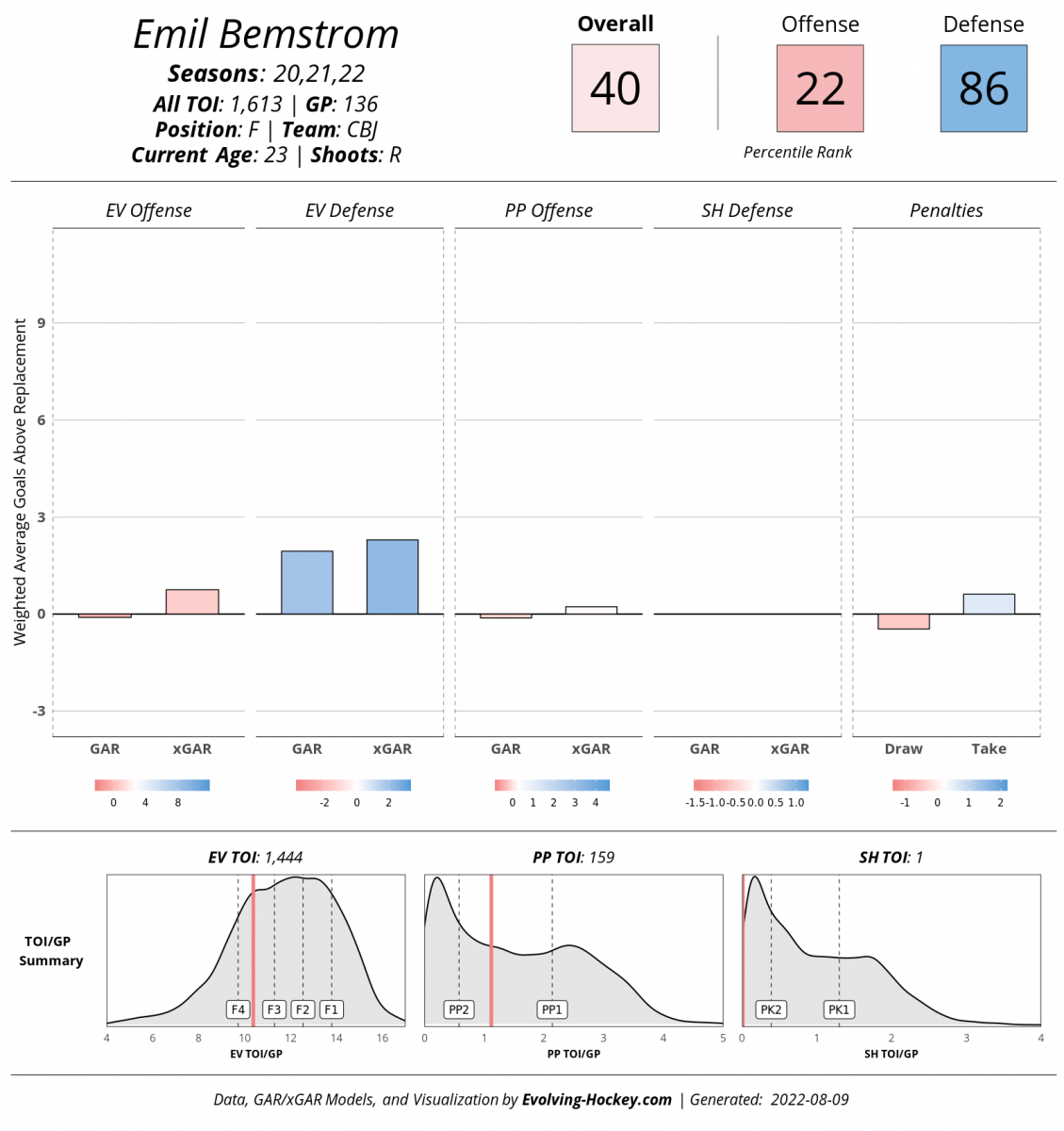 His rookie season wasn't bad, and you can chalk up 2020-21 as a weird year with Covid and being stashed away on the taxi squad. If he can find his plus shot with more ease and regularity this season, and start to be a difference maker offensively, that unleashes the weapon the Blue Jackets have been waiting for. Otherwise, it's starting to feel like now or never for Bemstrom, still just 23 years old, to get it going.
Dan Dukart wrote about the forward-depth options on the team, including prospects hoping to make the club. Guys like Justin Danforth carved out a role for themselves last season, and players like Yegor Chinakhov are looking to break out. Bemstrom is among those players looking to establish himself as more than an AHL/NHL Tweener.
Just like Danforth got his shot last season and found a role, we'll see what's in the tank this upcoming season. He earned a two-year extension based on his performance, but if he doesn't play well, that opens a door for Bemstrom. With players like Kirill Marchenko getting a shot soon, the time is ticking for Bemstrom to establish his presence on a consistent basis.
In Oliver Bjorkstrand's age 23 season in 2017-18, he played in all 82 games with the Blue Jackets for the first time in his career, and it all came together with a 40-point (11 goals, 29 assists) campaign. In the two seasons prior, he only played 38 combined games with 21 total points (10 goals, 11 assists). 
Similar to Alexandre Texier getting off to a good start to last season, maybe Bemstrom can do the same. We'll soon see how it all materializes with training camp, preseason, and line chemistry in a month.
Since Bemstrom is on a one-way contract, the Blue Jackets express belief in him. Otherwise, he would need to clear waivers to be sent to Cleveland.