Imagine what a flaming hot start by Johnny Gaudreau could do for the Columbus Blue Jackets.
There's nothing like starting out a hockey game, a season, or a stint with a new team like starting things off with a bang.
Gaudreau already endeared himself to the Blue Jackets fan base just by agreeing to the richest contract in team history, representing the biggest free agent the franchise has seen yet.
Because of what Gaudreau brings to the Blue Jackets already, based on what he did for nine seasons in the NHL wearing a Calgary Flames sweater, expectations are through the roof. The home opener at Nationwide Arena on Oct. 14 against the Tampa Bay Lightning will carry with it the typical excitement times 10 because of Gaudreau and the added allure he brings to the success-starved Blue Jackets, mixed with a young and budding star-studded core.
While expectations should be high, they should also be tempered for Gaudreau and the team. Even though fans and players alike are hoping for instant success.
Most are not projecting playoffs for the Blue Jackets and while many will agree the team is better right now because of Gaudreau, he and his mates have a chance to change the national narrative on whether this is the season the team arrives.
Dan Greene tackled the possible line combinations and point projections for the coming season.
While not officially set in stone, it's a good bet to presume Gaudreau and Patrik Laine will be centered by Boone Jenner. Jenner enjoyed a career resurgence last season prior to a season-ending injury. While not a true No. 1 center on a bona fide Stanley Cup contender, Jenner was among the best of the Blue Jackets' top six with 44 points (23 goals, 21 assists) through Mar. 11. His 23 goals finished third on the team.
Can Jenner pick up where he left off, on the other side of the back ailment that prematurely ended his season?
Assuming Jenner can, and he, along with Laine and Gaudreau, strike up a rapport early, the line can challenge as one of the best in the league. Especially with a full season from a healthy Laine—arguably the X-factor for Columbus' success this season–as he has proven the ability to score at will when he's on.
A full season from Gaudreau will only make his linemates better.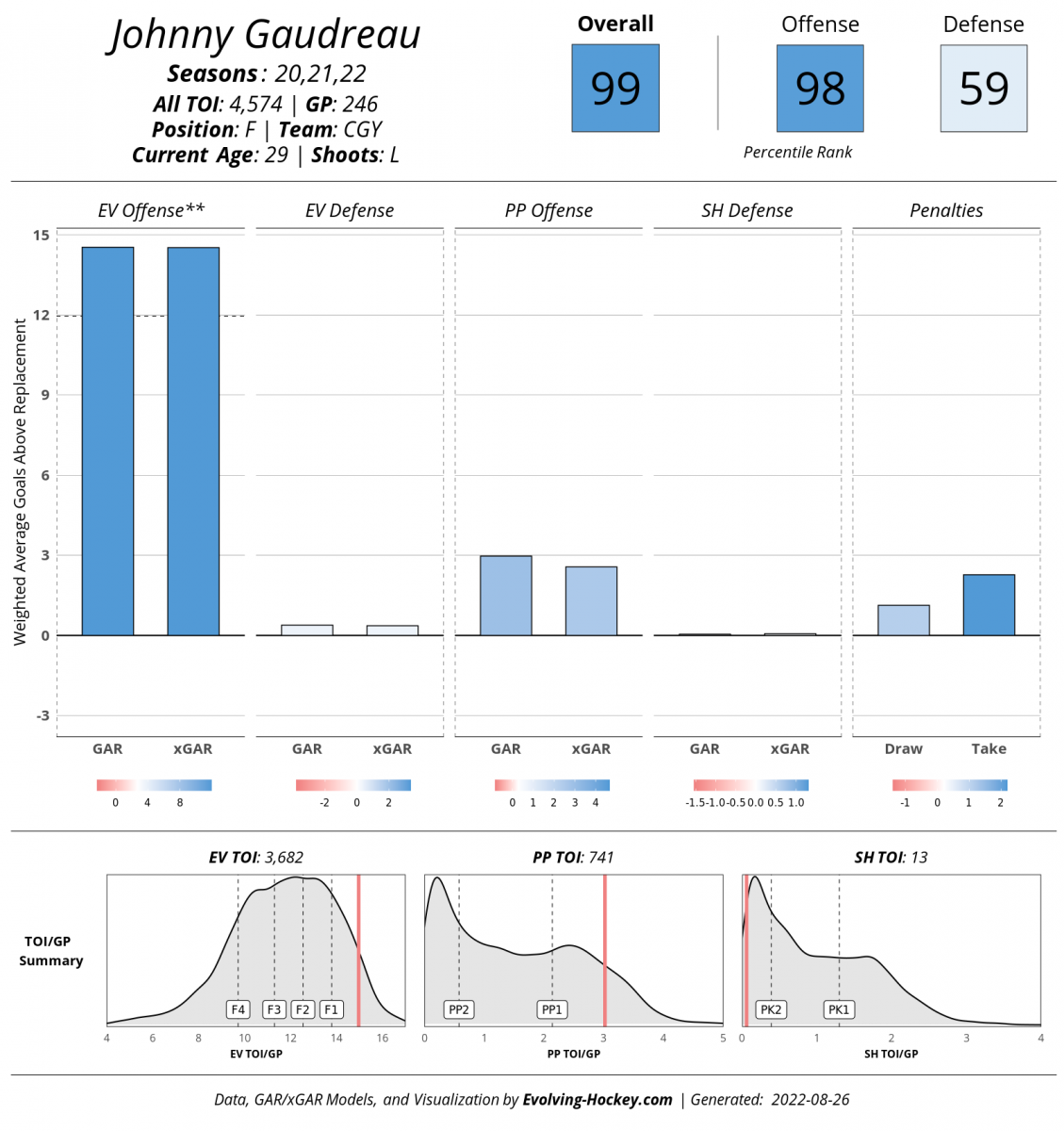 When looking at the team for the season ahead after Gaudreau's signing in July, we mentioned it might not be fair to expect quite the amount of scoring the ex-Flame put up last season when he scored 115 points. Maybe a conservative estimate of about 80 and more?
Paul Bissonnette on the Spittin' Chiclets podcast shared the notion of Laine scoring 50 goals because of Gaudreau's addition. It seems like whoever is the center between Gaudreau and Laine—most likely Jenner to start at least—would be among the main winners to benefit.
Did you know Gaudreau is towards the top of the league in points scored since 2016-17? He's 29th in goals (155), seventh in assists (311), and ninth in points (466) over that span.
Most NHL Points Since 2016-17:

.
2. Leon Draisaitl 556
3. Patrick Kane 517
4. Brad Marchand 506
5. Nathan MacKinnon 495
6. Artemi Panarin 492
7. Sidney Crosby 471
8. Nikita Kucherov 467
9. Johnny Gaudreau 466 pic.twitter.com/CqdO0TuTg9

— Eric Friesen (@EricJFriesen) August 17, 2022
Laine is 14th among all players with 176 goals scored since entering the league in 2016-17. That puts him two goals behind Nikita Kucherov, and three behind Sidney Crosby and Patrik Kane.
When Dan shared the possible line combinations and point projections for players, he had Gaudreau at 100-105 points and Laine at 70-85. The all-time Blue Jackets mark for points in a season is Artemi Panarin's 87 in 2018-19. The record for most goals in a season is a tie shared between Cam Atkinson's 41 in 2018-19 and Rick Nash's 41 goals in 2003-04, which continues to pace everyone.
Could both marks fall this season?