As we near the start of Columbus Blue Jackets hockey, former NHLer and Bally Sports broadcaster Jean-Luc Grand-Pierre answers questions ahead of the new season.
We get into this past summer's first-round draft class, Cole Sillinger's first season, thoughts on the defense and Elvis Merzlikins, what Grand-Pierre was doing when the Johnny Gaudreau signing news broke, and more.
---
The Blue Jackets picked up two big defensemen inside the first round of the 2022 NHL Draft. What did you think about their picks, selecting David Jiricek No. 6 overall, and taking Denton Mateychuk No. 12 overall?
I really like it because they addressed something that not only is needed in the foreseeable future but something that, according to their draft board, were the best players available.
Jiricek was definitely a great pick.
He's a big defensive defenseman, he can play a lot of offense as well but he's a right-handed defenseman, which we know the Blue Jackets desperately need right now. So hopefully we see him with the big team in the next couple of seasons.
As far as Mateychuk, for him, I spoke to a lot of people when I was in Montreal and a lot of people had him as the second-best defenseman available. Definitely the number one North American defenseman. So for the Blue Jackets to be able to snag him at No. 12, I think that's something that yes, he's gonna need a little bit more development, but you have to understand it was barely his draft year.
When he got drafted, he was still 17 years old. He didn't turn 18 till later in July. So he's still like nine, eight months younger than everyone else that pretty much got drafted. So if he were to enter the draft next season, he could be probably (a top-five pick) so I think that was a steal there as well.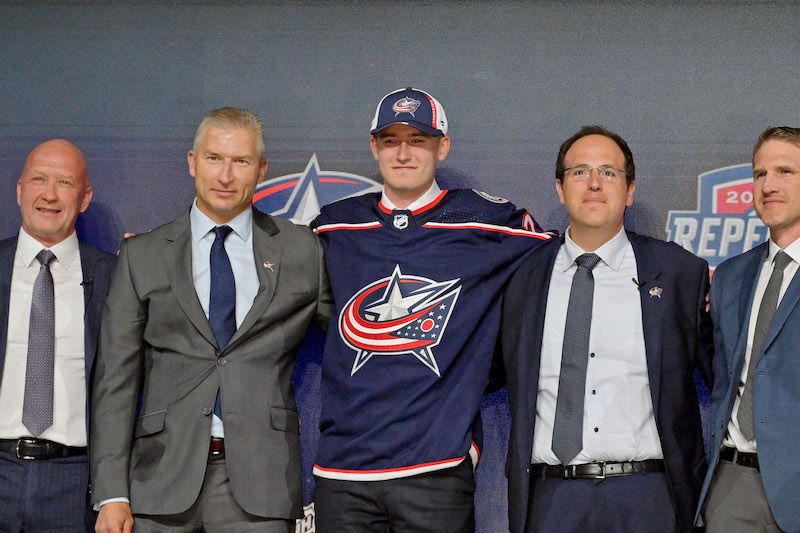 Could Jiricek make the team this season?
You know, never say never. I know they're not going to force him into the lineup. The Blue Jackets are a team that has enough depth right now.
If he's equal or not quite as ready as another player, they'll probably just send him back to the Czech Republic or the American League to keep developing. There's no sense in rushing him right now.
But again, this is a team that last season, when they pick Kent Johnson and Sillinger, nobody thought Sillinger would be here and spend his rookie year in the NHL, and there we are a year later and he played 79 games already. So it's kind of crazy. You never know how a player is going to surprise you and the centerman position that he played at is extremely complicated, just like playing defense.
So maybe he'll surprise people but I don't think it's in the plans right now to keep (Jiricek) with the team.
Speaking of Sillinger, what were your thoughts on his first year, making the team out of camp, and sticking with the NHL club all season?
What I like about him is…most centers are not flashy. He's got that old school to him. I don't want to say he reminds me of a Boone Jenner because he doesn't quite remind me of Jenner but he's one of these guys…to be 18 and play two-way defense like he did last season as a centerman, it's a big task.
A lot of time you see centermen coming in the league, (teams) convert them to wingers early, and then maybe three, or four seasons later, they go back to their natural position. For him to be a true center all season long is really what surprises me the most, and at the end of the year you look at, he's got 16 goals. I didn't care about the offensive output.
I was really just looking at how responsible he was in his zone and just physically was so ready for the NHL. That was something that definitely helped him. Some people had some questions about his skating abilities. I didn't see it. Yes. It's no Connor McDavid. He's not going to be confused for McDavid anytime soon.
But you know, (Sillinger) can get where he needs to get no problem and he's so smart that he can avoid overskating on someplace. So for me, I was really surprised by his defensive play more than the dazzle and flash that you see from some rookies that come into the league and score 30 goals their first season.
Sillinger really didn't shy away from the rough stuff, either.
Yeah, absolutely. Yes. The league is not what it was in the 80s or in the 90s.
But you're still an 18-year-old playing against men and some of these men are trying to hurt you. They'll try to run you off the rink. Even after, I think it was Sam Bennett (with the Florida Panthers) that ran him over, (Sillinger) didn't really skip a beat. When that hit happened, I was like, 'oh boy,' but you know, next game he was back in the lineup, right back at it, and didn't back off from anyone.
That shows a lot of guts for an 18-year-old and obviously, you get the respect of his teammates as well.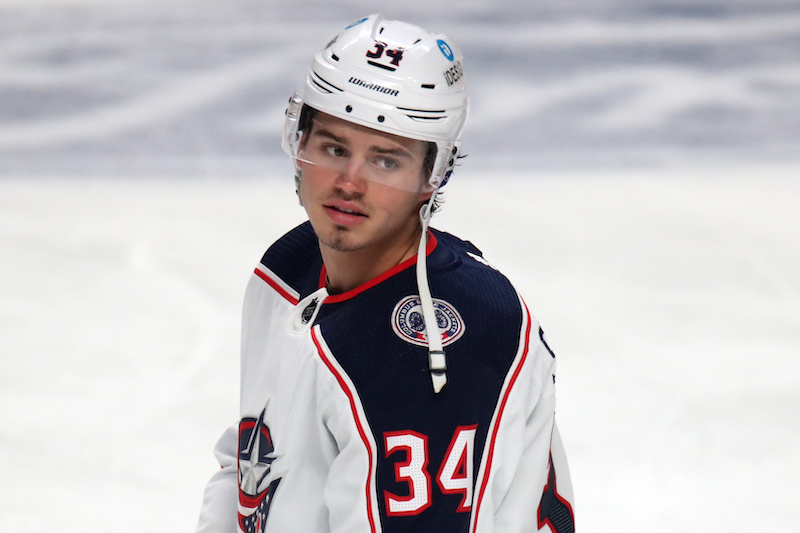 Do you have any good or funny stories from having played with his dad (Mike Sillinger, Blue Jackets teammates 2001-2003) back in the day?
(Grand-Pierre laughs) His dad was actually one of my favorite people. Do I have any great stories? Probably too many, some that I probably wouldn't tell on this podcast.
I can tell you he's a wonderful golfer, and last time I text with him, he said he was pretty mad because Cole and his buddies just cleaned his pocket on the golf course so I assume that Cole is even a better golfer than Mike his dad ever was. (Mike's) not too happy about that (Grand-Pierre laughs).
And apparently, Cole can throw a baseball, too, because he threw the first pitch for the Cleveland Guardians recently.
Yeah, I saw that. I think it was about 22 miles an hour, but it was dead center. So that's a strike (Grand-Pierre laughs). 
Beyond just the point totals for Johnson, what did you think about his game? What did you notice from him towards the end of April last season when he was called up to make his NHL Debut?
The one thing I noticed, especially for a player like this...there's extremely smart and Johnson is not a guy that you're going to see on the ice that's going to go from one end of the ice to the other, full-speed, toe drags, and kill people. 
He is a guy that is not the fastest but he's extremely smart at analyzing what's going on around him. What I noticed in his nine games is we saw some little subtle plays that he did here and there.
Whether it was getting the puck out of his own or entering the zone. But he was still very hesitant. You didn't see an immediate impact offensively from him which he's used to and I think he was just trying to soak it in, the NHL, and how are people playing in every shift after shift.
It's easy to go in and play against college-age people or juniors because you're so talented, but then now all of a sudden you're in the best league in the world. You kind of have to relearn a little bit how to play the game, and that's why I think those nine games were so important to him because now this year, he's been through it, got more experience this summer and he's gonna be ready at training camp this year.
So a lot of people, you look at last year like, 'well, he didn't score a goal'…it doesn't matter. You're just trying to get him in that atmosphere. So this year when the season starts, it's not a shock. And you can start, ready from day one instead of 10, 15, or 20 games.
So for me what I saw from him last year...not that much, honestly. But I did watch him in the Olympics. I did watch him in the World Juniors. And it's a guy that even when he played in the Olympics against men, he was supposed to be on that fifth or sixth line, and somehow he found himself moving up and up. Then all of a sudden he was a regular on that team and put quite a bit of points honestly. He's that smart and that talented that he's gonna find his way into the lineup no matter what.
And it's going to be the same thing with Columbus this year in my opinion.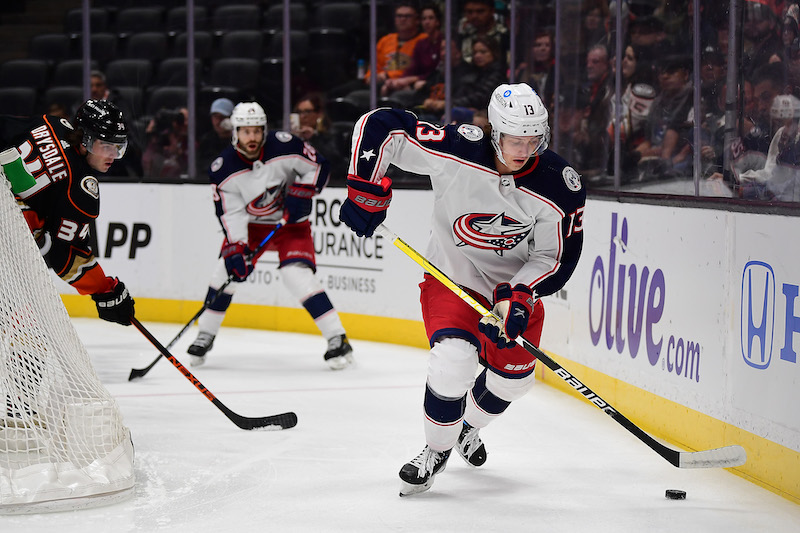 The Athletic's Scott Wheeler said he saw Johnson as more of an NHL winger. Do you view Johnson as more of a center or winger?
Down the road, probably will play center at some point. Once camp starts, probably put him on the wing, maybe some exhibition games, play a few shifts at center.
You look at the center situation there, you would have to beat out Sillinger, (Jack) Roslovic, Jenner, and (Sean) Kuraly. I honestly don't see it happening right now. So I would definitely put him on the wing.
He doesn't have to worry so much about the defensive part of the game and can't kid ourselves, he hasn't played center in the last three seasons, probably. I think at (University of Michigan) he was playing the wing all along. So maybe played a couple of shifts at center but you can't just all of a sudden pick up center in the best league overnight and be like, 'alright, I'm gonna be a center.'
Would they give him top-six minutes to utilize his skill or play him lower in the lineup to ease him into playing every day?
Long-term obviously, definitely going to be a top two. There's no doubt about it. This season, I'd like to see him anywhere from the first to the third line.
But honestly, even the fourth line when you look at today's hockey...the fourth line is really not what it used to be. But you still want that fourth line to be more of a hard to play against character line. So probably a top three line and he'll be fighting for a second line spot for sure.
But right now, if I were to pencil him in, I would probably put him as a third line, but again, that's why there's training camp. He could raise some eyebrows, and sometimes, you see teams right after training camp starting to make trades just because somebody opened their eyes that much and they want to make a bigger spot for him in the lineup.
So that's your job going into a training camp as a young guy.
The team defense will tell the story for the team this season. Did they do enough to address the defense?
That's going to be really interesting. That's the one thing that's the big question mark when you look at this team this year is, defensively, if they've done enough.
You bring in (Erik) Gudbranson, yes he's going to help defensively, physically for sure. But as a group, I think this team needs to block more shots or allow less shots on net because there was (Arizona Coyotes) and then the Blue Jackets were the No. two team that allowed more than 35 shots per game this season, which is kind of crazy when you really think of that number.
So for me, it's going to be commitment.
Yes. David Savard is gone, used to block tons of shots but let's not kid ourselves. We saw Andrew Peeke block just as many in that second half of the season.
So I think as a group, we're talking the forwards, the centers, the defensemen. They just need to be a little tighter in their defensive zone, but still, play some offense, and I feel like last season, they got away from it.
But you have to remember it's a new system, a lot of new players, a new coaching staff. It was not just Brad Larson...a lot of the coaches left after John Tortorella. So it's a whole new coaching staff. In their first season, they did fantastic, especially offensively, but now on the defensive side of the puck, you need to help your goaltender.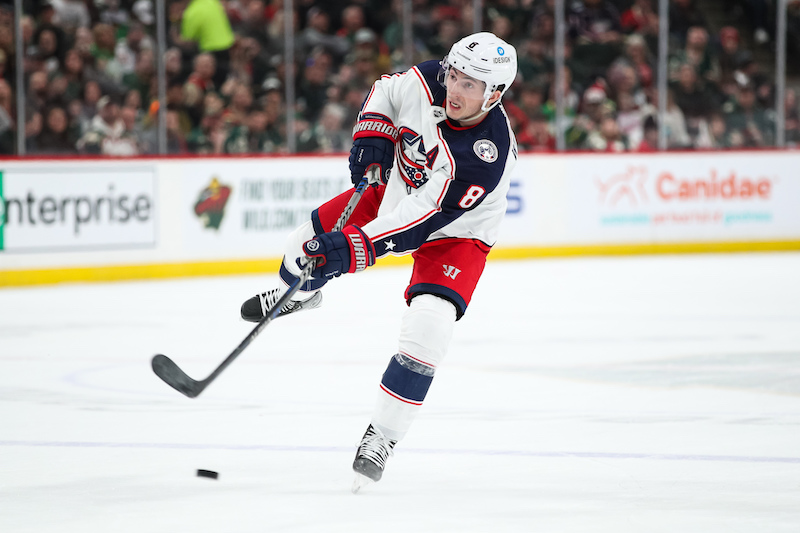 Relating to your playing days, how different are coaches' systems from one coach and one team to another?
(Coaches) usually play some kind of zone defense.
Some coaches like to utilize the basketball man-on-man where you have your guy and you're following him everywhere. And that creates a lot of confusion.
When you go to a system like that for a team...and that's not necessarily what the Blue Jackets did last year. But I don't think the system was that different under Larson last season. It's just implementing that system with a lot of new faces. And you did lose some guys that were around forever and really knew that system.
Now all of a sudden, you're putting people in a position, maybe a little higher in the lineup that they wouldn't have been in the past that are elevated, and not used to playing that system against the top line of the other team. That's where it makes a difference. 
If you're a third-line guy, you know your system. It's fine with the matchups. But now all of a sudden, the season after playing, gets first line guy, you're exposed a little bit more so it takes time for a coaching staff to get there.
Yes, you need to improve your defense, but it's not just the defenseman, the goaltender. It's also your forwards' commitment to playing defense.
Zach Werenski had to get used to a bit of a newer role, being the No. 1 defenseman, sans Seth Jones, wearing the 'A' on the sweater, and then adjusting his game to the evolving situation around him.
Yeah, for (Werenski), I think, you know losing (Jones), I'm sure he wasn't happy about it, but it gave him a bigger role.
He's a true No. one defenseman on that team right now. But what I really like about it is he really improved his defensive play. A lot of times you think, 'Oh, well if you're playing good defense, can't play good offense.' Well, there's a guy called Cale Maker that plays for (Colorado Avalanche) and honestly, I have watched him all playoff long, and I was absolutely stunned by how good he is defensively in his zone.
He's not the biggest guy, but stick positioning, and the way he was able to cut plays every single time the puck was in his zone was really impressive. And that's what you saw with (Werenski) last season. He became more responsible defensively in his zone and in the long run, it's going to make him a much better defenseman. And it shouldn't hurt his offensive numbers.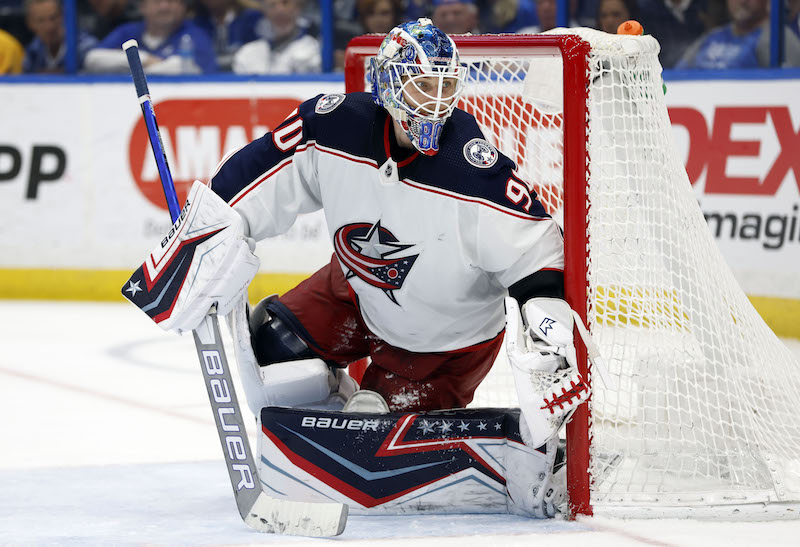 Merzlikins is entering his second season as the No. 1 starter. He played better in April when Larsen played him nearly every game, getting him used to the physical and mental grind. What did you think about Merzlikins' play last season?
Well, you look at the numbers and he finished with a .907 save percentage. (Tampa Bay Lightning's) Andrei Vasilevskiy finished with a .916 save percentage, so it's only like an 8.08% difference. But it's a big difference. And yes, ideally, you'd like to see (Merzlikins) at .910 this year or above, but how will that happen? 
He needs to see less shots because the Blue Jackets allowed the second-most shots all season in the league, which is really not acceptable, given the talent level they have there. So less work on his end, obviously, if he's seeing a few less shots a game.
For me, the big thing with (Merzlikins) is like you said, in April, he learned that less is more. When he had to play every single night, every single game.
He became a little less active in the net, more calm, and when you look at those good goaltenders, those elite goaltenders, they're almost boring to watch in net. I think (Merzlikins), yes, that energy...and it's part of his personality, and we're not trying to take that away, but he's trying to do too much sometimes when being calm and almost tired in net helps you play better positionally.
So he's more calm, the puck is hitting you in the chest all of a sudden. You don't have to extend the arms and the shoulders and do the splits because when you look at Vasilevsky, it looks like everything hits him right in the middle of the body and you're like, 'Is he that big?' Well, he's not. He's just always in the right position.
(Merzlikins), especially earlier in the year, was caught chasing side to side and acrobatic saves. Well, that works for a couple of games here and there. 
When you have to play 55-60 games a year, it's not going to work because he's gonna get tired. He got used to that at the end of the year. So hopefully, when the season starts this year, he goes with that frame of mind like 'Hey, this is a marathon, not a sprint. Let's keep it simple and less is more.'
If I were him, I would put that in my mask, 'less is more,' just to remember, you don't need to dive left and right if you're playing positioning, sound hockey. Everything's gonna basically hit you in the chest or near the chest.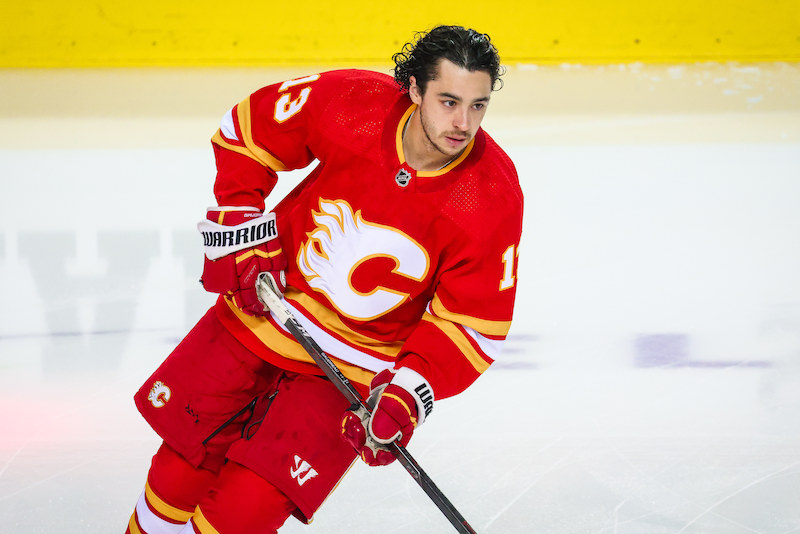 What were you doing the night the Johnny Gaudreau signing news broke...Do you remember?
Oh yeah, I remember.
We taped a free agent show with (Blue Jackets radio broadcaster) Bob McElligott. I want to say (Bally Sports Ohio analyst) Jody Shelley and I...and we're just talking about the Gudbranson signing and all that stuff. And (Bally Sports Ohio play-by-play man) Jeff Rimer was on there as well.
And we wrapped that up. I left and I went over to the lake and went sailing with my son and then he was on his sailboat. I was on a different sailboat and all of a sudden, my phone is just blowing up on the shore and my son's like, 'Dad the Blue Jackets just made a big signing!' And there was no wind and I could not get to the shore fast enough to check my phone.
I'm like, 'Who is it?' He's like, 'I don't know.' I was literally in the middle of Hoover and there was no wind. It's July, it's not that windy anyway. I cannot get to shore and I finally jumped off the boat and dragged it with me and swam to the shore to see that we signed Gaudreau.
But that's how it happened. So I did not see it coming. We were pretty much done with our free agent frenzy show and then next thing you know, we found out that he's here so I'll never forget it. Every time I go sailing I think about it (Grand-Pierre laughs).
We know how tremendous of a hockey player Gaudreau is on the ice. Talk about what the signing means for the organization and the city of Columbus.
Well, I think it's good for the organization, but I think it's great for the city because it seems like the city of Columbus has been dumped on.
Unless you talk about Ohio State football it seems like 'eh, why Columbus?'
Even people back home, our friends...'Why did you decide to stay in Columbus?' and I'm like, 'What do you mean, like why not, right?
So it's kind of funny and I don't know if it's because we don't have an NFL team or Major League Baseball or NBA team. People don't realize how big of a city Columbus is in general. You look at all the big markets and I think we're 13th in the country, 13th largest city, but you wouldn't know if you look at the pro sports franchises in the city because of things in Cincinnati or Cleveland.
So for Columbus to get Gaudreau...huge for the NHL but I think it's a huge win for the city of Columbus in general. Just like the Intel plant is bringing a lot of eyes on Columbus, I think Gaudreau is bringing a lot of eyes on the NHL side on Columbus as well.
So for me, extremely happy and hopefully, it's going to help the organization in the future be able to bring big free agents and not be their third or fourth or fifth or seventh pick but their first or second one instead.
As we look ahead to training camp and the season ahead, what are your burning questions with this team?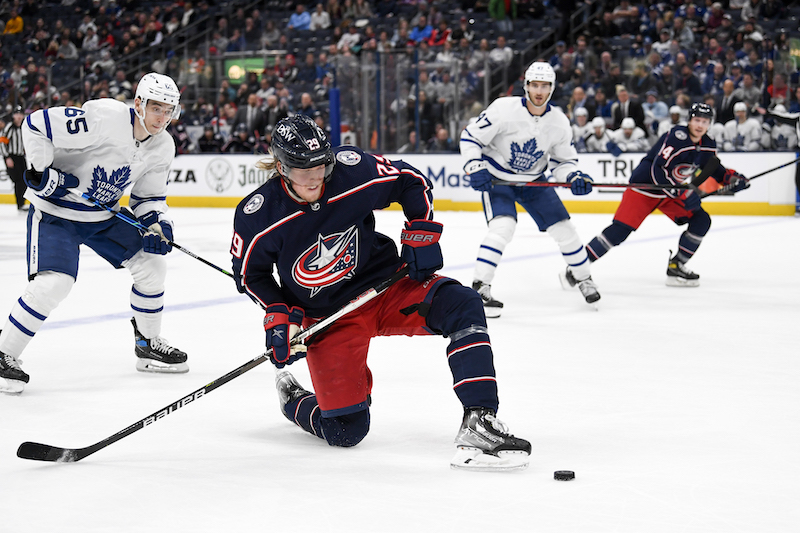 Will (Patrik) Laine and Gaudreau be on the same line? (Sounds like that will be the case per Larsen.) That's a big question everybody wants to know.
I'm looking at the goaltending situation. I cannot wait to see how (Joonas) Korpisalo is going to bounce back after the hip surgery and it was a tough season for him last year, obviously. So can he get back to his All-Star form that we saw a couple of seasons ago? So that'll be number two. 
Number three, I'm not sure.
Honestly, this locker room, I cannot wait to see it. It's literally like everybody I talk to is talking about it, and so they can't wait to see it. And I think I'm more excited to see it than some of the players probably. So can't wait to see it because I know they've put a lot of money down there. It's completely changed and hopefully, we'll get a chance to broadcast some tour of the locker room there on our shows this year because I think it's something that's going to be pretty special.
And probably one of the best facilities in the NHL.
When you're watching the games and not on camera, what goes through your mind, watching the good and the bad...does it stir up something inside you where you ever wish you could get back out there and throw helmets around?
Sometimes it gets frustrating when things happen and I just want to push (Shelley) over the boards and tell him to jump in there because he's right between the benches there, that's for sure. But, you know, I'm not gonna lie.
Now that I'm 45 years old, a little older, a little smarter. I probably just stay out of these guys' ways and just let them play the game the way they want because as an analyst, I'd much rather watch a bunch of goals than have to describe some fighting happening on the ice. 
Yeah, honestly, what you see is what you get. Having fun with it and watching the games and yes. Is it frustrating sometimes to see some of the stuff that happened on the ice? Of course, it is. But you know, I don't sweat it anymore because I'm not playing anymore. I'm just having fun watching hockey like everybody else at home.
---