Is the best ahead for Patrik Laine this season?
Laine enters his second camp with the Columbus Blue Jackets in his third season overall with the team. Already, the rave reviews have begun coming in on Laine, still just 24 years old and already a seven-year NHLer, as he enters this year's camp.
Based on what Ive seen in camp, I am buying stock in Patrik Laine right now. #CBJ

— Jeff Svoboda (@JacketsInsider) September 28, 2022
While everyone knows what kind of player Laine is and what he does well when things are going right, he came into camp last season with a bit of mystery.
The shortened 2020-21 season was a tough year. Laine was traded to a new team and city, during the Covid pandemic, overcoming injury while adjusting to a new hockey system under John Tortorella. As well as other any other challenges that come with being traded to a new club.
There were also contract questions as to whether Laine would be a part of the team's future or dealt in a trade if the then-RFA couldn't agree on a new deal beyond the 2021-22 season.
56 points (26 goals, 30 assists) and a brand new four-year contract one year later, that's only part of the optimism surrounding Laine this year.
According to The Athletic's Aaron Portzline, Laine came into camp "noticeably thinner, having cut his body fat down to single digits." Head coach Brad Larsen said Laine was "moving really well" as training camp took to the ice last week.
Then Laine scored one of five Blue Jackets goals in the 5-1 win over the Pittsburgh Penguins in last Sunday night's preseason home opener.
One order of Patty Bomb coming up! Peeke hits Laine with the cross ice pass for the goal to make it 2-0! pic.twitter.com/8q4mNySY9b

— CBJ Center (@CBJcenter) September 26, 2022
"I've watched him skate two or three times, I'm hugely impressed, hugely impressed" president John Davidson said about Laine during Blue Jackets' media day at the outset of camp.
"I think he's fired up. I think he's trained really hard this off-season. He's fired up about making a statement."
Would Laine say this year is the best shape he's been in?
"Yea, I would say so," Laine said. "I had a really good summer and worked really hard. Not that I don't every other summer but especially this summer, I wanted to kick it up even more than I've been and I feel really good out there."
Sure, it's preseason lip service to this point. But it's certainly the promising narrative you like to hear as this could be Laine's best season yet.
Last week at the NHL media tour, Zach Werenski raved about how Patrik Laine has looked ahead of training camp. Today, it was John Davidson who did the same. "I"m hugely impressed," JD said. "I think he's fired up."

A fired up Laine with Gaudreau should be fun to watch. #CBJ

— Jeff Svoboda (@JacketsInsider) September 19, 2022
Now you add Johnny Gaudreau to his opposite wing and you start to wonder if it's back to the video game scoring numbers that Laine put up as he broke into the league.
If he's healthy, why not?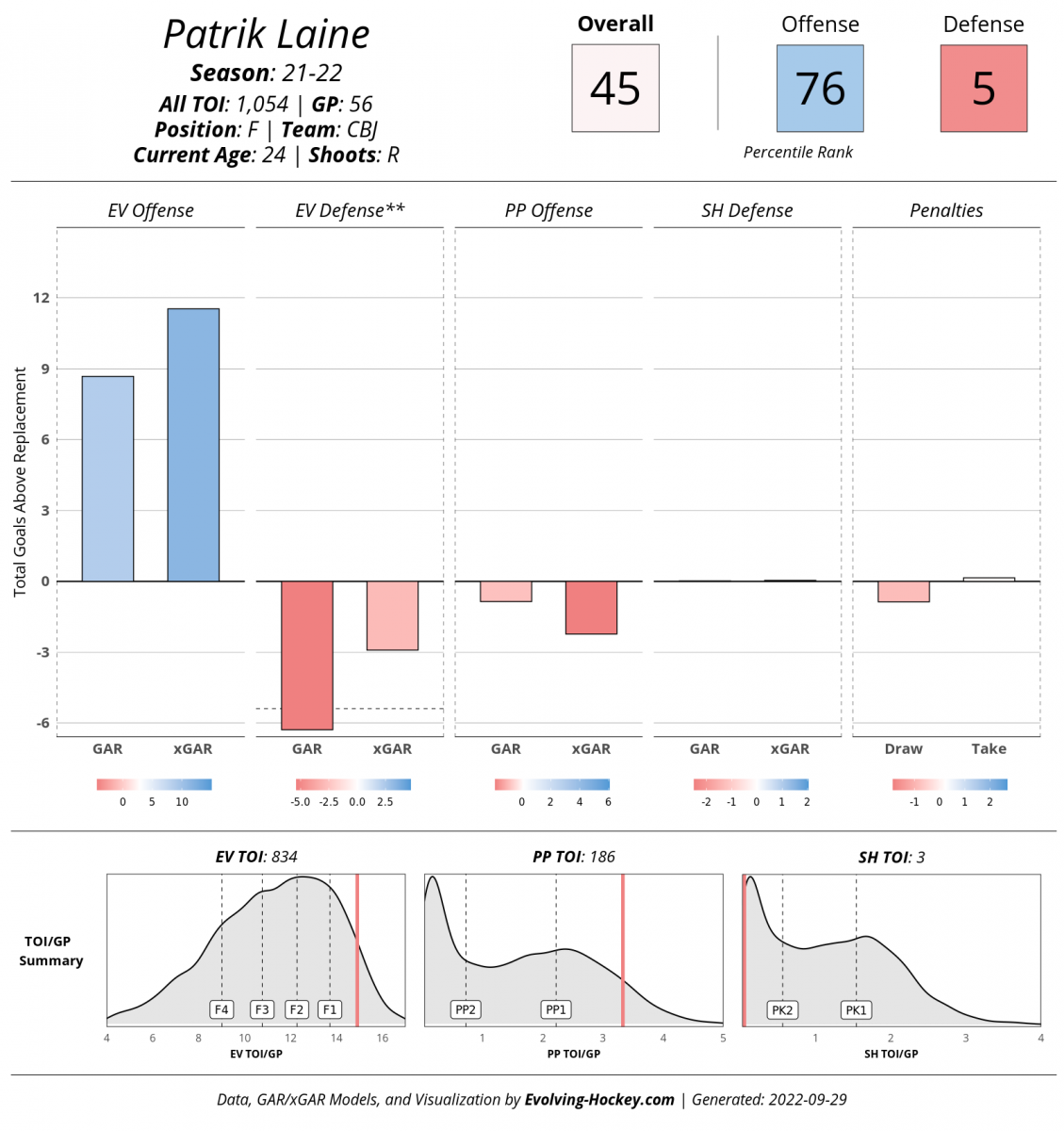 With 176 goals in 407 games so far, Laine has accumulated more than 30 goals in a season three times, but not since 2018-19. He scored 44 in 2017-18 and there are those that are forecasting Laine to get back into that scoring territory.
Time will tell on that but the promise for Laine is there and the scoring potential across the Blue Jackets is certainly there.
But don't expect Laine to worry so much about what other people expect.
"I don't care about what other people expect, except those guys in the locker room," Laine said. "That's all I care about. It doesn't matter what somebody from the outside says...if I need to score 70 goals, I don't care about that.
"As long as (my teammates) appreciate what I'm doing, that's all that matters to me.
"But yeah, you always want to be better, better than you were the year before and that's pretty much the only thing I'm worried about out there."
Laine has only participated in one of the Blue Jackets preseason games so far and the next contest is Saturday night against the Washington Capitals.