In a year full of misery and disappointments, it's nice to talk about the surprises and potential hidden gems.
When writing about the state of the Columbus Blue Jackets defense earlier this week, rookie Marcus Bjork was in the good of the good, the bad, and the ugly that has been the defense this season.
Perhaps this week you heard head coach Brad Larsen talk about Bjork's season so far on his weekly radio hit on Hockey & Hounds with Rothman & Ice. And if you didn't, here's the full blurb below:
(Bjork) is a guy who's been very steady. His game has dipped a bit, too, and I wonder if it's just due to workload and the busyiness of a schedule.

We forget about these guys that come over in their first year. Whether they're coming from Europe, whether they're coming from college schedules, junior schedules. When you start playing every second day against the quality teams that we have been playing, how hard it is; He's been playing in a top-four role pretty much from day one since he got here.

He looks like he's lost some energy for me and when you lose energy on the defensive level in this game, you could be maybe a half-step behind. So his game has slipped a bit and when I say slipped, I mean maybe it's just been on a little bit of a downswing and it's not lack of effort. There's a reality to how many games you play but he has been a bright spot for us.

(Bjork) has been, from camp to where he's come in and put in really incredible minutes for us. I've been very impressed with his game and I think he's got a bright future in the NHL.
You can listen to the full interview here, starting with Larsen's quotes on Bjork at 6:40. The whole 15:38 interview also included his comments about Gaudreau's dipped ice time of late, and his thoughts on Kirill Marchenko after his hat trick performance against the Carolina Hurricanes last weekend.
On the year, Bjork has averaged 19:01 ice time to go with 11 points (three goals, eight assists) and he is tied for eighth among rookie defensemen in points. Bjork was a healthy scratch in Thursday's most recent 6-2 loss to the Hurricanes.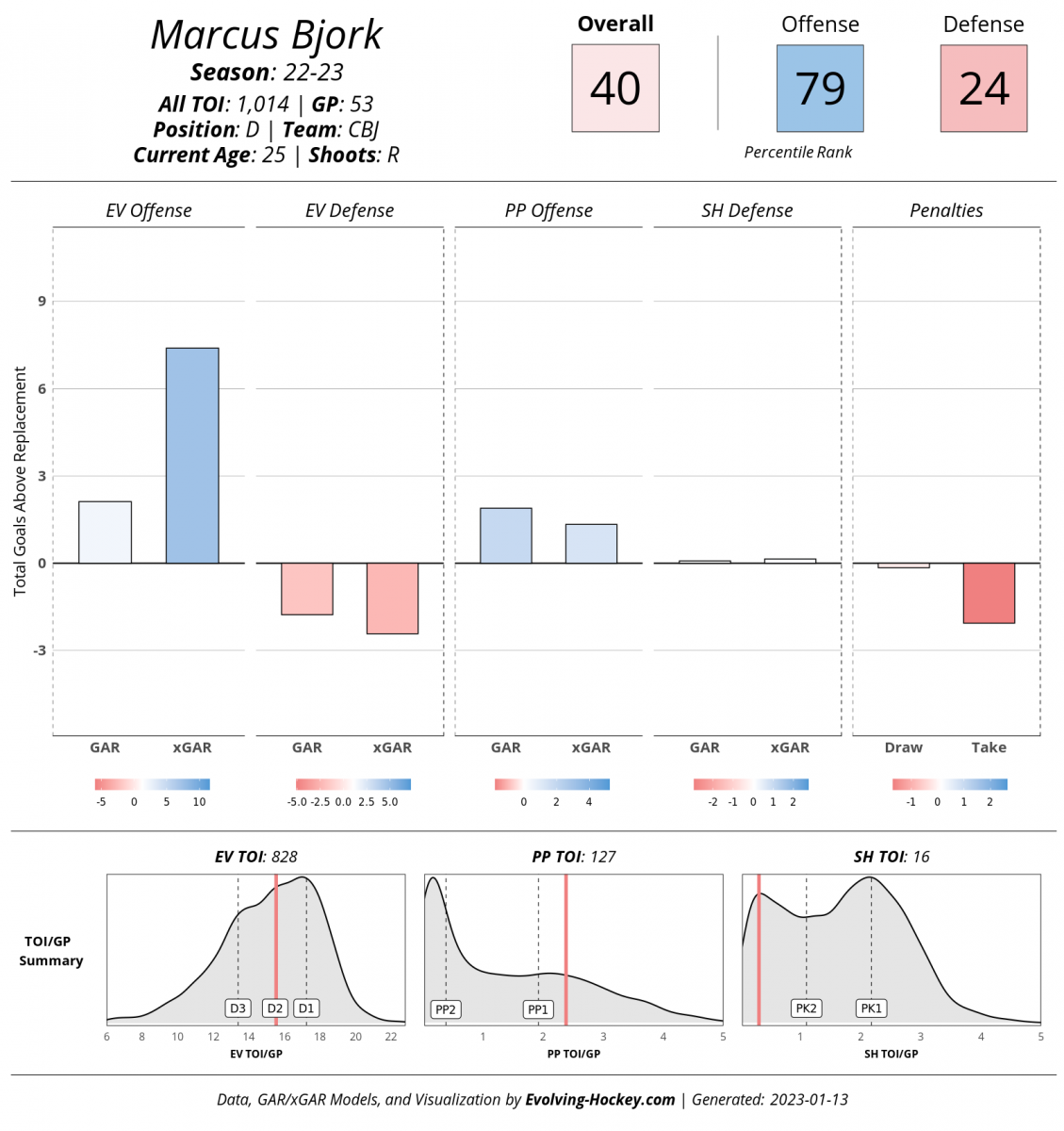 When Bjork, a 25-year-old Swede, was signed by the Blue Jackets last summer after playing in the Swedish Hockey League for the last several seasons, who really knew what to expect from the undrafted and now early-season revelation?
Whether he's a late bloomer who can really stick in the NHL is unknown at this time. But it is worth considering the mileage he's adding right now, playing in the best league in the world. It's not easy to come into a new league, adjust to a new team, system, different rink size, and battle the best opposing players and teams, all while bringing the same consistency night in and night out.
While his defense can certainly improve, he does have a 2.43 GA/60 according to Natural Stat Trick although his xGA/60 is 3.0.