When things start to bounce your way, you can get a little hot.
Patrik Laine has been known to go on a torrid goal-scoring surge in the past and might he be about to do that again?
That was certainly the case on Saturday in a 4-3 win over the Detroit Red Wings.
sheesh #CBJ pic.twitter.com/4MPA4Fabxw

— 1st Ohio Battery (@1stOhioBattery) January 15, 2023
Laine might be getting hot. Here's his second of the period. From Roslovic and Blankenburg. #CBJ pic.twitter.com/P1E2Q4fTkr

— 1st Ohio Battery (@1stOhioBattery) January 15, 2023
Pat trick. #CBJ pic.twitter.com/0rJXeWVb4c

Boqvist gets the assist and Gaudreau adds his second.

— 1st Ohio Battery (@1stOhioBattery) January 15, 2023
Three goals in just under 20 minutes. Two first-period goals in 2:34, bookending the Blue Jackets' first-period goal scoring, with Vladislav Gavrikov picking up his first regulation goal this season in the first period.
Patrik Laine scored the 10th hat trick of his NHL career.

Only four other players have as many since his debut season in 2016-17: Alex Ovechkin (15), David Pastrnak (13) and Connor McDavid (12). #NHLStats: https://t.co/P011uxPRer pic.twitter.com/34pEaXGASZ

— NHL Public Relations (@PR_NHL) January 15, 2023
The hat trick was Laine's 10th of his NHL career and his second as a Blue Jacket, with the first dating back to Feb. 17 of last year against the Chicago Blackhawks.
Prior to the first first-period goal at 12:47, he had gone nine games since his last goal against the Boston Bruins. He most recently rode a three-game point streak (three goals, three assists) prior to Monday's 3-1 loss to the New York Rangers.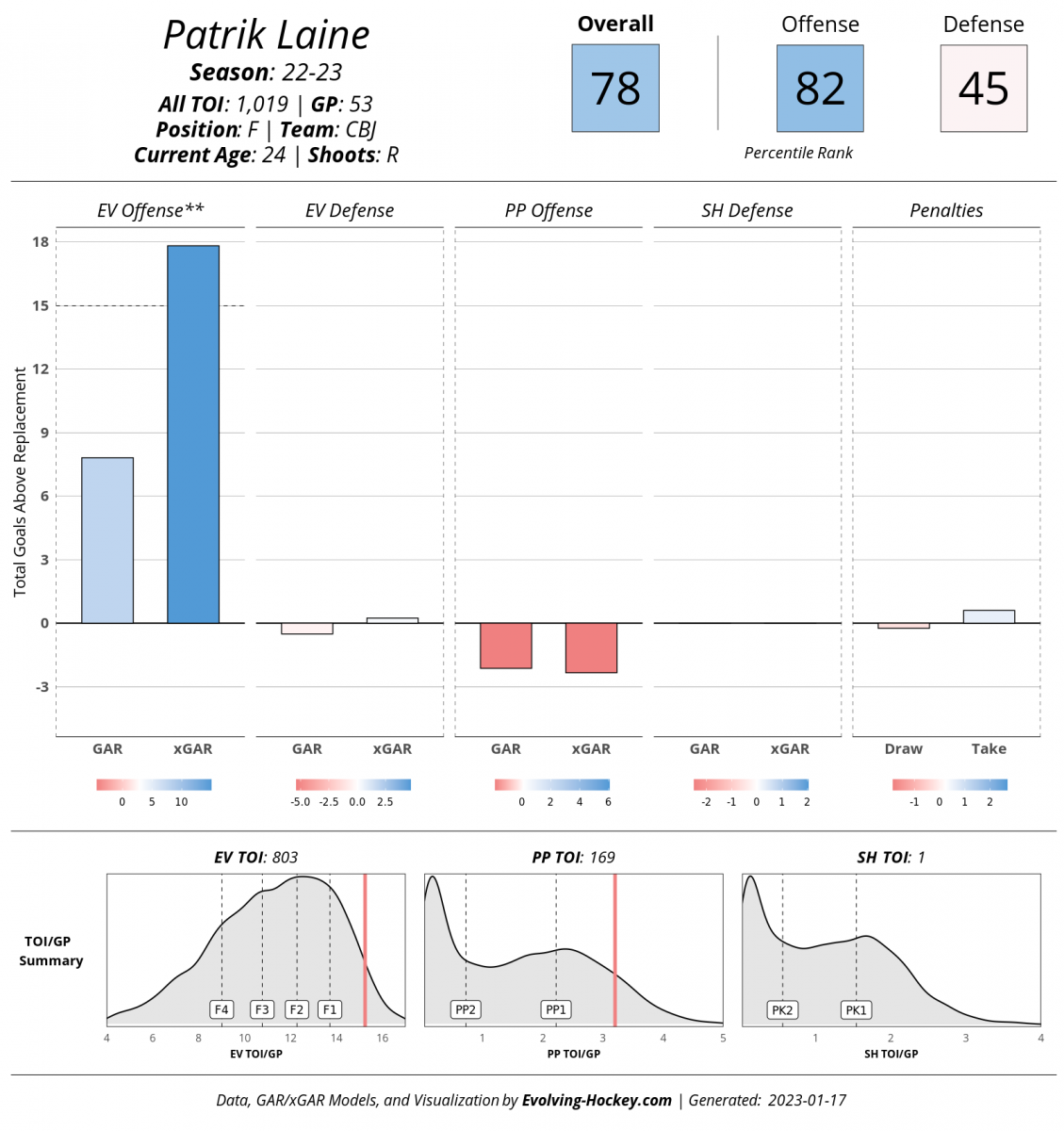 With 22 points (12 goals, 10 assists) in 28 games, Laine is currently on a 23-goal pace. He's co-leading the Blue Jackets with 12 goals alongside Johnny Gaudreau, who assisted on two of Laine's goals on Saturday.
"That line had a good night, head coach Brad Larsen said after Saturday's win. "They could have had more. They were close to cashing in some more tonight."
There have been nine scoring sequences this season in which Laine or Gaudreau have assisted on the other's goal, and Larsen still thinks there's more to come between Laine and Gaudreau in terms of offensive chemistry. 
"I don't think I'm there yet," Larsen said. And that's not a slight to either one of them. The circumstance of the season has been bizarre. (Laine) has been out a couple times and missed some time. What you'd like to see is a stretch where we got a little bit healthy and had some layers and some depth in our lineup, and then see.
"I don't think they're there yet but we're halfway through the first season. This isn't like they've been together for three years and it takes time. Chemistry, we all want it to be instantaneous but it takes time."
Laine, as one can imagine, certainly felt good about pucks going in the net for him.
"It's great," Laine said after the game. "It's no secret (the puck hasn't) been going in lately. I feel like I've been working hard and try to shoot as many pucks as I can. Guys made great plays and it was easy for me just to finish."
It was one game, but it's hard to forget the rapid scoring pace Laine went on last season when he scored a string of three-straight multi-goal games from Jan. 30 through Feb. 8 as part of an 11-game point streak (13 goals, eight assists) from Jan. 27 through Feb. 24.  He scored nine goals in 10 February games to go with six assists and 15 points. He had another 15 points (six goals, nine assists) in March.
We'll see if Laine can get on a roll like that and continue the push when the Blue Jackets take on the Nashville Predators on Tuesday from Bridgestone Arena.