Patrik Laine, Boone Jenner, Johnny Gaudreau, Kirill Marchenko?
If you had Marchenko among the leading goal scorers for the Columbus Blue Jackets on Jan. 27 before the season started, raise your hand.
While that fact might not be all too surprising considering the pre-season potential and, at the time, the possible what-if in terms of whether he might be on the big league club at some point in 2022-23, what is a pleasant surprise is how well Marchenko has performed for the team in such a limited capacity.
In 25 games, Marchenko has 11 points, all goals. He's on pace for 19 goals in 43 games.
The NHL hasn't had a player finish a season with at least 10 goals and zero assists since 1928-29 (Normie Himes, for all those wondering).

Kirill Marchenko currently has 10 goals and zero assists. Though I suspect he'll get a helper at some point, it's still a fun stat. #CBJ

— Jeff Svoboda (@JacketsInsider) January 24, 2023
The statistical oddity in the goals-to-assists ratio brings to mind Voracek's own statistical oddity a season ago when he ended up with a team-leading 62 points, and his 56 assists fell just short of the franchise's individual season record, to go with six goals.
Head coach Brad Larsen spoke about Marchenko on Wednesday's Hockey & Hounds with Rothman & Ice at 2:47:
You love to see him finish. He's got a really good shot. He's got a knack to get it by goalies and that's a tough thing to do especially at this level.

What I've been impressed with is his pace has gotten a little bit better. I think he's understanding the speed of the league. I think he's understanding how he can get better with a lack of time and space because that's much different than how it is overseas.

He's learning like some other guys. He still has some ups and downs but I think there's lots to be excited about with a kid like Marchenko.

One of the things I love about him is his willingness to learn and his passion for the game. He asks fantastic questions when he comes to you. A student of the game and trying to improve and understand the North American game better so there's lots to be excited about with him.
Here's the full 13:03 interview. Larsen also talked about Gaudreau's return to Calgary and the intensity the Blue Jackets played with, going up against the likes of Connor McDavid and Leon Draisaitl, experiencing different hockey markets and arenas, and the strategy when managing overtime.
In the brief start to his NHL career, Marchenko recently ended a career-long six-game goalless drought with a power play tally against the Calgary Flames on Monday that helped propel the Blue Jackets to overtime for an important point. He did it again on Wednesday in the third period to tie the game at two and push the team to overtime to set up the eventual win over the Edmonton Oilers.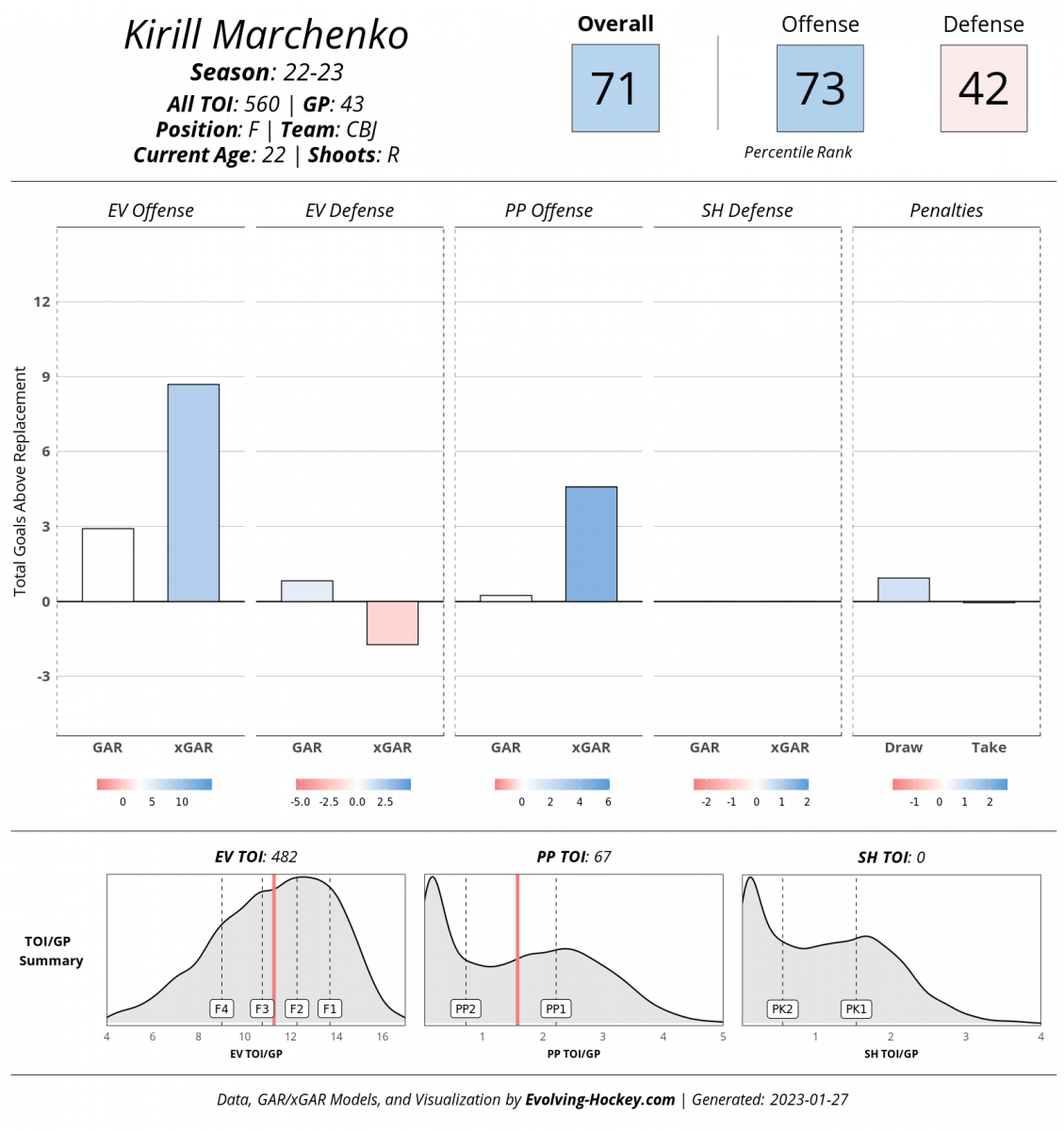 Taking into account that Marchenko has not played a full season and that the numbers might normalize a bit over the long haul, Marchenko is currently among the teams' leaders with 1.5 goals/60 according to Natural Stat Trick, and that's while playing 11:10 per game.
Though the Blue Jackets' season has been pretty miserable on the ice, to say the least, the scoring prowess we're seeing with guys like Marchenko is certainly a potential catalyst for this team moving forward.