NHL teams are made up of impact players.
Some are flashy with loads of skill and eye-popping numbers. You know the names: Johnny Gaudreau, Patrik Laine, and Kent Johnson are a few on the Columbus Blue Jackets that come to mind. They each do something a little different.
There are the unknowns. Those that haven't quite made a name for themselves yet. Maybe they are guys that aren't necessarily flashy but they get their job done or do the little things all teams rely on. There are players who are underrated and don't stick out but they're important to his teammates and coaches.
Where does Tim Berni fall into that equation?
On Wednesday's Hockey & Hounds with Rothman & Ice, head coach Brad Larsen talked about bright spots on the team in the middle of a tough season and Berni was one of those guys that caught praise:
You look at guys who come up like (Berni) who goes under the radar. If you look at his numbers, they're not eye-popping, but he has been a very steady, competitive kid. Because he plays a similar game in the minors, and it's not flashy, you don't know how that's going to translate in the NHL, and he comes up and all he's done is take heavy minutes, played a heavy role, playing against the top players every night.

I feel like his game has dipped a little bit but I just think it's due to the amount of hockey he's played, the schedule, everything.

But he's a guy that stands out to me right away and you go 'maybe we didn't see that coming,' and this is where we talk about opportunity and we talk about guys stepping up.
Larsen's quotes on under-the-radar performers and Berni begin at 2:48 of the 13:52 interview. The full conversation also gets into Tuesday's overtime loss against the Washington Capitals, second-half consistency, and Johnson's crucial third-period blocked shot that helped send Tuesday's game to overtime.
In his rookie season across 28 games, Berni has the only point of his career, his first-career goal that came on Jan. 10 against the Tampa Bay Lightning. He's averaging 17:56 ice time for a blue line that has come to rely on newcomers with so many injuries this season.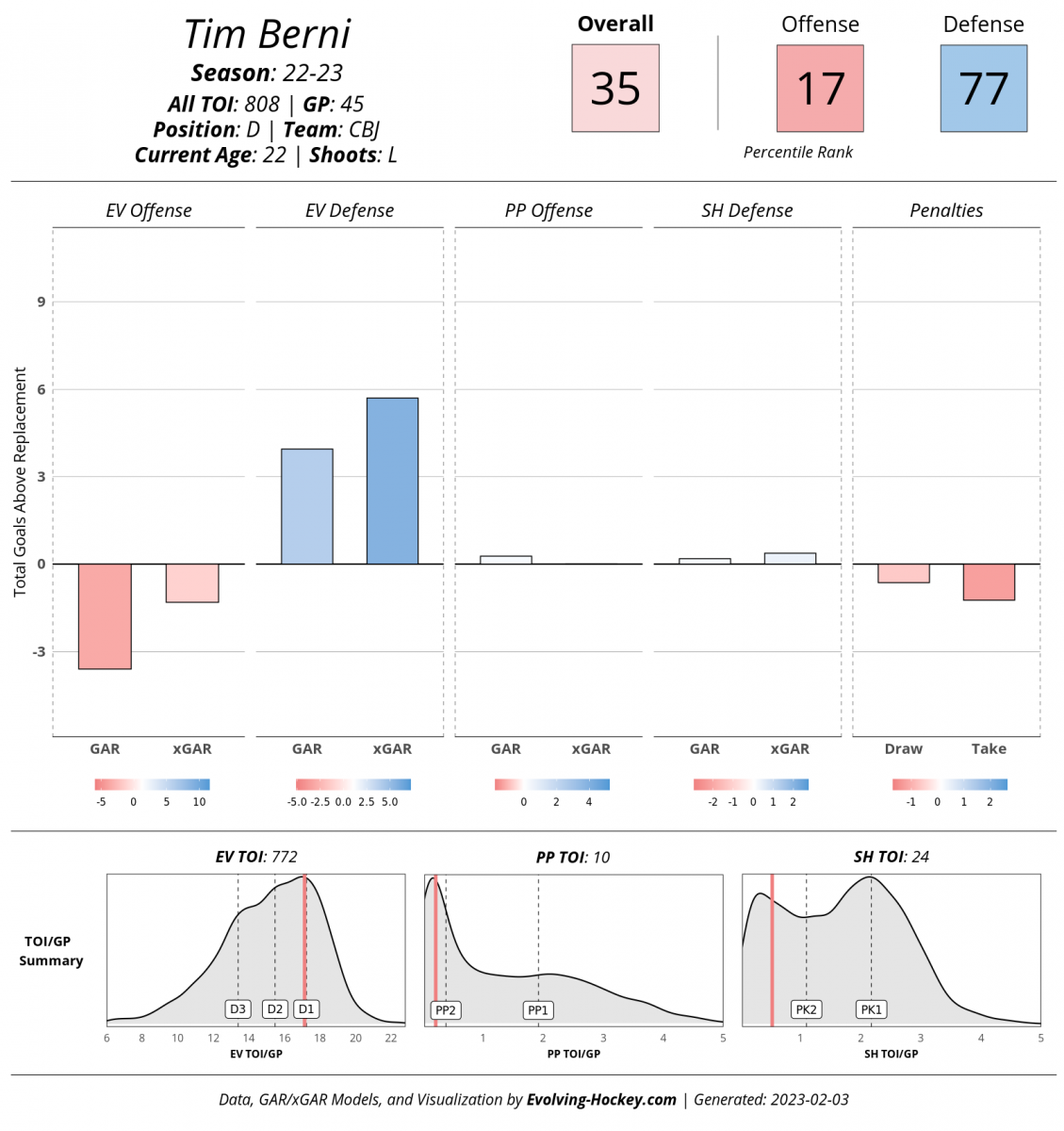 Berni won't get the credit on the scoresheet but he did play an instrumental part in the Blue Jackets' second goal on Tuesday to cut the deficit to one. Working along the boards, he helped set the rush in motion with Mathieu Olivier and Eric Robinson that ultimately helped set up the tally at 11:03 in the second period.
writing about Tim Berni for Friday and he had a nice play along the boards on Tuesday to help set up the Robinson goal. Shoutout @daniel_dukart and @InStatHockey for the vid. #CBJ pic.twitter.com/sKtwxjNoAV

— Will (@willgchase) February 2, 2023
(Berni) is very competitive in the battle and he is not a six-foot-five guy. I'll tell you what, he doesn't shy away from any confrontation.

And a lot of times, he comes out on the right side of it and that's what's been really impressive about him. He'll skate himself out of trouble, he'll make the next play, he's not shy of the contact. I think he has a good guage of when he has to take it on and when he maybe lets the guy go first and then eliminate. Got a good stick, good first pass.

Again, there's just lots about his game that says he's a very calm pro and for that position, that's what you're looking for.
Berni, along with fellow blueliner Marcus Bjork, was sent down to Cleveland on Wednesday while the Jackets are on break. The Monsters are playing the Chicago Wolves tonight and on Saturday before the AHL begins its All-Star Break on Feb. 5-6.