Due to multiple injuries and being a healthy scratch, Adam Boqvist has played in just 83 of a potential 146 games since arriving in Columbus ahead of the 2021-22 season.
#CBJ Boqvist (1) goal pic.twitter.com/cJncsKvsI5

— Coby Maeir (@CobyMaeir) February 15, 2023
However, since Dec. 31, 2022, Boqvist has been playing well, posting 3-15--18 and showing that he can be a long-term answer on the blue line. Still just 22, Boqvist is sixth on the Blue Jackets in goals above replacement (3.8), wins above replacement (0.6), and standing points above replacement (1.2), according to evolving-hockey.com.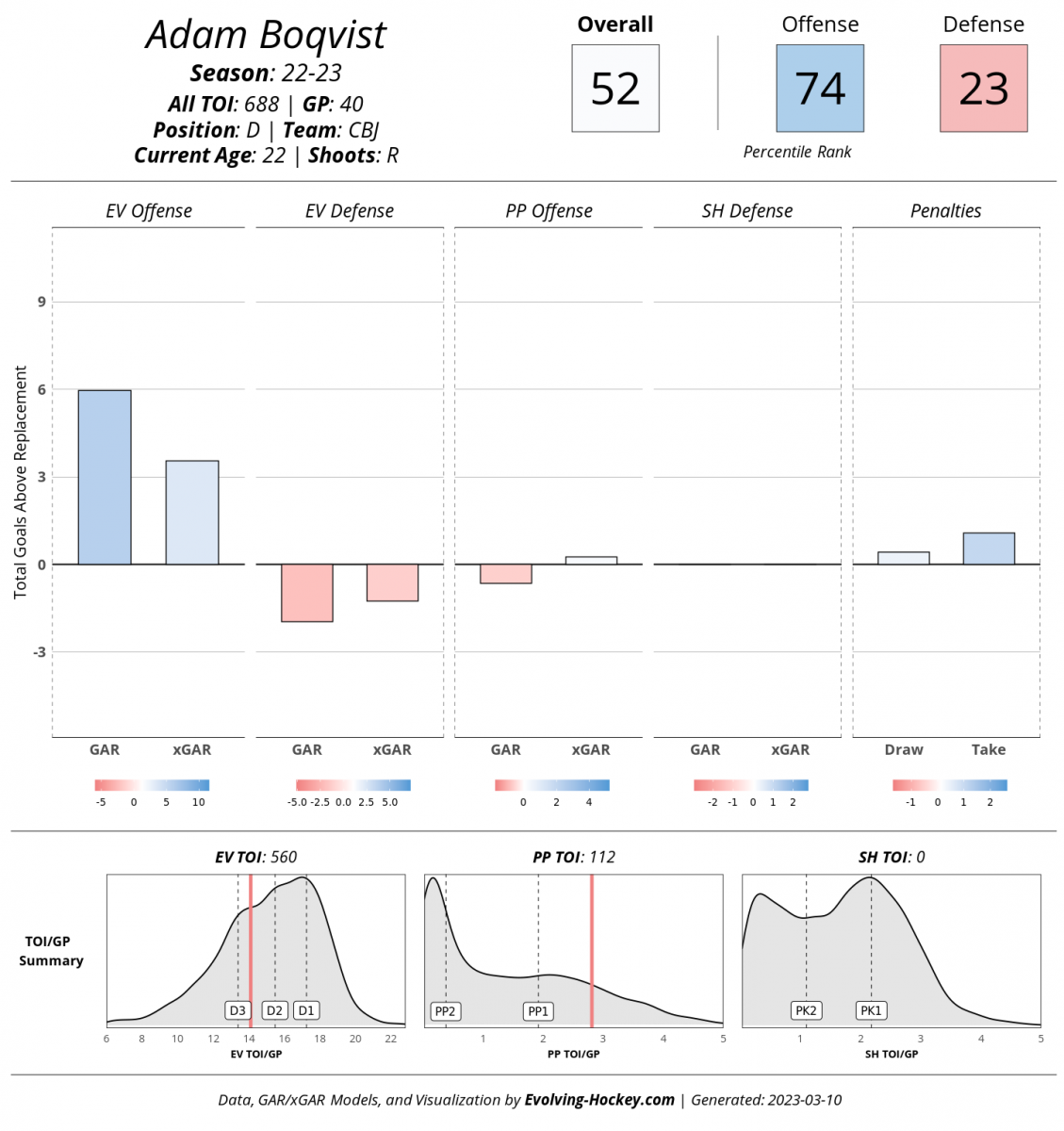 Sure, the defensive numbers could use some work, but Boqvist is an offensive defenseman and to his credit, he has improved on defense over the course of this season. In his last six games, he's recorded three takeaways and just one giveaway, per moneypuck.com.
#CBJ Boqvist (2) goal pic.twitter.com/gDgUUEFLFY

— Coby Maeir (@CobyMaeir) February 19, 2023
Boqvist is in the first year of a three-year contract that carries a $2.6M annual cap hit. If he can stay healthy and pro-rate his recent play over a long-term period, that $2.6M is going to be an absolute bargain for the Blue Jackets. 
He's a player that has elite offensive upside, and if he can reach it, whatever his shortcomings are on defense won't be as big of an issue. His 18 points in 31 games puts him on a 47-point pace over an 82-game season. That is fantastic for a defenseman. 
Hopefully, for both he and the Blue Jackets, Boqvist can stay healthy and continue to grow into the player the Jackets had high hopes for after acquiring him in the summer of 2021.