Johnny Gaudreau has turned in a very fine first season in Central Ohio.
The first-year Columbus Blue Jacket leads the club in points (62) and assists (45) and is tied for third with 17 goals.
With seven points (two goals, five assists) over his last three games, Gaudreau had arguably his best moment as a Blue Jacket in Tuesday's thrilling 6-5 overtime win over the San Jose Sharks when he had his first five-point (two goals, three assists) game of the season and third career game with at least five points.
Can you name all the players in @BlueJacketsNHL franchise history who have recorded five-point games?#CBJ | @BGiesenschlag | @JLGP34 pic.twitter.com/58m6hs9gPs

— Bally Sports Columbus (@BallySportsCBUS) March 15, 2023
There's little Gaudreau can do that would surprise you and yet it was one of those games that highlighted just how good he is and will be for the club.
A five-point game for Johnny Gaudreau and an OT win for the @BlueJacketsNHL#CBJ pic.twitter.com/5cRMOztxbo

— Bally Sports Columbus (@BallySportsCBUS) March 15, 2023
An offensive wizard with the puck, he entered this season off his best year to date when he was among the league leaders in nearly every major offensive category in 2021-22 with the Calgary Flames.
Considering how tough this year has been on the ice for his new team, Gaudreau is putting up nearly a point per game (0.95) and is on pace for a 76-point season. If that holds up through the rest of the year, that would be the fifth 70-point season of his 10-year career.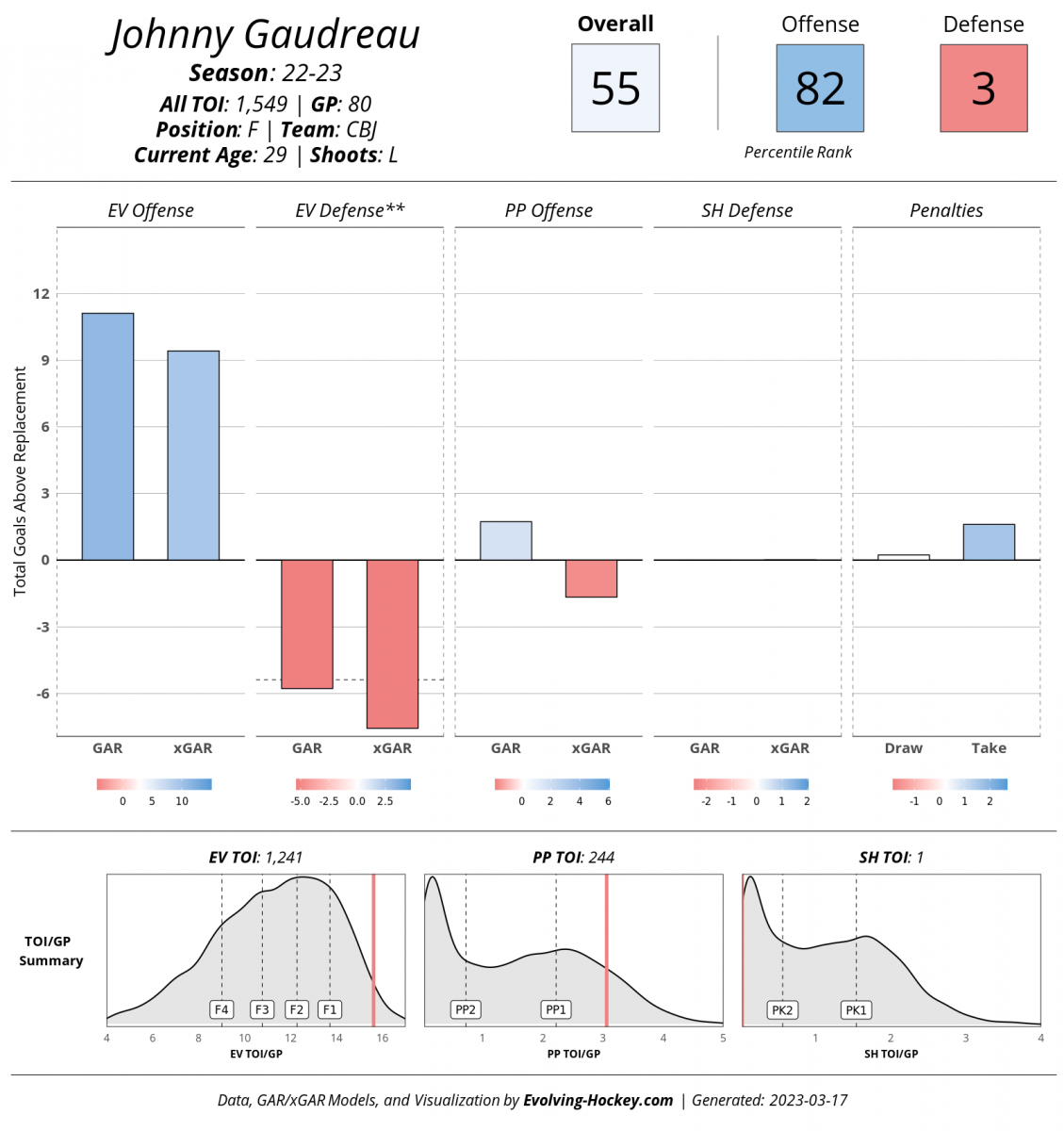 For the Blue Jackets franchise as a whole, the 70-point mark is an individual single-season feat only accomplished on six occasions by five different players including Artemi Panarin (87 points in 2018-19 and 82 in 2017-18), Rick Nash (79 in 2008-09), Ray Whitney (76 in 2002-03), Nick Foligno (73 in 2014-15), and Ryan Johansen (71 in 2014-15).
The cannon has been loud for Gaudreau at Nationwide Arena as he has scored 40 of his 60 points (14 goals, 26 assists) at home. He has 22 points away from Nationwide Arena with just three goals and 19 assists.
On Wednesday's Hockey & Hounds with Rothman & Ice, head coach Brad Larsen talked about Gaudreau's elite night against the Sharks at 4:55:
The thing with Johnny is you could see early he had his legs. You give him a little bit of room, I felt like he was able to find space and room (Tuesday) night.

Any high-end players, you give them time and space and they generally know how to take advantage of it and he did a tremendous job. His legs were going all night. He was distributing, he was shooting. He was literally all over the ice.

To come out with a five-point night for us and get the game-winner and everything that he did (Tuesday) night was huge.
The full 13:11 interview talked about Tuesday's win over the Sharks including the 2-on-0 overtime sequence led by Gaudreau and Patrik Laine for the winning goal, Boone Jenner's impact this season, and Kent Johnson as he nears the conclusion of his first full NHL season.
Johnson's budding star emergence has been evident this season as he finds himself fifth among all rookies with 33 points, sixth in goals (14), and eighth in assists (19). Another full year by No. 91, Kirill Marchenko, added chemistry with Laine, Jenner, and additional high-end talents coming up through the draft should make Gaudreau more comfortable as the overall tone of the offense looks to flourish.
It's hard to get too excited, yet, but the power play has been better. Since the start of the second half, the Blue Jackets are 10th in the league (10-for-43, 23.3%) with the man advantage. Gaudreau leads the team with 19 points on the power play but only has two goals.
Overall, he's done a good job in year one with less-than-spectacular team results. Additional emergence around Gaudreau will be exciting to monitor.
He and the Blue Jackets are right back at it again on Friday night when they battle the Anaheim Ducks at 10:00 pm ET.