Since the start of 2023, Patrik Laine has recorded 13-21--34, part of the 22-28--50 he's scored in 54 games in his second full season as a Blue Jacket. Over an 82-game pace, his season totals would be approximately 33-42--77. Those numbers would result in a career-high in points and his first 30-goal campaign since 2018-19. Since the turn of the calendar, he has scored eight more points than the next-highest scorer, Johnny Gaudreau. 
#CBJ Laine (18) goal pic.twitter.com/NXtXXWKHPO

— Coby Maeir (@CobyMaeir) March 4, 2023
This past summer, Laine and the Blue Jackets agreed to a four-year, $8.7M annual cap hit extension, giving him the 13th-highest cap hit among NHL wingers this season. In my opinion, in order to live up to that price tag, he has to score 35-to-40 goals a year, because he certainly has the ability to do so. While it looks like may come up short of that number, his play in 2023 proves he can get to that level. Additionally, his passing ability and defensive work rate have improved a great deal this season, giving him more value than being just a sniper.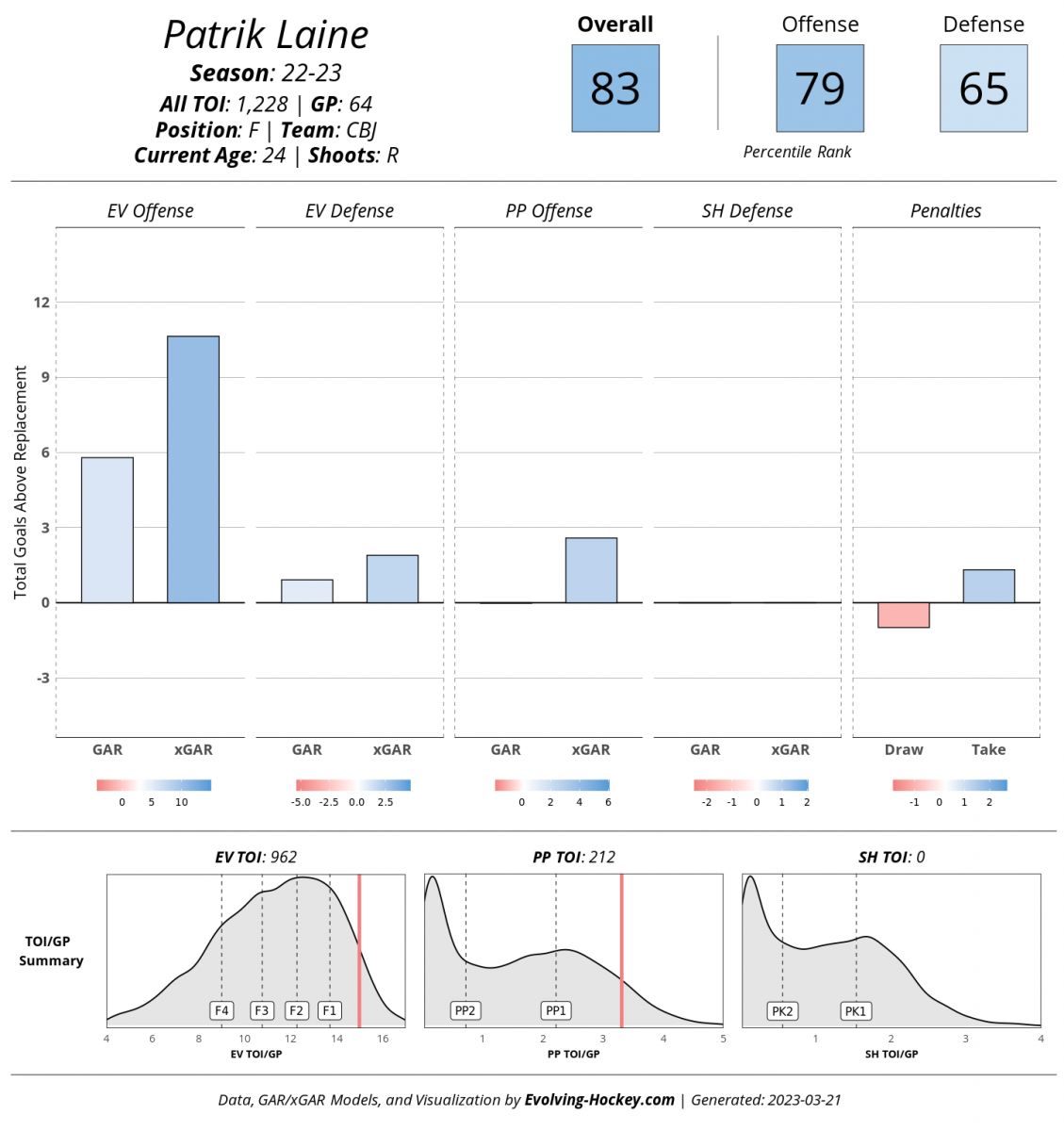 According to Evolving-Hockey.com, Laine ranks third among Blue Jackets with 5.9 goals above replacement (GAR) and 1 win above replacement (WAR), while tying for third1.9 standings points above replacement (SPAR). He also leads in xGAR (13) and xSPAR (4.2) while tying for first in xWAR (2.2).
In terms of team success, this season is a lost cause. But, if nothing else, the last two-and-a-half months have shown that Laine's game has improved. I think people, myself included, fail to remember that he's still just 24 years old and he's already proven he can score at an elite rate. 
#CBJ Laine (16) goal pic.twitter.com/aZe23vhNdM

— Coby Maeir (@CobyMaeir) February 20, 2023
Hopefully, he can play close to a full 82-game season in 2023-24.