Kirill Marchenko has been on a torrid goal-scoring pace for the Columbus Blue Jackets this season.
And he's just one goal away from tying a franchise record.
With 19 goals in 49 games, Marchenko needs just one more goal to tie Pierre-Luc Dubois for the Blue Jackets franchise rookie mark for goals in an individual season. Dubois had 20 goals in his 2017-18 rookie campaign and it took him 80 games to do it.
Kirill Marchenko keeps climbing the @BlueJacketsNHL's all-time rookie season ranks! #CBJ pic.twitter.com/7bEngCI4XI

— Bally Sports Columbus (@BallySportsCBUS) March 25, 2023
"I don't think about goals," Marchenko said after Saturday's loss to the Montreal Canadiens. "If I think about good game and what position I'll play, I can score.
"But if I start to think about goals, I don't score."
Marchenko is tied with Ottawa Senators' Shane Pinto for third among all rookies with 19 goals, trailing Seattle Kraken's Matty Beniers (20) and Dallas Stars' Wyatt Johnston (21).
"If I start thinking, I don't score goals," Marchenko said. "It's easy. It's simple. I need to think about game."
As he closes in on the franchise record for most goals in a season by a rookie, Kirill Marchenko is staying focused on his overall game and on helping his team however he can.#CBJ pic.twitter.com/RH9Zb16CGt

— Bally Sports Columbus (@BallySportsCBUS) March 26, 2023
Marchenko's 19th goal on Saturday night almost didn't count as it was initially waived off due to the net becoming dislodged as the puck was crossing the red goal line. But subsequent video review reversed the call on the ice, allowing the tally to count, tying the game at two in the first period at 18:00.
Heck of a shot from Kirill Marchenko on the goal line, can't do much better than this!#CBJ pic.twitter.com/1OK1dX9ngF

— Hockey Daily 365 l NHL Highlights (@HockeyDaily365) March 25, 2023
While Marchenko isn't worried about scoring goals, that formula is working for him as he's putting up 0.45 points per game. The rookie is registering 1.27 goals/60 at 5v5 this season, and Patrik Laine—who has only played six more games than Marchenko—is next up with 0.97 goals/60. Behind Boone Jenner (0.95), Marchenko has 0.79 ixG/60. He's third in iSCF/60 (8.5) per Natural Stat Trick.
In 20 home games this season, Marchenko has seven points (all goals) and he has 15 points (12 goals, three assists) in 29 road games this year.
| | | | | |
| --- | --- | --- | --- | --- |
| Kirill Marchenko Splits | Games Played | Goals | Assists | Points |
| Home | 20 | 7 | 0 | 7 |
| Road | 29 | 12 | 3 | 15 |
| Wins | 15 | 9 | 1 | 10 |
| Losses | 29 | 9 | 2 | 11 |
| Overtime Losses | 5 | 1 | 0 | 1 |
| NHL.com |   |   |   |   |
With an overall ledger of 22 points (19 goals, three assists) on the season, Marchenko is the only Blue Jacket to ever have at least 15 goals in a season with less than 10 assists. As Jeff Svoboda points out on Bluejackets.com, Brandon Pirri had a 22-2-24 mark in 2014-15 with the Florida Panthers as the only modern player to have at least 15 goals and fewer than three assists in a season.
Six off the Blue Jackets' goal lead, Marchenko has also been quite effective on the power play, registering six goals with the man advantage, good for third behind Jenner (seven) and Laine (eight). At 5v5 play, Marchenko is tied for second on the Blue Jackets with Laine in goals (13) and trails only Jenner (14).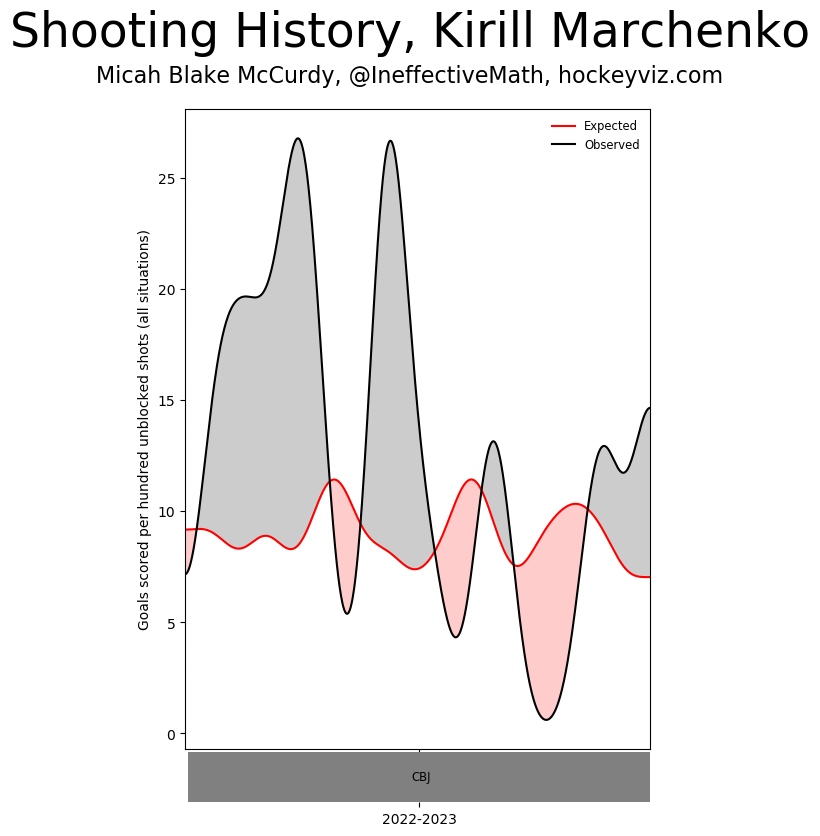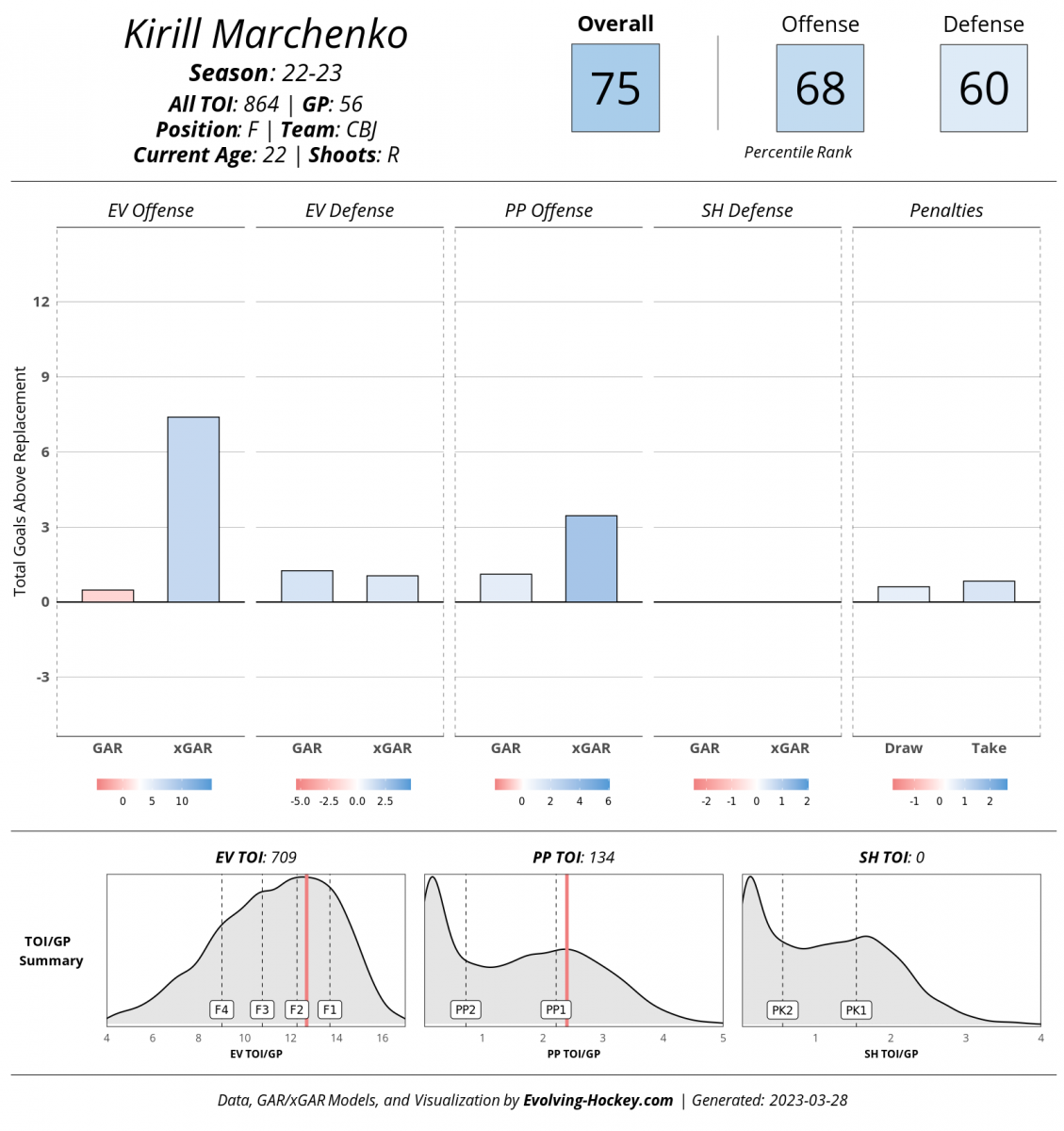 Marchenko has been one of the few successes this season and will not only most likely set the franchise mark for goals by a rookie, but he could be a finalist for the Calder Memorial Trophy for the league's top rookie, and he still has time to make a case for the overall goals mark on the club this season. Though he'll need to score a bunch in a short period.
If anyone could, it's him, right?
Of course for Marchenko, he doesn't care about any of that. He just wants to help the team win games. Something that the team hopes for a lot of in the next season and beyond as Marchenko looks to evolve his all-around game.
After making his first career trip to the Bell Centre on Saturday, the next historic venue for Marchenko to test his mettle will come Tuesday night at Madison Square Garden as the Blue Jackets battle the New York Rangers.