The Blue Jackets are one of three NHL teams without a head coach after firing Brad Larsen on Saturday. One of the other teams is the Washington Capitals, who mutually parted ways with Peter Laviolette on Friday. 
Washington Capitals senior vice president and general manager Brian MacLellan on parting ways with head coach Peter Laviolette: pic.twitter.com/b6ZAsp6j78

— Washington Capitals (@Capitals) April 14, 2023
This piece will be the first among several dives into the potential next coach for the Blue Jackets. 
---
My colleague Ed Francis posted a piece with a list of potential replacements for Larsen, with Laviolette being one of them. 
The Laviolette File
Born: December 7, 1964, Franklin, Massachusetts, U.S.
Currently: Head coach free agent
2020-21 to 2022-23: Served as head coach of the Washington Capitals, compiling a 115–78–27 record and reaching the postseason twice
2014-15 to 2019-20: Served as head coach of the Nashville Predators, going 248–143–60 and reaching the postseason five times, including a Stanley Cup Finals berth in 2017
2009-10 to 2013-14: Served as head coach of the Philadelphia Flyers, putting up a 145–09–29 mark and reaching the Stanley Cup Finals once and the conference finals twice
2003-04 to 2008-09: Served as head coach of the Carolina Hurricanes, going 167–122–6–28 and winning the Stanley Cup in 2006
2001-02 to 2002-03: Served as head coach of the New York Islanders, putting up a 77–62–19–6 record and reaching the postseason both years
Eighth all-time in regular season wins (most among U.S. coaches) at 752–503–25–150 (.587 PTS%)
14th all-time in playoff wins
Laviolette is a 58-year-old Massachusetts native with 21 years of NHL head coaching experience under his belt. 
Like former Blue Jackets bench boss John Tortorella, Laviolette brings with him the reputation of being a tough and intense coach.
After the Capitals hired Laviolette, Tarik El-Bashir and Adam Vignan collaborated on a piece for The Athletic which contained a good summary of what Jackets fans can expect from Laviolette if he is the franchise's next head coach. 
Tarik El-Bashir: Caps GM Brian MacLellan said on the day Todd Reirden was fired that he wanted a veteran coach who could "push buttons" on high-end players, preach structure, hold guys accountable and turn around the good "culture" that had begun to "slip." To me, it seems like Laviolette checks all of those boxes. What are your thoughts?

Adam Vingan: I mostly agree with that. Laviolette is 16th in wins in NHL history and one of four coaches to lead three franchises to the Stanley Cup Final, so he must be doing something right.

Laviolette has developed a reputation as an intense coach with an ability to turn around underachieving teams in short order. He does have a limited shelf life; his tenure in Nashville was the longest of his career, and it was clear to me around the time the Predators fired him that it was time for a change after five-plus years.
Now that his personality has been established let's see how his teams have performed on the ice. Below is a chart of Laviolette's teams' stats each season he was the coach.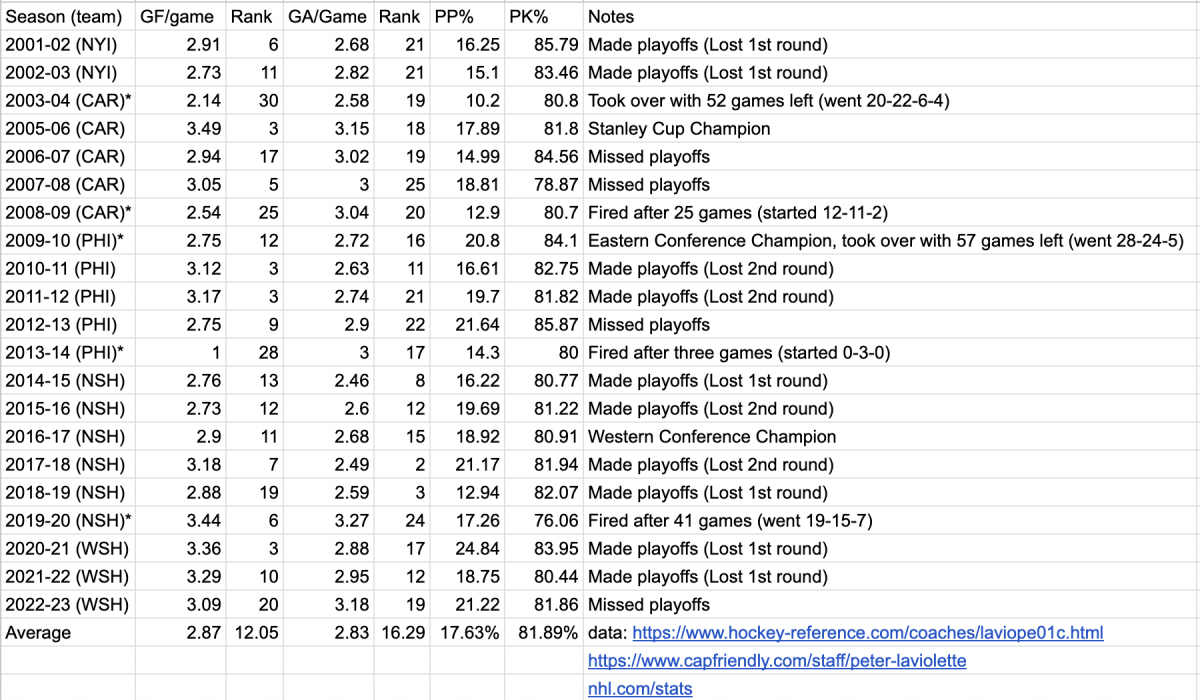 While the offensive and defensive ranks are middle-of-the-pack, what should concern Blue Jackets fans is that 17.63% average power play. This season, Columbus converted on 18.3% of its opportunities on the power play, which ranked 26th in the NHL. However, the Blue Jackets haven't had a power play over 19% since 2016-17, when they finished 12th in the league at 19.97%, so struggles in that department are no stranger to this franchise. 
Throughout his press conference on Saturday, Blue Jackets GM Jarmo Kekalainen sounded like someone hell-bent on getting back to the playoffs in 2023-24. If so, Laviolette's track record shows he's the person for the job.