How are the Columbus Blue Jackets going to fix their defense?
In each of the last two seasons under former head coach Brad Larsen, the Jackets set dubious franchise records for goals allowed, topping the 300 mark this past season for the first time.
It's a mix of zone and man defense, but definitely zone down low.
I have to share this. I asked a former NHL defenseman if he could help me describe how the Blue Jackets are defending this season.
His answer: "Infrequent" https://t.co/PkKfwyBkkF

— Aaron Portzline (@Aportzline) November 8, 2022
The re-addition of stars like Zach Werenski, following a torn labrum and separated shoulder, back into the lineup will help. And cutting down on the plethora of injuries is a start.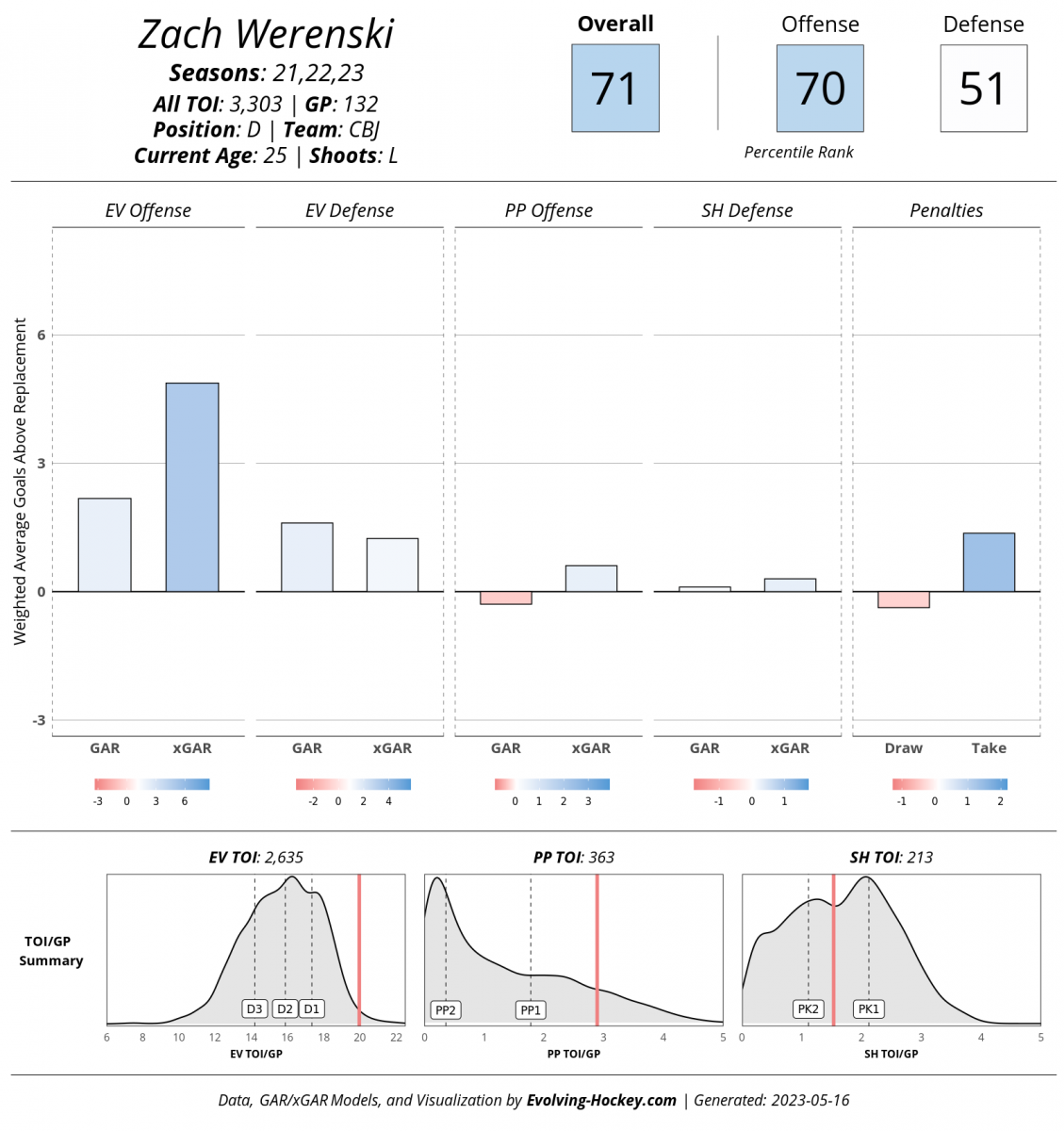 Outside of Joonas Korpisalo when he was in town, and some early starts by Daniil Tarasov, the goaltending was an obvious sore spot. Elvis Merzlikins did get into a little bit of a second-half groove but his overall numbers are all you need to know about his season.
Goaltending was so bad, one can argue it has nowhere to go but up.
And the team paying Merzlikins at a cap hit of $5.4 million for each of the next four seasons is certainly hoping, begging, for improvement. But the bar was so low, they would probably settle for even league-average goaltending from the 29-year-old.
Whomever the new goaltending coach ends up being, he'll have a project.
---
There are a number of teams around the league who have improved their defense like the Blue Jackets are hoping to do.
The Detroit Red Wings have been trying to dig themselves out of their own rebuild and back into competitive respectability. Amongst Steve Yzerman's off-season emphasis a year ago was improving his team's defense and they were better under first-year head coach Derek Lalonde in GA/GP this season, moving up from second to last in the league (3.78) to 22nd and 3.35 this year.
Playoff darlings this year, it was just a year ago when the Florida Panthers won the Presidents' Trophy but were dispatched easily by the Tampa Bay Lightning in the second round. Then they made a big off-season trade, swapping superstar winger Jonathan Huberdeau and stud defenseman Mackenzie Weegar, coming off a career year, for superstar Matt Tkachuk.
It took until just before game No. 82 before Florida was officially playoff bound and it's been nearly smooth sailing since.
The Panthers are 7-1 in their last eight games since starting in a 3-1 hole against the Boston Bruins. As much cruise control as the Bruins seemed to navigate the regular season with, they were unable to fend off adversity in the form of the Panthers when it mattered most. 
Naturally, based on their own circumstances in coming off a league record of 65 wins and 135 points, Boston's historic season would only be defined by what happened during the grind of the playoffs.
The Toronto Maple Leafs know about pressure. Living inside a fishbowl for which everyone associated with the franchise is scrutinized, the questions remain after making their first second-round appearance since 2004 but once again falling short of the Stanley Cup.
The Leafs' top scorers went missing during the series loss to the Panthers. Auston Matthews didn't score a goal versus Florida while John Tavares had one assist. Mitch Marner had three points (one goal, two assists), the same as William Nylander (two goals, one assist). At the trade deadline, they acquired Jake McCabe to bolster the blue line, in addition to picking up forward Ryan O'Reilly.
Jake McCabe was very efficient finding his way off the ice after blowing a tire in the corner#LeafsForever pic.twitter.com/iHeIYXIoem

— Hockey Daily 365 l NHL Highlights (@HockeyDaily365) May 11, 2023
McCabe had 1.94 GA/60 and 2.39 xGA/60 in the Lightning series but had 4.86 GA/60 and 2.15 xGA/60 against Florida.
Against the Panthers, they never lost a game by more than two goals, and that occurred in Game 1. The rest of the series, outside of Game 4 which they won, they lost by one goal three times, and twice in overtime.
Florida finished 21st this season in GA/GP (3.32) but is riding hot goaltending into the Eastern Conference Finals.
A hot goalie can be enough to steal games and series and the Panthers will ride Sergei Bobrovsky as long as he can play like vintage Bob.
The Edmonton Oilers were eliminated by the Vegas Golden Knights on Sunday. They looked to upgrade their defense mid-season, acquiring Mattias Ekholm from the Nashville Predators. He had seven points (one goal, six assists) in the playoffs.
After a huge stop by Skinner, Mattias Ekholm winds up and cranks one home to make it 3-0 Oilers!#LetsGoOilers pic.twitter.com/hf5FxhaHe6

— Hockey Daily 365 l NHL Highlights (@HockeyDaily365) May 11, 2023
Everyone knows the Oilers are boosted by their scoring, notably the two best players in Connor McDavid and Leon Drasaitl. Although Draisaitl was limited to one assist in the past four games after scoring six goals in the first two games of the Knights series. Then even Ryan Nugent-Hopkins turned in his first 100-point season.
Edmonton's defense was not great and the goaltending was shaky between Jack Campbell and Stuart Skinner. Skinner had a very good regular season, leading rookies with 29 wins, and is a Calder finalist, but he was pulled four times, including in the final two games against Vegas.
You can place a good bet that next season McDavid and Drasaitl will be 1-2 in the league in scoring but can Edmonton finally put enough around them for a deeper playoff run?
The New Jersey Devils were 29th in GA/GP in 2021-22, one spot behind Columbus, and improved to eighth in the league this season (2.71). Big off-season acquisition Ondrej Palat only played 49 regular season games but had 2.82 GF/60 and 2.28 GA/60, the same as his xGA/60 (5v5). 
Vitek Vanacek was acquired via trade from the Washington Capitals last off-season and helped stabilize the Devils' goaltending, going 33-11-4, 2.45 GAA, .911 SV%.
The Devils also do a good job of supressing how many shots get to the net. They were fifth in the league in shots allowed per game (28.2). Columbus was 31st (35.4).
Jack Hughes had his first 40-goal season and Thomas Tatar had quite the year, turning in 3.42 GF/60 and 1.57 GA/60. The season prior, he had 2.22 GF/60 and 3.37 GA/60.
The Blue Jackets' subtraction of Oliver Bjorkstrand was the Seattle Kraken's gain as we probably could have expected. Bjorkstrand was one of the Blue Jackets' best forwards but they had to shed his salary in order to make it all work with Patrik Laine and Johnny Gaudreau on the books last summer.
Oliver Bjorkstrand makes it a one-goal game with 17.6 seconds remaining. pic.twitter.com/x1KF4kFkr1

— Sportsnet (@Sportsnet) May 16, 2023
Bjorkstrand is one of the better two-way forwards and that's certainly an element that adds to his value. He outperformed his xGF/60 and his 2.58 GA/60 was right in line with his 2.59 xGA/60.
While the defensemen and goalies on the Blue Jackets roster come under fire, you have to remember the effect the forwards can have.
The Los Angeles Kings acquired Vladislav Gavrikov and Joonas Korpisalo from Columbus and were virtually unbeatable throughout March going 9-2-2. L.A. had a stretch of seven straight games in which they held their opponent to two goals or fewer and they only allowed more than two goals in the month twice.
Korpisalo played like a No. 1, putting up 2.13 GAA and .921 SV% during the regular season. Gavrikov had nine points (three goals, six assists) in 20 games and his GA/60 was 1.00 while his xGA/60 was 2.08. Korpisalo played well in Columbus, but a better structure and team in front out west certainly helped him and Gavrikov settle in.
Data per NHL.com and Natural Stat Trick.
Besides health, the Jackets will benefit from having Werenski and an emerging David Jiricek, who should be among the training camp storylines to watch. Whoever the coach will be, let's hope there's a tactical structure in place to limit the number of pucks getting through to the goaltender which would help limit the number of chances and goals against.
And that the goaltender position can provide even league-average netminding.