On Tuesday, The Athletic's Pierre LeBrun reported that the Blue Jackets interviewed Peter Laviolette for their head-coaching vacancy. Just under a month ago, we posted a coaching profile on Laviolette, detailing his career, and why he could be the Blue Jackets' next head coach.
---
Laviolette is the right coach for the job because he will restore the culture that general manager Jarmo Kekalainen felt suffered the past two seasons.
"We've felt that we've had a real good culture here for many years where the standard was high," Kekalainen said on May 8. "The way we work, the pride we take in our work was very high. And we have let it slip a little bit in the last couple of years here and now it's time to get back to it."
The Athletic's Tarik El-Bashir and Adam Vignan worked together on a piece after the Capitals hired Laviolette and explained what kind of coach he is.
Tarik El-Bashir: Caps GM Brian MacLellan said on the day Todd Reirden was fired that he wanted a veteran coach who could "push buttons" on high-end players, preach structure, hold guys accountable and turn around the good "culture" that had begun to "slip." To me, it seems like Laviolette checks all of those boxes. What are your thoughts?

Adam Vingan: I mostly agree with that. Laviolette is 16th in wins in NHL history and one of four coaches to lead three franchises to the Stanley Cup Final, so he must be doing something right.

Laviolette has developed a reputation as an intense coach with an ability to turn around underachieving teams in short order. He does have a limited shelf life; his tenure in Nashville was the longest of his career, and it was clear to me around the time the Predators fired him that it was time for a change after five-plus years.
That sounds like exactly what the Blue Jackets need at this time. 
Now that we've established how his personality would benefit a Columbus team that hasn't played playoff hockey since 2020, let's get into some more reasons why Laviolette is the right coach to replace Brad Larsen.
---
He's a winner
Laviolette's 752 regular season wins and 78 playoff wins are eighth and 14th all-time among NHL coaches, respectively. In 21 seasons behind an NHL bench, he's made the playoffs 13 times, won 14 playoff series, and made the Stanley Cup Final three times, winning it all in 2006. He's also won at the AHL ranks, winning the Calder Cup with the Providence Bruins in 1999. Among coaches with over 1,000 games under their belt, his .587 PTS% is the seventh-highest all-time. Everywhere Laviolette goes, he wins. The Blue Jackets need to win sooner rather than later, and even if that means losing in the first round again, getting back to the playoffs in the next few years would be big for the team, its fans, and more importantly, Kekalainen, who is the one tasked with making this hire. Was it disappointing that the Capitals missed the playoffs this season? Absolutely, but when Alex Ovechkin, T.J. Oshie, Nicklas Backstrom, John Carlson, and Tom Wilson combined to miss 167 games throughout the season, failing to qualify for the postseason in a loaded Metro division is not surprising. And yes, Blue Jackets fans do not want to hear about injuries, but they happen, and when they happen to a team's best players, the team suffers.
Another feather in Laviolette's cap is the fact that both the 2010 Flyers and 2017 Predators, teams he coached to the Stanley Cup Final, were tied for the fewest points heading into the playoffs in both seasons. Those teams were not supposed to win a round, let alone make it to the Cup. So even if you think the Blue Jackets as currently constructed are not a playoff team, Laviolette has proven he can take a team and help them overachieve.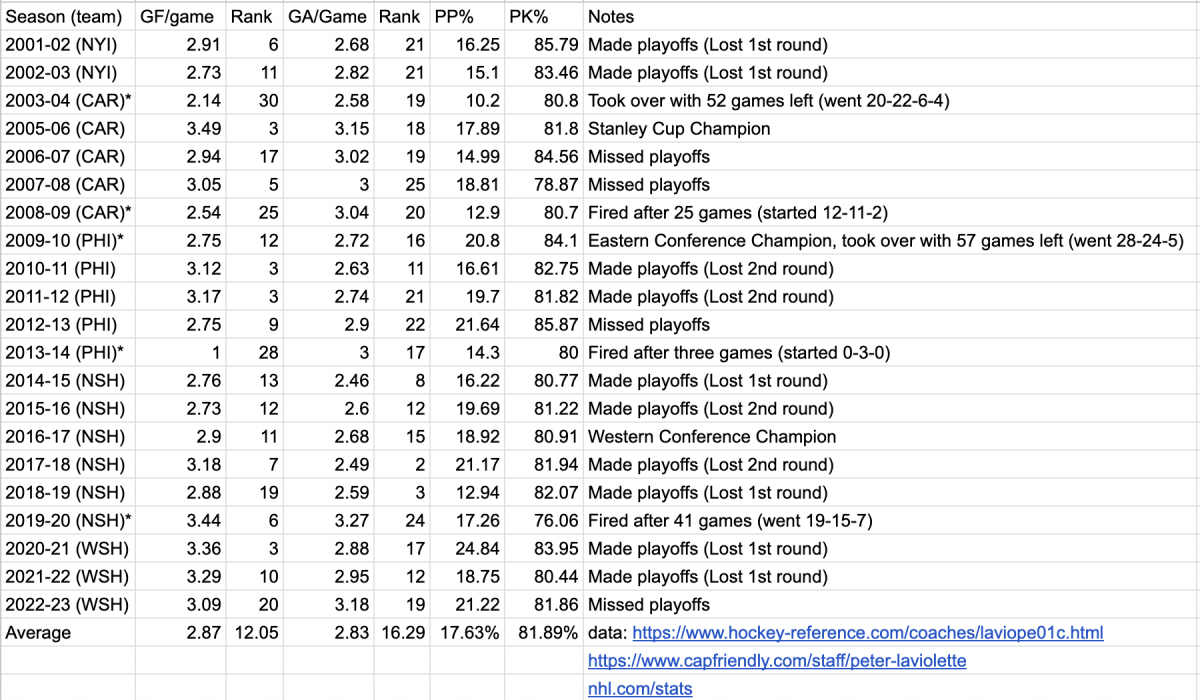 ---
Young Players Succeed
Throughout his time as an NHL head coach, Laviolette has coached several talented young players that thrived playing for him. In 2006, 21-year-old Eric Staal led the Canes in scoring and played 19:39 a night and 21-year-old Cam Ward was the goalie that helped them win the Cup. In the Flyers' 2010 season, 24-year-old Mike Richards (20:24 avg. TOI) and 25-year-old Jeff Carter (19:18 avg. TOI) were the team's two leading scorers and 22-year-old Claude Giroux (16:37 avg. TOI) was the team's fifth-leading scorer. In Nashville, 20-year-old Filip Forsberg (17:20 avg. TOI) led the 2015 Predators in scoring, 24-year-old Roman Josi (26:28 avg. TOI) and 20-year-old Seth Jones (19:53 avg. TOI) were two of the team's top-three leaders in average TOI, 24-year-old Mattias Ekholm played 19:01 a night, and 24-year-old Ryan Ellis played 18:59 a night. Two years later, on their way to the Stanley Cup Final, the Predators' two leading scorers were 23-year-old Viktor Arvidsson (17:09 avg. TOI) and 24-year-old Ryan Johansen (18:50 avg. TOI). In 2022-23 for the Capitals, 22-year-old Rasmus Sandin (22:59 avg. TOI), whom the team acquired mid-season, played more per night than anyone on the team outside of John Carlson. 
If the Blue Jackets want to be successful in 2023-24, they will have to rely on 20-year-old Kent Johnson, 23-year-old Kirill Marchenko, 20-year-old Cole Sillinger, 23-year-old Adam Boqvist, and 25-year-old Patrik Laine for a great deal of production. Laviolette has proven that he will put trust in young players by giving them big chunks of ice time, so the youth of the Jackets' roster won't be anything new if he's hired.
The Power Play
Laviolette's teams have averaged a power play at 17.63% throughout his time as an NHL bench boss. That is worse than the Blue Jackets' 18.3% power play that finished 26th in the league. This past year in Washington, the Capitals' power play finished 16th at 21.2%, which is nearly the exact average of his three years in D.C. In fairness, the Blue Jackets' best power play ever was 21.7%, so success in that department has evaded the franchise for much of its 23 seasons. To Laviolette's credit, in six of the last seven full seasons he's coached, his team has posted a power play of over 18%, comparable to the Jackets' power play this season.
---
The Blue Jackets have a young roster that needs a culture restoration and needs to get back in the playoffs soon. Laviolette has proven he can do all three of those things and therefore is the right person for the job.