We mentioned in last week's Metropolitan Division notebook that an 18-year-old named Filip Chytil had made the New York Rangers' opening night roster.
It took just three games for him to be sent to AHL Hartford.
After a combined 12:39 TOI in the Rangers' first two games, Chytil was scratched for game three. Chytil's a young player who may have struggled with the smaller rink size in the NHL, compared to the European ice he's accustomed to.
Former Dallas Stars center Adam Cracknell was claimed off waivers and is expected to fill a depth role for the Rangers.
Don't write Chytil off just yet, however; Rangers head coach Alain Vigneault said the move may only be temporary
"We haven't quite made up our mind yet on him and the makeup of our team," Vigneault said Tuesday before the Rangers hosted the Blues. "So we're looking at both (options) at this time. We feel right now he needs to play. He can play in Hartford, and we need to sort out a couple of things here also. 
---
Plans for Summers

The Pittsburgh Penguins have recalled one Chris Summers, a defenseman who has played six NHL seasons (but never more than 21 games in a year), from AHL Wilkes-Barre/Scranton.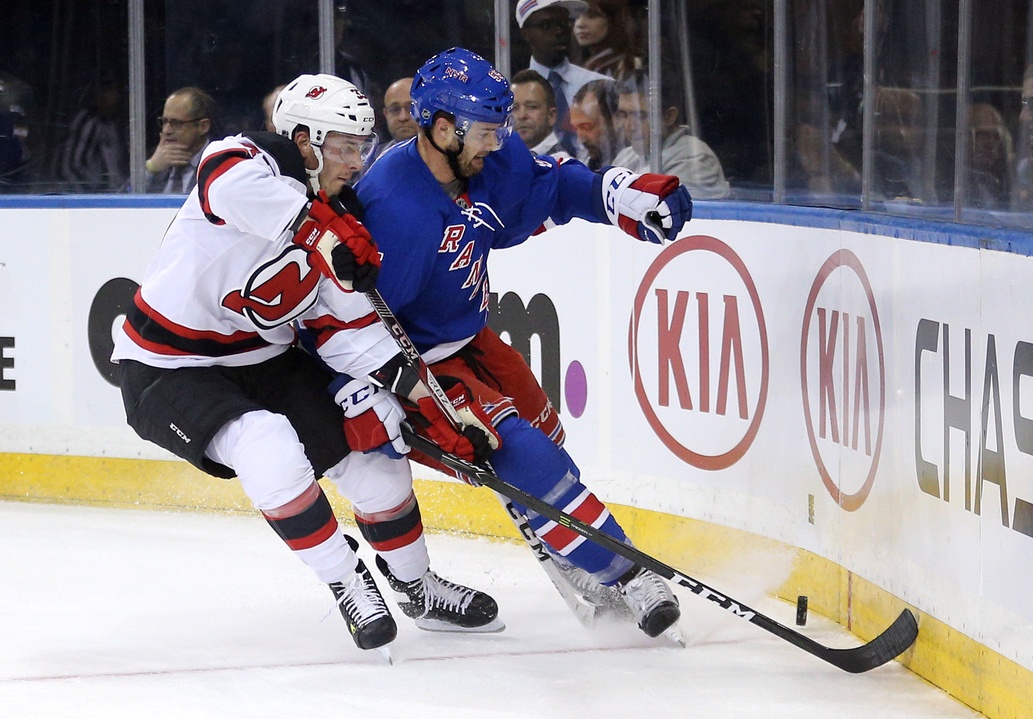 Summers, who has spent time with the Phoenix/Arizona Coyotes and the New York Rangers in the past, registered 12 points in 74 games with the AHL affiliate last year after the Penguins signed him to a two-year contract. 
The Penguins are hoping Summers, a first-round pick of the Coyotes way back in 2006, can add depth to their blue line in spot duty. Summers' NHL career consists of just 70 NHL games and nine points, with a -22 rating.
---
Belmont or Bust

Updating a story discussed in last week's notebook, the New York Islanders now appear dead set on moving to Belmont Park, according to a report from ESPN. Islanders majority owner Jon Ledecky has said as much.
"We are locked and loaded on Belmont," Ledecky said Tuesday at a luncheon with Islanders beat writers. "We have the blinders on for Belmont. We're not looking at other places, other things, other opportunities. We want to make Belmont a reality."
Barclays Center is "home" for the Islanders for the time being, but their future is at Belmont.
---
Sparse Crowd in Raleigh

Even with solid expectations for the team and a match-up with a division foe, it appears filling Upper Arlington High School's football stadium would have been a problem for the Carolina Hurricanes on Tuesday night.
The announced attendance was 7,892 Canes faithful, dipping under 8,000 for the first time since 2001.
Such low numbers can in part be attributed to the way the Hurricanes record attendance. They tally the total number of butts in seats, as opposed to tactics used by other sports teams which inflate numbers (like simply counting the number of tickets sold). An article from Canes Country says it may be time to change that: 
Look, I get the idea behind reducing comps, not counting tickets distributed or any of the other tricks that teams use to artificially inflate attendance. It's admirable, in a way, that the Canes are willing to take the darts that come with so many empty seats. [...] But Tuesday night, in my mind, is when the line was crossed. At some point, the spin becomes the story. This one felt different. – Brian LeBlanc, Canes Country
The Hurricanes, who have reportedly been on the verge of a sale to businessman Chuck Greenberg since the summer, were last in the NHL with an average of 11,776 in 2016-17.
---
Flyers Grounded

After trailing 3-0, the Philadelphia Flyers stormed back against the Nashville Predators Tuesday night to take a 5-3 lead with five minutes to play. Everything was lining up for a beautiful comeback win and six points in four games to kick off the season, but the Predators had other plans.
[Predators forward Filip] Forsberg scored his first of the game 50 seconds after the Flyers took a 5-3 lead, and Scott Hartnell jammed in his second goal tying it with 1:17 left on a 5-on-3 that was actually 6-on-3 with [goalie pekka] Rinne pulled. When Philadelphia coach Dave Hakstol challenged for offside and lost, the Predators had the man advantage, and Forsberg scored the winning goal top shelf. – Associated Press, NBC Sports
Every point matters in the NHL, especially in the Metro, and the Flyers threw two of them away on Tuesday.
---
A Devil of a Partner

In an effort to help grow the game, the New Jersey Devils have partnered with the Metropolitan Riveters of the National Women's Hockey League. It's the first-ever partnership between an NHL team and an NWHL team.
As part of the agreement, the Riveters will wear the Devils' home colors and the Prudential Center will now be home to both teams.
---
Two Games, Two Hats 

Alex Ovechkin made history last week as he became the first player in 100 years to notch hat tricks in back-to-back games to open an NHL season after a four-goal performance against the Montreal Canadiens. He currently leads the NHL with eight goals, seven of them coming at even strength.
His blistering start has brought the Capitals to a 2-1-1 record after a 3-2 loss to the Pittsburgh Penguins last night.
Follow 1st Ohio BatteryFacebook, Twitter, Instagram and YouTube