Complaints about the Columbus Blue Jackets' propensity to score, either during the regular season or players, weren't difficult to find.
They averaged 2.57 goals per game in a cut-short regular season, ranking tied for 27th in the NHL while also finishing with a franchise second-worst shot percentage of 7.9. In the playoffs, their average dropped to 2.4 goals scored per game despite playing in four games that went to overtime, including a five-overtime loss. Too often, Columbus couldn't score when it required goals, leading to four one-goal losses in its first-round matchup with the Tampa Bay Lightning.
If that's to change moving forward, the Blue Jackets need two things, in particular, to improve in order for them to take the next step.
The addition(s) of forwards this offseason who can add skill and a scoring punch
The rapid development of a crop of young players on the roster with an abundance of potential
Liam Foudy, Alexandre Texier and Emil Bemstrom are among the forwards whose progression has to happen fairly quickly in order for them to impact the game the way coach John Tortorella and general manager Jarmo Kekalainen desire. But someone else who has a boatload more experience than the aforementioned trio is just as important as them: Oliver Bjorkstrand.
He has made a steady ascent over the past few seasons, becoming the Blue Jackets' No. 1 scoring threat during what was both an injury-shortened and pandemic-shortened regular season. 
"He was our best player when he was hurt," John Tortorella said during the summer. "He was playing at that type of pace and doing the things he needed to do. He was our best player. It was a huge blow to us when we lost him."
For three years running, Bjorkstrand – a Denmark native picked in the third round of the 2013 NHL Entry draft – has improved his scoring numbers.
The 2017-18 season: 11 goals in 82 games
The 2018-19 season: 23 goals in 77 games
The 2019-20 season: 21 goals in 49 games.
Giving some perspective to what he did this year as a 25-year-old, Bjorkstrand's 21 goals in 49 games are the equivalent of 35 goals in an 82-game season, which is a higher total of goals than anyone other than Cam Atkinson had the season prior. Had he finished a pandemic-free season healthy, who knows whether or not he would've reached that mark. But he was on pace.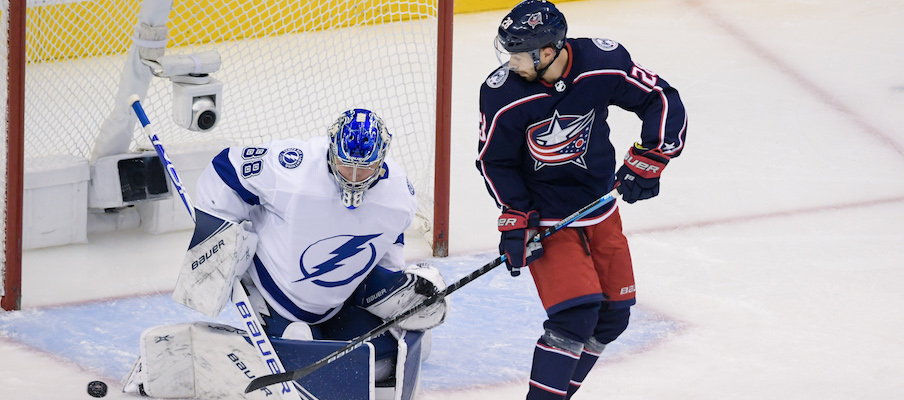 By mid-February, it was apparent that he wouldn't get the chance to complete what was a breakout campaign. He suffered a fractured ankle, throwing another wrench into Columbus' injury-filled season.
"It always sucks when the season ends like that and you're injured and you can't play," Bjorkstrand said in July. "It's hard to watch. I was playing some good hockey."
Bjorkstrand got an unexpected opportunity to finish the season on the ice, however, since the playoffs didn't begin until August, allowing him to heal his ankle. In the postseason, he was relatively quiet, scoring three goals – all of which came in the series against the Lightning – without adding any assists through 10 games.
"He's OK," Tortorella said in mid-August. "He's coming. Still more. We're going to have to get better play out of him."
Unfortunately for Bjorkstrand, just as he was getting into a groove, Tampa Bay eliminated Columbus from the playoffs. So, he'll aim for that "better play" to come when the NHL start the 2020-21 regular season, which is preliminarily slated to kick off in early December.
Whenever the puck first drops, the Blue Jackets will be counting on Bjorkstrand for a similar total or an ever greater output of goals. 
He was the highest-scoring forward during the 2019-20 season, and unless Kekalainen makes a blockbuster deal to add a star to the mix to join Pierre-Luc Dubois, Atkinson and others, Bjorkstrand will again be aiming for that title. Can he actually get to 35 goals this time? Is 40 in reach? Even more?
"The No. 1 thing that he changed his game, or I shouldn't say changed, learned how to do and did it as consistently as I've ever seen him doing it: That's battle for pucks and play along the wall," Tortorella said. "That's a part of the game. That's what kept him, with me anyway, bouncing in and out of the lineup, going out on the fourth line, third line in his first few years. He really improved there. You have to give him a lot of credit for the amount of work that he put in to strengthen his game, his body. And then, I think it just took off for him mentally, as far as his confidence."
With the way Bjorkstrand has constantly improved throughout his career, it's hard to determine just what exactly to expect from him as a scorer next season. Whatever he can manage, he'll be a key part of Columbus reaching another level as an organization.