And now, we have a schedule.
Days after the NHL and NHLPA announced an agreement on the 2020-21 season, the official slate of games has been released. It's time to get excited, folks.
The Columbus Blue Jackets will open their training camp on Jan. 3 (that's next week, for those scoring at home) at Nationwide Arena and the OhioHealth Ice Haus, before starting the regular season Thursday, Jan. 14 on the road against the Nashville Predators. That will be the first of a two-game series at Bridgestone Arena which concludes Saturday, Jan. 16.
The "home opener," which is in quotes as all indications suggest the Blue Jackets will open the season without fans in the building, is Thursday, Jan. 21 against the Tampa Bay Lightning at Nationwide Arena. That, too, is part of a two-game series that wraps Saturday, Jan. 23 in the same building.
With a 56-game regular season slate and new divisional alignment, teams will play only their divisional opponents until the Stanley Cup playoffs begin. The league will adopt a scheduling format similar to Major League Baseball, with two-game series in one city before moving on.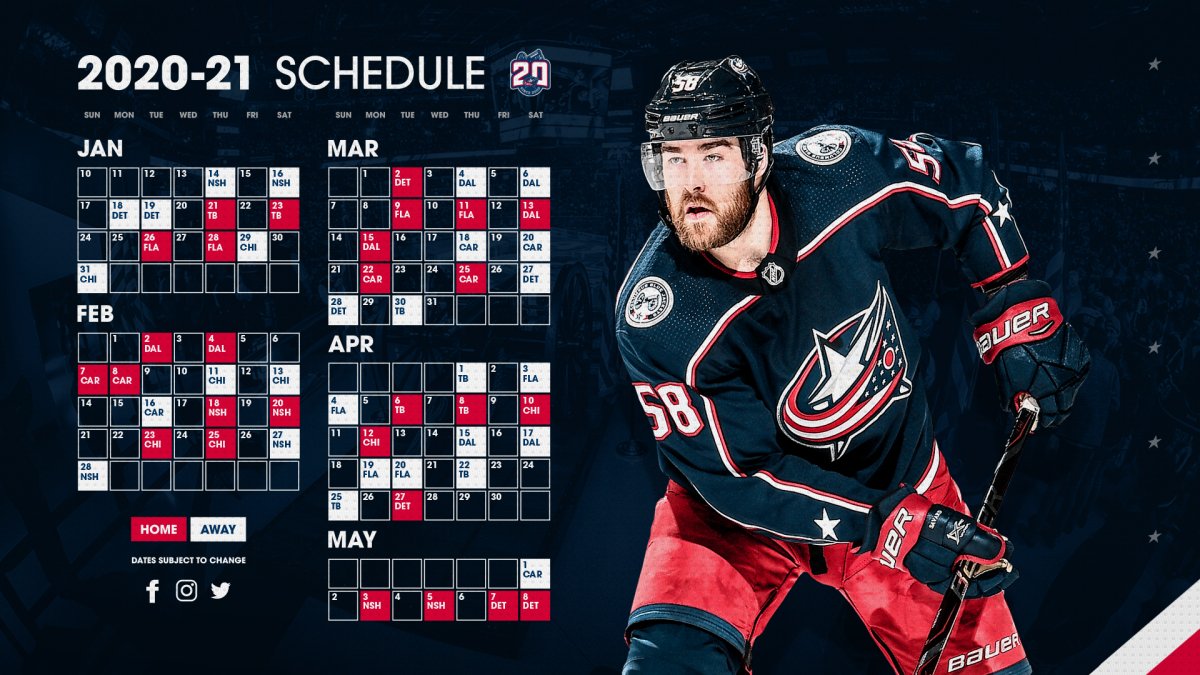 One unique twist: the Blue Jackets and Carolina Hurricanes will play a four-game series against each other, split into two sets of two-game series (one home, one away). That series starts Mar. 18, 2021 and concludes Mar. 25.
Columbus ends its 2021 regular season on a four-game homestand, beginning May 3-5 (vs. Nashville) and a two-gamer against Detroit on May 7-8.
As a refresher, Columbus' new (read: temporary) Central Division opponents are: Carolina, Chicago, Detroit, Dallas, Florida, Nashville, and Tampa Bay. There's plenty of familiarity for the Blue Jackets within this group; prior to the NHL's latest realignment, Columbus was in the old Central with Chicago, Detroit and Nashville. If you're an OG Blue Jackets fan, you remember how nasty some of those games were.
The Blue Jackets have faced the Lightning in the last two Stanley Cup playoff tournaments, eliminating Tampa in four games (2019) and falling in five games in 2020.
And a recent anecdote that's arisen: Alexander Wennberg, Markus Nutivaara and Anthony Duclair are now members of GM Bill Zito's Florida Panthers–along with some guy named Sergei Bobrovsky. Their first meeting with the Panthers is set for Jan. 26 at Nationwide Arena.
We're weeks away from a new hockey season and the Blue Jackets, again, have a legitimate chance to be in contention.