Among NHL defensemen in 2022-23 that logged at least 300 minutes of ice time, how many of them had more wins above replacement per 60 minutes than Zach Werenski according to evolving-hockey.com?
Zero. 
However, the NHL Network did not include him in their "Top 20 Defensemen Right Now" list.
Here are the best defensemen in the league right now! #NHLTopPlayers pic.twitter.com/XO96x7wUiN

— NHL Network (@NHLNetwork) August 20, 2023
The Blue Jackets blueliner missed the final 69 games of the season after suffering a torn labrum and separated shoulder, which essentially zapped any hope of a playoff push two weeks before American Thanksgiving. 
#CBJ Werenski (1) goal pic.twitter.com/Y9TFuxJO0o

— Coby Maeir (@CobyMaeir) October 19, 2022
Werenski scored three goals and eight points in 13 games last season which, if prorated over an 82-game season, is about 18 goals and 50 points, which is great, especially the goal tally. 
His underlying analytics support the eye test, as well.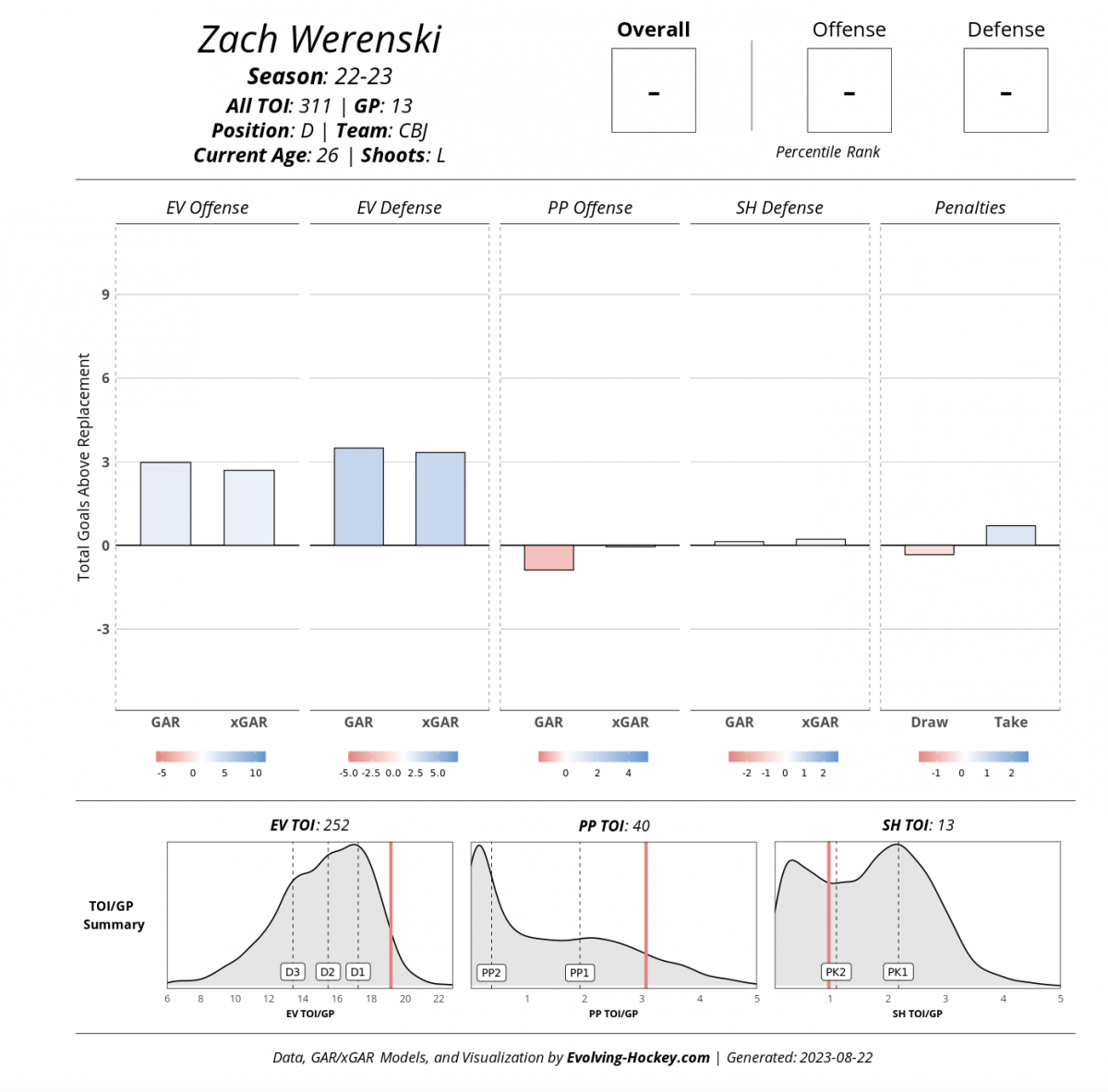 Werenski is definitely a top 20 blueliner right now, as he's "fully healthy," per BlueJackets.com's Jeff Svoboda. If the list is based on last season alone, then sure, it's impossible for him to be on that list given his limited action, but last season is in the past. If we're talking about right now, there's no way there are 20 defensemen better than Werenski. He's in an exclusive club of defensemen that are elite offensively without having to sacrifice much if anything on the defensive end. 
#CBJ Werenski (2) goal pic.twitter.com/If0UC1XyUi

— Coby Maeir (@CobyMaeir) October 23, 2022
Heading into his eighth NHL season, Werenski should be regarded as one of the top two-way defensemen in the league. If he's currently not one of the 20 best blueliners, this is either the greatest era of defensemen ever or his omission from this list is a snub. 
How will Zach Werenskis return to the lineup boost the Blue Jackets? #CBJ https://t.co/J6wrX3wqxO

— Coby Maeir (@CobyMaeir) July 14, 2023
Hopefully, he can stay healthy for the entire season so the Blue Jackets and the entire league can see that Werenski is indeed amongst the very best defensemen the NHL has to offer.