The Blue Jackets had a unique draft in 2017.
For the first time in the team's history, they did not select a player from the Canadian Hockey League. The CHL, consisting of the Western Hockey League, the Ontario Hockey League and the Quebec Major Junior Hockey League, is the largest junior hockey league in the world and the biggest feeder system to the NHL.
There were 217 players picked in the draft in 2017, using Hockey-Reference's play index, 89 players (41%) were selected from the CHL.
As I briefly mentioned in my mailbag, there are some benefits to this ideology.
You control a non-CHL player's rights for four years vs. two years for CHL players, and you are able to sign CHL players as undrafted free agents and as over-age free agents. We have seen the Blue Jackets take advantage of these rules recently, signing Maxime Fortier, Justin Scott, Jordan Maletta and Dante Salituro. Players drafted from the CHL are also unable to play in the AHL. The CHL and NHL have an agreement that any player picked from the CHL has to either player in the NHL or be returned to their junior club. Vitali Abramov was a victim of this rule in 2017-18; he was clearly ready to make the jump to professional hockey, but since he didn't make the Blue Jackets, it was back to the QMJHL.  
What has me fascinated is if we're going to start seeing this more and more of this with teams (as scouting budgets grow and scouts are able to travel further and further around the globe). We saw two other teams do this last season, as neither Buffalo or Washington selected a CHL player. Over the last 10 drafts we have seen a steady decline in CHL players drafted.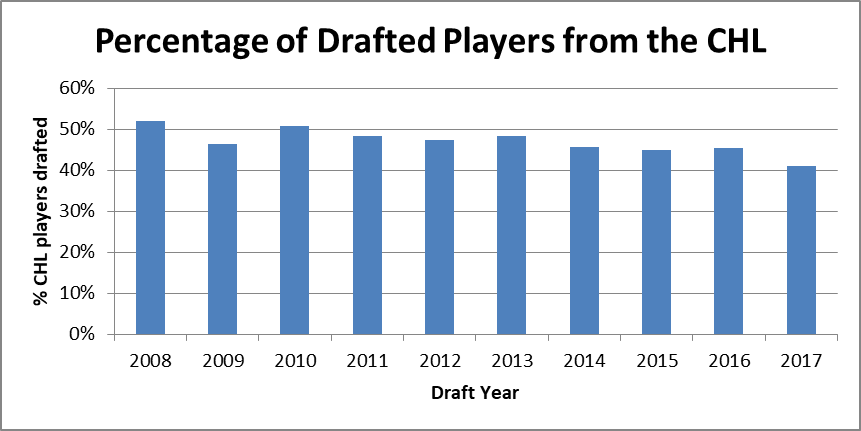 In 2008 and 2010, over 50% of the players drafted were from the CHL. Since, there has been a consistent albeit small decline in players taken from the CHL. This season, there was a huge drop – which was rather unexpected, considering there was an extra team (Vegas) and thus seven additional picks.
Why did this happen? A few reasons. The CHL is still a strong development league, but now, other junior leagues around the world are becoming stronger and represent a viable alternative to the CHL. We've seen Russia implement the MHL, and Sweden and Finland continue to have strong junior leagues within their borders. In the United States, the USHL has grown into a quality league and option for American-born players who aren't selected to play for the USNTDP program. With the success of USHL graduates like Kyle Connor and Brock Boeser, the league is going to continue to grow and get better.
Countries are doing everything they can to keep their players at home, and it's working. I think players are starting to realize you don't need to be playing in Canada to be seen. If you are good enough, no matter where you play, the scouts will find you.
This is not to say the CHL is a bad league, because it's not. The Blue Jackets top center' in Pierre-Luc Dubois and top prospect in Abramov were both drafted and developed through the CHL system. Teams simply are realizing the added benefits that come with players from other leagues, especially late in the draft; you can take a chance on a player late and give them as much development time as needed, since you have those extra years of control.
This draft will be very telling. Will the drop in CHL players selected continue, or was last year just a one-off?
Follow 1st Ohio BatteryFacebook, Twitter, Instagram and YouTube