The Columbus Blue Jackets have a history of finding seventh-round gems in the NHL Draft, and Tyler Angle has a chance to become the next one.
It took the Jackets until 2006 to find a seventh-round pick that did well in the NHL, in Derek Dorsett, and while he may not have produced many points while in the NHL he did play over 500 games.
Anton Forsberg was the next seventh-round find in 2011 and is probably best known by Jackets' fans as being a part of the trade that brought Artemi Panarin to Columbus.
Markus Nutivaara was selected in 2015, and is currently the best seventh-round pick by the Blue Jackets, as a current top-four defenseman.
Trey-Fix Wolansky was picked in 2018, and all he's done since is put up points and become the captain of his team in the WHL. He will have a chance to prove himself during Development Camp and Training Camp before the Blue Jackets decide to send him the AHL or back down for his overage year in the WHL.
And most recently, Angle was just selected in the 2019 NHL Draft, and while we may not know whether or not he will make it into the NHL, we can predict his production rate and check it against other players selected in the draft. 
This projection was created by Prashanth Iyer and does not take into account whether Tyler will make it to the NHL or not, but has been tested to provide an accurate view of how he would produce if he makes the NHL.
Here we compare him against Cole Schwindt, who was selected by the Florida Panthers in the third-round, which was the Blue Jackets pick before they traded back.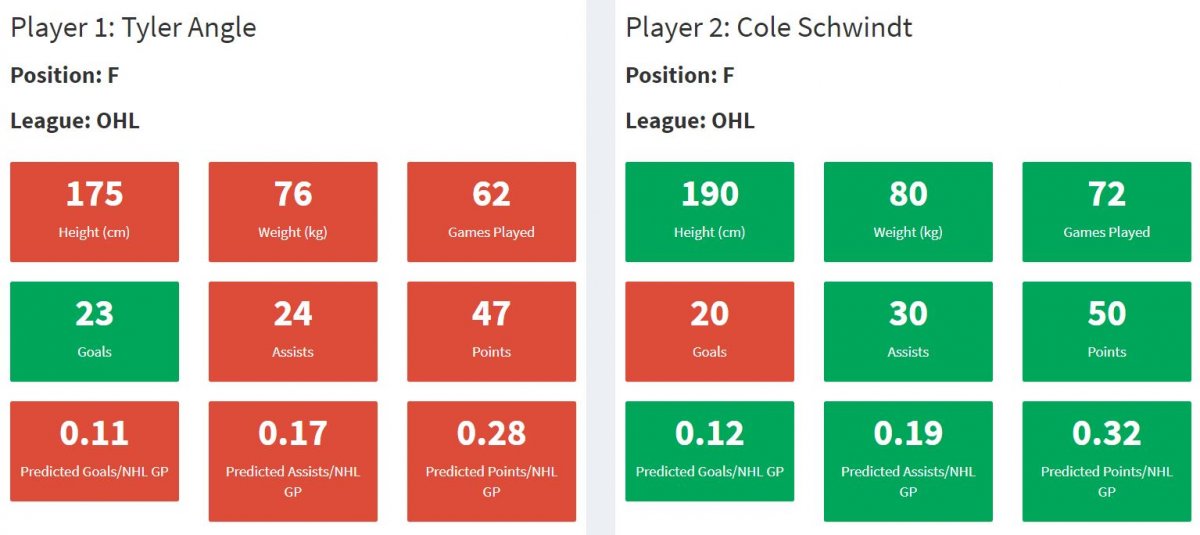 Schwindt does have a higher predicted points per game than Angle, but he was also selected four round ahead of Angle. Additionally, .04 points per game is not huge difference.
And here he is compared to McKade Webster, who was taken directly after him in the seventh round.
If Angle makes it to the NHL, he likely won't become the next Ondrej Palat, Joe Pavelski or Henrik Zetterberg, but he will be a solid role player. Think of Angle's potential production as similar to Brian Boyle, Brad Richardson, and Jay Beagle.