As far as offseason business goes, two of the most important to-do's for the Blue Jackets remain unfinished: signing restricted free agents Pierre-Luc Dubois and Vladislav Gavrikov to their next contracts.
While news reports suggest these tasks may stay on Jarmo Kekalainen's list a bit longer, we decided to look at what these contracts might look like when pen finally hits paper.
We're using Evolving Hockey's contract predictions heavily in this piece, for reference, here is how they have been grading out (through Oct. 21).
It's been a bit since we've looked at our @EvolvingHockey contract projections. Here's a look at how the model is performing through 10/21. Difference/outliers and UFA/RFA trends.

Total contracts: 198
Cap MAE: $308,719
Cap R2: 0.8854
Term MAE: 0.77 years pic.twitter.com/QfO6VnkvLX

— EvolvingWild (@EvolvingWild) October 22, 2020
Pierre-Luc Dubois
Dubois is a player on the rise – he's yet to miss a game in his NHL career and demanded attention with the way he played in last year's playoffs. But how do we truly value his ability?
Evolving Hockey's skater similarity tool allows us to look at a specific player and identify others who play the same position, are +/- two years of the player's age, and are closest within units of standard deviation based on underlying measures of a skater's play (you can read more about this model HERE).
Here's the top 15 most comparable players to Dubois' first three years in the league ranked by similarity.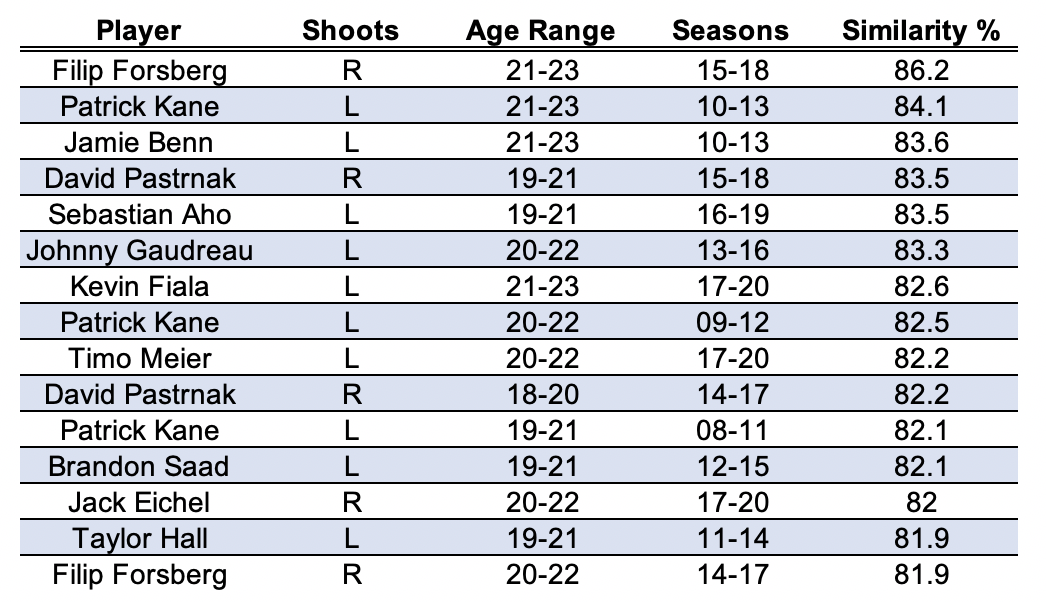 That's not bad company to keep, and speaks to the caliber of player that Dubois is becoming.
But what should that talent cost?
Dubois has 158 points in 234 games. Add that in with Evolving Hockey's contract projection for the player ($6.9M AAV for 7 years) plus Dubois' other core stats, and thanks to Cap Friendly, we can see similar contract matches from past years.

Also some good company to keep where centermen are averaging around $5.9 MM AAV when you play and produce like Dubois has thus far.
With the cap ceiling changing each season, cap hit percentage is worth keeping an eye on for context with each of those salaries. A $6.9M AAV would take up about 8.5 percent of the Blue Jackets' cap space in 2020-21, which is most comparable to Nathan MacKinnon's in the opening year of his seven-year contract.
It's worth mentioning that as negotiations drag on, the potential for the AAV to drop increases. Evolving Hockey had Dubois' AAV at $7.1 M per year if he'd signs by Nov. 9, but that falls to the number we're using here should talks continue to stagnate, and it falls even further ($6.6 M per) should the current stalemate linger into the projected start of camp.
Overall, here's a prediction for Dubois' next contract:
Most likely term: 7 years (49%)
Most likely average cap hit: $6.91 M
Second most likely term: 6 years (24%)
Vladislav Gavrikov
Now, we can go through a similar exercise for the Blue Jackets budding top-4 defenseman. The small sample size of one season precludes us from being able to use Evolving Hockey's similarity model (it requires three years of data), but we can use Cap Friendly once again to see how Gavrikov's predicted contract ($1.79 M x 2 years) measures up against previously signed players.

We see that Gavrikov's situation is a bit trickier. With just one year of play to consider, a short-term deal is more likely to truly feel out the Russian's game even though his rookie season was impressive. That deal absorbing just more than two percent of the cap for next season helps Columbus retain their flexibility as they evaluate his developing game. And it's worth noting that Dean Kukan ranks out as a comparable – giving insight perhaps to a dollar value milestone that the Blue Jackets may be utilizing.
An interesting note here, however, is that unlike Dubois, should Gavrikov's negotiations drag into the projected training camp window, Evolving Hockey actually shows his predicted contract value increasing to $2.03 M AAV for two years.
Predicted contract for Gavrikov:
Most likely term: 2 years (27%)
Most likely average cap hit: $1.79 M
Second most likely term: 1 year (18%)