The bulk of the summer checklist for the Columbus Blue Jackets isn't a secret. Sign Artemi Panarin and Sergei Bobrovsky to contract extensions. And sign Zach Werenski.
Werenski is just one year away from seeing his entry level contract come to an end, at which point the Blue Jackets will be forced to give the 20-year-old a hefty raise over his current base salary of $925,000.
He'll be a restricted free agent (RFA), meaning that the club will still hold rights to the player, and perhaps equally important, leverage in negotiations (don't remind Josh Anderson).
There are basically two schools of thought regarding how to handle young stars upon reaching RFA status: One is the bridge contract, a "prove it" deal of relatively short length, where the team and player are on opposite sides of a bet. If the player greatly exceeds expectations, he'll reach unrestricted free agency at a younger age and will force the team to pay the man (see: Subban, P.K.).
The other option is to basically skip over the RFA years by giving the player a longer-term deal with a significant pay raise. 
Both options have their potential flaws. Gambling wrong on a bridge deal resulted in the Montreal Canadiens having to pay P.K. Subban $9M a season a few years earlier than they probably wanted to. Meanwhile, giving a massive pay raise to a 20-year-old can surely be a risky proposition.
The Blue Jackets have given a fair number of bridge deals, with Ryan Murray and Boone Jenner serving as two recent examples. But they've also shown they aren't afraid of giving out term for RFAs, extending Markus Nutivaara for four seasons and Seth Jones for six within the past two years.
The other angle to consider is that the player – and his representation – have a decision to make.
Some players prefer the bridge deal so they have an opportunity to grow within the organization and cash in on a bigger pay day a couple of years down the road. Others are happy to take the longer contract with a much larger salary that brings the player straight to unrestricted free agency, although the player locks in his salary at a potentially lower (compared to market value) number. 
The latter example depicts Seth Jones, who at age 21 signed a six-year contract extension for $32.4 million ($5.4M AAV). At the time, the jury was still (somehow?) out on whether Jones was worth the money that made him the highest-paid defenseman on the Blue Jackets. With hindsight being 20/20, we can all laugh hysterically at how underpaid Jones is today. He still has three years remaining on one of the best bargain contracts in the entire league.
Jones and Werenski aren't the same player, but there are plenty of parallels to draw from. Both are first-round picks, power play quarterbacks, offensively-gifted, high-end players, who are still young in their careers.
The below data comparison provided by Corey Sznajder and CJ Turtoro over the course of the past two seasons (since Werenski entered the league) shows that, in many instances, Werenski compares favorably to Jones. Remember, Werenski played the majority with a shoulder injury that required offseason surgery, and was dominant nonetheless.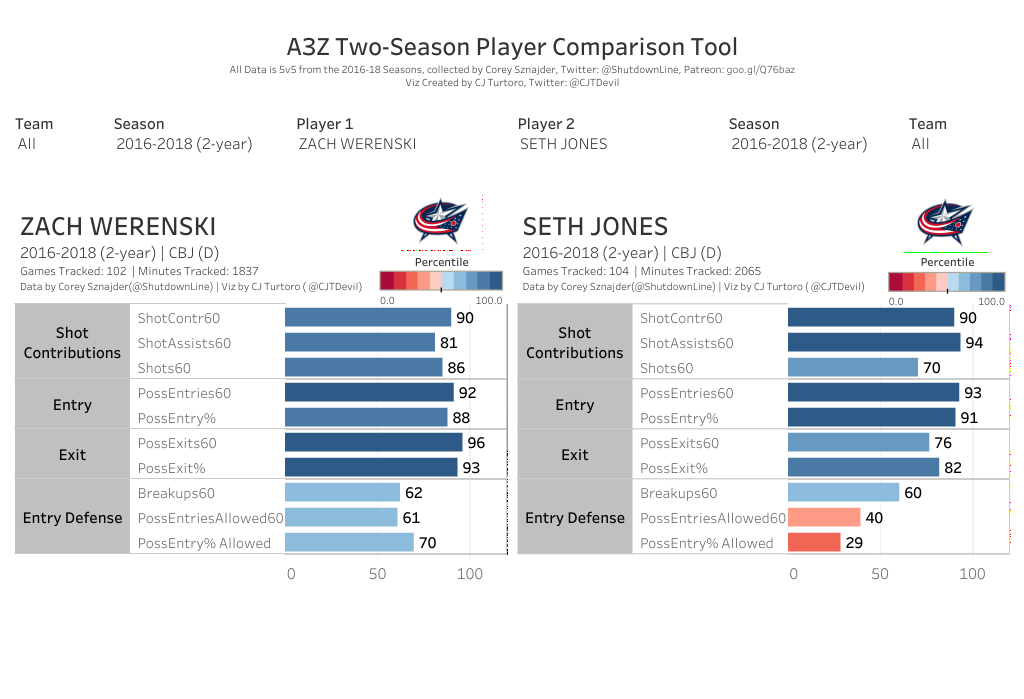 When Jones signed his contract, he was paid 7.40% of the salary cap. Assuming the salary cap goes to $80M this coming season, a similar allocation of funds would equate to $5.92M per season. And remember, his contract wouldn't go into effect until 2019-20, and who knows where the salary cap will be by then. Is Werenski really going to cash in for nearly $6M per season, or higher?
Only 19 defensemen in the NHL have an annual cap hit of $6M or more. The youngest of the group, Aaron Ekblad, makes $7.5M annually. He was just 20 years of age when he signed that contract.
The Blue Jackets find themselves in a precarious position here. Sure, they love Werenski. But it's in their best interest to not pay him $7.5M, even if he is worth that. They'll point to Seth Jones, who, (at least in my estimation as of this writing) is a superior player than Werenski is, and his $5.4M cap hit.
The problem with that is that Werenski, at least statistically, should earn that.
Since 2010-11, the list of first round picked defensemen who, in their first two years (ages 18-21) played over 100 games and averaged over 0.30 points/game is short. Only twenty defensemen qualify. Jones finished his first two seasons tied for 13th with 0.35 points/game. Ekblad was 5th at 0.43 points/game.
Werenski? Second, with 0.54 points/game.  
Taking it one step further, and using the same criteria, what's the list look like when you add in one last stipulation: at least 20 goals total in the first two seasons? The list shrinks to six players. Werenski stayed at second, and Ekblad moved to fourth. 
Erik Karlsson, arguably the most talented defensemen in the NHL, was first on both lists with 0.79 points/game.
Other players who have signed for similar term/dollars at that age are Dougie Hamilton (6 years, 34.5M ($5.75M AAV), 7.88% Cap), and Rasmus Ristolainen, who signed an identical contract (in terms of cap hit, AAV, and percent of cap) to that of Jones, just a few months after.
Werenski is going to get paid. It would be bold if he and his representation preferred a bridge deal, and frankly, I'm not sure the Blue Jackets front office would like to make that bet anyways. In the end, I project that he'll sign a contract in the same neighborhood as Seth Jones. The player gets his big ticket and the team gets cost certainty for the long haul. Win, win.
Official prediction: 6 Years, $33M ($5.5M AAV).
Follow 1st Ohio BatteryFacebook, Twitter, Instagram and YouTube