Welcome, bandwagoners!
You've picked the best possible time to become a Blue Jackets fan (and a hockey fan, too), and we're here to help catch you up to speed. Welcome back to Bandwagoning 101.
This time, we're breaking down some frequently-asked questions about the sport – but if we missed one of yours, feel free to drop it in the replies and we'll do our best to tackle it. In the meantime, sit back and let us be your sherpa up the mountain of hockey fandom.
The Basics
Why did the third goal get overturned in Game 4?
Man, that Cam Atkinson power play goal blew the roof off of Nationwide Arena, right? Unfortunately – albeit correctly – it was overturned upon review for the play being offside. 
A hockey rink is divided into three zones. Wherever your team's goalie is, that's your defensive zone. The other team's goalie is in your offensive zone. Each of those goes from the end boards up to the closest blue line on the ice. The space between the blue lines is the neutral zone.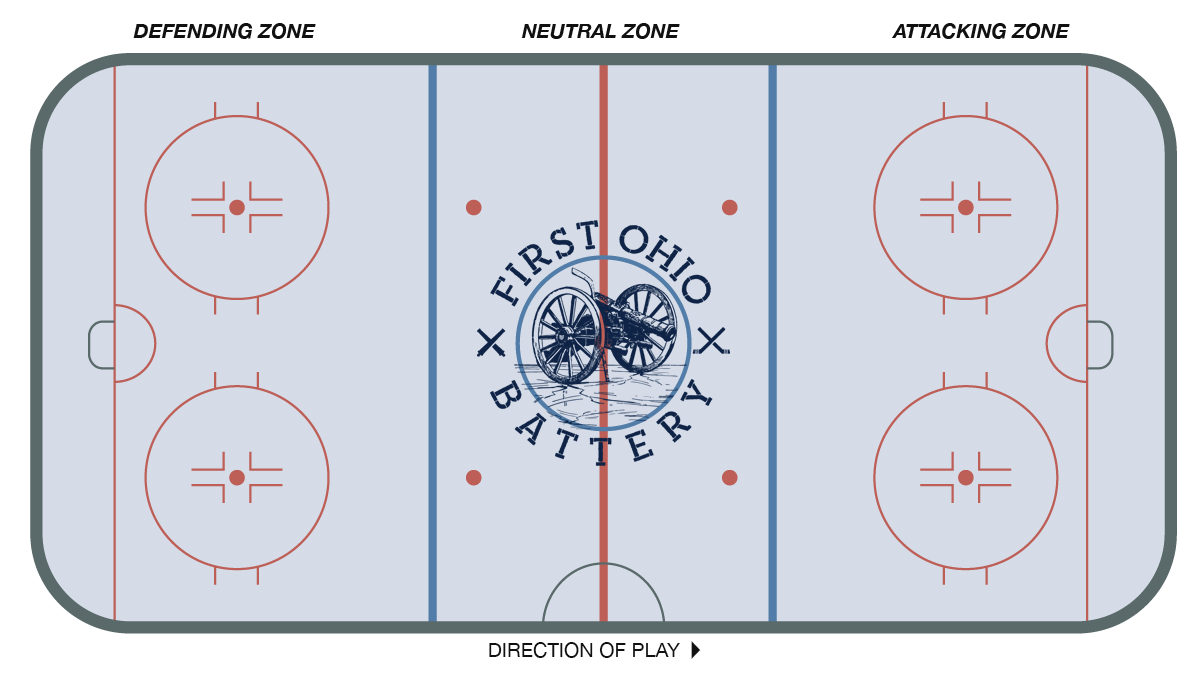 A play is only onside if the puck (or player clearly controlling the puck) enters the offensive zone before another player does. It sounds complicated but here's your TL;DR: the puck has to cross the blue line before the players do. 
Do the officials always get it right? Nope! Let's take a look at perhaps the most egregious example of a blown call, starring our pal Matt Duchene back in his Colorado days. 
Duchene clearly entered the zone before the puck did, but the refs (hilariously) didn't catch it and he ended up scoring a goal. Anyways, if you see players stretching to make sure their skates hit the blue line, this rule is the reason why.
For that Atkinson non-goal, well, the puck came out of the zone (albeit for a split-second and by the slightest of margins) and re-entered before the players got back onside, so by the letter of the law, it was the correct call. 
Why did that guy just get kicked out of the face-off circle?
First of all, every player cheats on face-offs. Or at least they try to.
The easy explanation here is that the player committed some kind of a face-off violation. The most common instances of that are initiating contact with a player before the referee drops the puck and impeding on the other guy's half of the circle. Essentially, players have to wait for the puck to be dropped and stay on their side until it leaves the ref's hand.
Repeated violations will lead the referee to require a new player from that team to replace the player who committed the violation. 
What on earth is icing?
In the simplest terms, it's when a team shoots the puck more than halfway down the ice and doesn't hit the net. 
Let's say that Tampa Bay's Victor Hedman is stuck in his own zone during a long shift, and wants to get a break. He can't just throw the puck all the way down the ice as a stalling tactic. If a team wants to get a line change in that situation, they either have to dump it slow enough that it's still playable before it reaches the other team's goalie, or they have to get it to center ice (the red line) first. 
There's one huge exception to this, though, and that's when the other team is on a power play. Teams can ice the puck in that situation solely because the other team already has a 5-on-4 advantage. 
There are two ways to negate icing. First is to have a player tip the puck at the red line, a very common tactic. The second is a bit rarer but has some huge upside, and that's to beat the defender to the puck at the other end of the ice. 
What does that last one look like in action? Here's a trick play that Artemi Panarin and Pierre-Luc Dubois pulled off earlier this season. 
When icing is called, the face-off goes back into the defensive zone, which is why you don't want your team to get called for it too much. Also, every player from the defending team that was on the ice for the icing call has to stay on the ice for the ensuing face-off, so it can't be used for a change.
Still, it can be a useful stalling tactic if a team needs a few seconds to regroup. Repeatedly icing the puck can lead to a delay of game penalty, though, so it's a bit like playing with fire. 
Penalties! How do those things work?
Ah, yes, speaking of penalties, there are a few types of those:
Minor Penalties: Expire after 2 minutes or when a power play goal is scored
Tripping: using the stick or foot to trip a player, intentional or not 
Hooking: using the stick to restrain a player from behind
Boarding: checking a player into the boards from behind or with excessive force
Spearing: whacking a player between the legs with your stick
Slashing: whacking an opponent with the stick, usually on the hands
Holding: restraining a player with your arms
High sticking: hitting a player above the shoulders with your stick
Elbowing: Initiating contact with the elbow.
Charging: Striding/accelerating into a hit, rather than gliding. 
Major Penalties: Expire after 5 minutes whether or not a power play goal is scored
Fighting, although nobody gets a power play (remains five-on-five) in the aftermath.
Any minor penalty committed with obvious intent to injure 
Other Penalty Types
Double minor: When a player draws blood on a minor penalty (usually high-sticking) – if a player scores in the first two minutes of a four-minute double minor, the penalty clock winds down to two minutes and the team remains on the power play. 
Match penalty: Deliberately injuring an opponent. The offending player is ejected from the game and the penalty is treated as a five-minute major. 
Penalty Shot: If a player has a clear breakaway and a player behind them commits a minor penalty, the player gets a penalty shot in lieu of a power play being awarded.
Instigator: This one is pretty rare in today's game, but basically any player who egregiously goes out of their way to instigate a fight. 
Artemi Panarin rules, why is he only out there for ⅓ of the game?
Because skating is exhausting! NHL players are in crazy good shape, but they go all-out every time they touch the ice, limiting their shifts to between 30 and 45 seconds. 
Ever wonder why Panarin's not out there but someone like Brandon Dubinsky or Riley Nash is? Well, Panarin's a lethal offensive player. Even the best forwards on their biggest nights rarely play more than 20 minutes, so the Blue Jackets want the bulk of Panarin's work to come near the other team's net. 
Intermediate
I was told there would be more fights
Fighting has been declining in the sport for a few years now. For decades, most teams would carry one guy who would get minimum ice time but was tough as hell and was basically just there to fight. For the Blue Jackets, this was Jared Boll.
Boll played 579 NHL games and ended up with just 66 career points. His role wasn't to make crisp passes or carry the puck through the zone with speed, it was to fight. His final career total for penalty minutes is an astounding 1,298. That's a lot of fights! 
So, why is fighting declining? Because the game is getting faster and more geared towards skilled players. A traditional enforcer's lineup slot could be filled instead by a player who can keep up on both ends and chip in some offense. That doesn't mean that players like Nick Foligno and Josh Anderson won't drop the gloves, but wouldn't you rather have those guys on the ice than in the box? 
How can you tell who's playing better even if it's scoreless?
Some networks (like FOX Sports Ohio) display a running total of shots on goal during the broadcast, but that only tells part of the story. Just like it did for Jonah Hill's career, the analytics movement in sports is transforming hockey. Even John Tortorella's bought in, to an extent. 
Shots on goal are a fairly rudimentary stat. But not all shots go in the books as a shot. For instance, if Seth Jones shoots the puck and it's blocked by a player from the other team before it reaches the net, it's a shot attempt, but not a shot. Also, if a player shoots high or wide and misses the net, that's a shot attempt, but not a shot. Yeah, the NHL is weird like that. Shot attempts tend to better tell the story of who's controlling the game. After all, you can't shoot the puck if you don't have it.
But what if a team is just throwing easy shots on net? That's where other, stats, like scoring chances and high-danger chances come into play. 
Where do stats like hits and +/- come into play? Well, less and less lately. 
Hits can help swing momentum and will make players more hesitant to dig loose pucks out of corners if they've been hit a few times, but you can't register a hit if your team has the puck. So while cool and fun, big hit totals tend to mean that your team was chasing play and the game is moving towards a more skilled model.
As for +/-. well, it only tells a very small part of the story. Essentially, it's the differential of (even strength, 5-on-5) goals while a player is on the ice. Play on a bad team? You'll likely get a lot of minuses. Get a lot of defensive-zone starts? Pile on the minuses. If the goalie lets in an absolute softy of a goal, you get a minus. 
When does it make sense to pull the goalie?
Hey, another #FancyStats debate! It's pretty rare to see a team pull the goalie with more than 90 seconds left in the game if they're down by one goal – even in today's analytics-driven game – but there is plenty of data that supports doing it even earlier. 
We won't get too into the weeds here, but pulling the goalie with about 2:30 to go in a one-goal game increases the chances of a comeback by about two percent. 
Why did it take the Blue Jackets 19 years to make it to the second round, but Vegas nearly won the Cup in their first year?
Without getting too in the weeds (damn you, Jeff Carter!) here are the three biggest reasons. 
The Blue Jackets had to compete with another team, Minnesota, in their expansion draft
The player pool for the Blue Jackets expansion draft was both smaller and weaker overall due to the rules at the time. 
The Blue Jackets squandered a bunch of high draft picks and made some trades that look really bad in hindsight for years before John Davidson and Jarmo Kekalainen took over the hockey operations department. 
Advanced
How important are things like face-offs? 
Faceoffs are how teams try to gain possession of a dead puck and winning one can help drive possession, but there's a growing belief that they're not as important as they were once considered. Still, you'd rather win a faceoff than lose one, particularly important ones, like faceoffs late in the game in your own defensive zone.
How do the lines work? Are the best players always on the top line? 
Not necessarily! A team's first line is typically its most potent, but coaches will move guys around if it can spark certain players. The objective is to get every player rolling at their peak. Having three very good lines is likely better – by virtue of their ability to be on the ice for more of the game – than having one *great* line. 
For now, the Blue Jackets have found a great balance that involves sprinkling some lethal scorers across their first three lines and creating a fourth line that's physical, tenacious and defensively-sound. Here's a refresher of what their forward lines look like right now: 
Blue Jackets Forward Lines

|   | Left Wing | Center | Right Wing | Line Breakdown |
| --- | --- | --- | --- | --- |
| FIRST LINE | Artemi Panarin | Pierre-Luc Dubois | Oliver Bjorkstrand | Tons of skill and scoring ability.  |
| SECOND LINE | Ryan Dzingel | Matt Duchene | Cam Atkinson | Arguably just as good as the first line. |
| THIRD LINE | Alexandre Texier | Nick Foligno | Josh Anderson | A little bit of everything: speed, skill, physicality. |
| FOURTH LINE | Boone Jenner | Brandon Dubinsky | Riley Nash | Physicality and grit, tough to play against. |
I want to follow the next generation of players. How does the draft/development system work?
Here's where things get a bit complicated. 
In the United States, certain college players are eligible to be drafted, although most will come from the USHL (an amateur development league) or the United States National Team Development Program.  Players drafted from one of those leagues (or some Canadian/overseas amateur leagues) are still eligible to play in college provided they aren't under contract.
By drafting a player who's on their way to college, though, the team retains their exclusive rights for a few years. A few high-profile players recently have waited for that clock to run out (as it does after four years) and signed wherever they wanted to – a scenario that's happened twice to the Blue Jackets (with Mike Reilly and, ironically enough, Adam McQuaid) over the past few years. 
The bulk of the players taken in the draft come from the Canadian Hockey League (CHL), though, which is comprised of three sub-leagues: the Quebec Major Junior Hockey League (QMJHL), the Ontario Hockey League (OHL) and the Western Hockey League (WHL). The vast majority of those drafted players will stay in the CHL for another year or two, then come play in the AHL when eligible. 
Then, there's Europe. There are a handful of leagues there (the biggest ones being in Sweden, Finland and Russia) that churn out draft talent, although players there can sign on with those clubs before coming over. In the case of a player like Vladislav Gavrikov or Elvis Merzlikins, those contracts have prevented them from coming over stateside until recently.