It's amazing that the Columbus Blue Jackets continue to win despite having one of the worst power plays in the history of their franchise.
It needs to be addressed. And it needs to keep being addressed.
In the past 20 NHL seasons, only two teams have gone on to win the Stanley Cup that didn't have a power play in the top-20 in the NHL.
The Blue Jackets sit in second place in the Metropolitan Division, just one spot behind the New York Islanders(?!), and are having one of the best starts in club history record-wise.
But at a 14.29% conversion rate, their power play is 27th in the league. The fifth-worst.
If they've ever been close to being Stanley Cup contenders, it's now - and it wouldn't necessarily be wise to continue to get victories in spite of how poor their special teams have been.
If you need any more evidence, look at how the Blue Jackets failed to register a power play goal in the final four games of last season's playoffs against the Washington Capitals (all loses).
Travis Yost, hockey analytics writer for TSN, broke down every team in the NHL's special teams numbers (as of Jan. 17) and how their win total in the standings is being impacted by their power play AND penalty kill net rating.
In Yosts' measure, these analytics are recovered under the guidance of about six net goals equating to one win: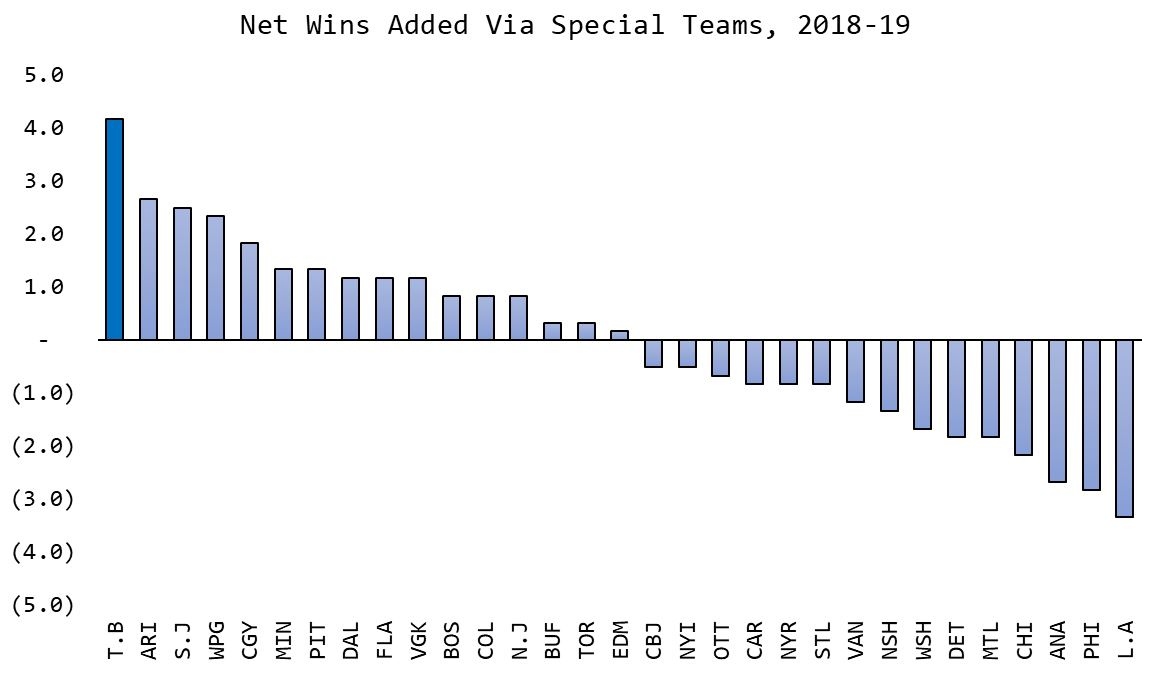 The Tampa Bay Lightning were (obviously) the league's best: they've added over FOUR wins to their standings simply based on their special teams alone. Insanity. 
The Jackets, on the other hand, have gone backwards in the standings, having nearly one more loss on their schedule based on their special teams net rating. 
Potentially one loss added to the Jackets' record thanks to their special teams doesn't seem like the worst trade-off in the world, but when you see the way teams like the Lightning are excelling because of their net rating, you'll see why they are the Cup favorites.
Yes, teams like the Arizona Coyotes are near the top of wins added, but they also have (somehow) one of the most lethal penalty kills in the NHL.
The Blue Jackets are good, not great on the PK. So this can't make up for their power play being dreadful.
So, what's the solution? Make a trade deadline deal and bring in a power play or penalty kill specializer? Give units more time to build chemistry? Or, just be better?
Regardless of what needs to happen, it should happen quick, otherwise the Blue Jackets are looking at very low odds of a strong playoff push because of their special teams.
Possible. But the odds are very low. We need to see a spark happen.
Follow 1st Ohio BatteryFacebook, Twitter, Instagram and YouTube