Silver linings. They are important, friends.
They are especially important when the Columbus Blue Jackets are off to their worst start through 20 games (regardless of the outcome tonight) since the 2015-2016 season (7-13-0).
For all the turnover from the offseason, a current record of 7-8-4 isn't all that bad. The club has the opportunity tonight to be at a .500 mark heading into the holiday season. It could be a lot worse.
In fact, we could be surprised that it isn't worse, actually. The Blue Jackets, according to hockeyreference.com, have the second-hardest schedule amongst all NHL teams at this point in the season. 
In short, things *should* theoretically get better from here. 
Every team the Blue Jackets have played in through 19 contests, which will include tonight, will have been against a team that is currently in the top 21 in the NHL in points. No cupcake games. No tanking teams. No games to try out risky line combinations (though honestly, that may not have stopped John Tortorella anyway).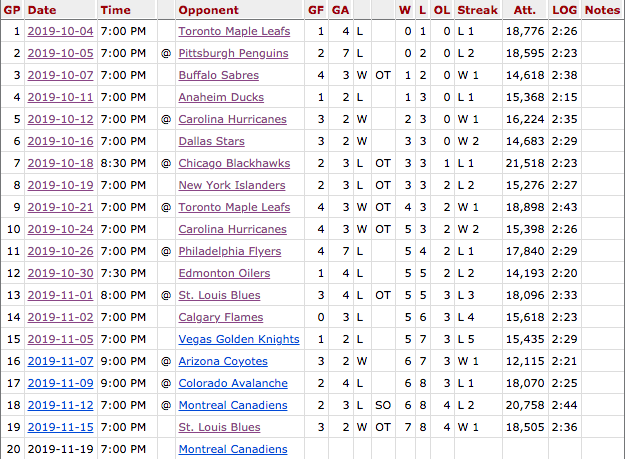 All opponents for the Blue Jackets so far are serious contenders for the postseason. 
Yes, no night in the NHL is easy, but that's been especially true for the Blue Jackets so far. Getting to play the likes of the Detroit Red Wings in Ottawa Senators in the coming weeks can hopefully buff up their record.
Perhaps the tough schedule to start the 2019-2020 campaign has been good for the team to keep them focused and ready for the dreary winter months of play before the all-star break. Nevertheless, here's a least one spot we can cut Columbus some slack in - they haven't had it easy so far.
Follow 1st Ohio BatteryFacebook, Twitter, Instagram and YouTube