Welcome to part three of our State of the Union miniseries, in which we dive deep into the Columbus Blue Jackets' organizational structure in terms of both the present and the future of the franchise.  
Next up, we examine the state of the Blue Jackets' defensemen.
---
Among The League's Best
The Blue Jackets have compiled one of the deeper defense corps in the NHL, led by Seth Jones and Zach Werenski. It's unquestionably the strength of the team, as evidenced by their 2.11 goals against/60 at 5v5, 5th best in the NHL. The below viz, courtesy of hockeyviz.com, shows just how stingy Columbus has been in the defensive zone. While the Blue Jackets have one blip on the viz (they allow a higher-than-league-average shot volume in the high-slot on the right side of the defensive zone), they've proven to be masterful at efficiently preventing scoring chances in the high-danger areas directly in front of the net. In essence, the Blue Jackets make it difficult for the opposition to create dangerous chances in the high-rent areas of the ice.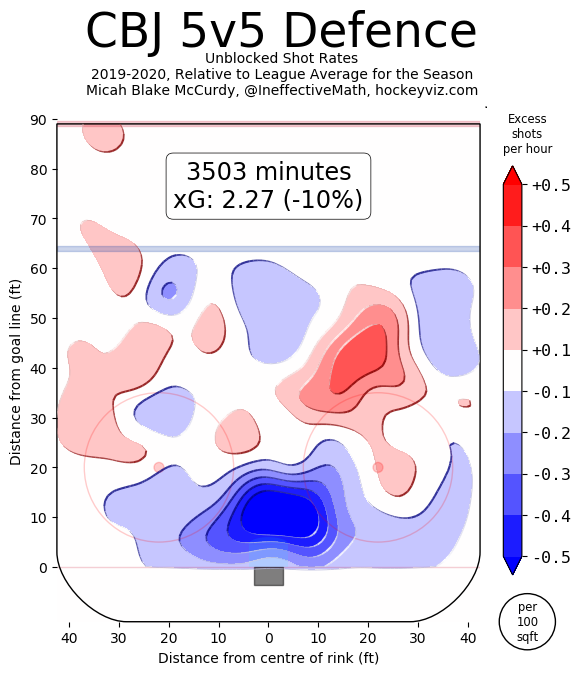 If You've Got' Em, Use 'Em
Columbus isn't afraid to ride its horses. Jones (25:17) and Werenski  (23:59) rank 7th and 17th in the NHL in average TOI/game, while David Savard (20:41) and Ryan Murray (19:57) aren't far behind. Vladislav Gavrikov, who was a revelation in his first year in the NHL, played 18:59 per night. Typically partnered with Savard, Gavrikov is the lone key free agent (RFA) among defenseman on the roster. Per recent reports, the Blue Jackets are working on a contract for the 24-year old Russian. 
Battling Through Injuries
Markus Nutivaara, who had been on an upward trajectory, plateaued a bit in 2019-20, largely thanks to an upper-body injury that kept him out of the lineup for 27 games. That injury sparked opportunities for other defensemen, like Dean Kukan and Scott Harrington, to find time in the lineup. Kukan wasn't much luckier and went on IR on Jan 3 after suffering a medial meniscus tear and articular cartilage injury to his left knee.
Then there's Murray, who missed stretches in both late October/early November and again in mid-December through the beginning of March due to chronic back issues. He's played in just 27 of the team's 70 games before the pause. Unfortunately for the Blue Jackets, they've been unable to rely on Murray to play in a top-four capacity due to his extensive injury history. In a way, they've been forced to build out their depth on the blueline out of necessity, and have treated it as a bonus when Murray is healthy enough to play. Unfortunately for Murray, it's meant millions of dollars left on the table. His current contract, signed in July 2019, pays him $4.6M through the end of 2020-21, at which point he'll be a UFA. In terms of skill, the 26-year old is underpaid. 
Cap Managed 
Management has done a fantastic job to sign their defensemen to decently-termed, fair-value deals. As pointed out, Murray is, in some ways, underpaid. At age 25, Nutivaara is well-priced at $2.7M through 2021-22. Jones is among the best bargains in the NHL. Werenski is making $5M through 2021-22, at which point he'll still be an RFA. Savard, like Murray, will be UFA after 2020-21, but his $4.25M AAV is more than manageable. Gavrikov's new contract will be interesting to monitor, but with him being a 10.2(c) RFA, he lacks arbitration rights, which will help the Blue Jackets in negotiation. Kukan and Harrington are on sub-$2M contracts through 2021-22, and Andrew Peeke is still on his entry-level deal, which expires after 2020-21. 
Holy Depth
When the club is healthy (I know, I know), the Blue Jackets have difficult decisions to make regarding their top-six defensemen. Jones, Werenski, Gavrikov, Savard, Murray are all penciled into the lineup. That leaves room for one more lineup spot. Who gets squeezed in a playoff game - Nutivaara? Kukan? Harrington? 
In finding Gavrikov, has Savard become obsolete? A younger, stylistically similar player with a cheaper contract could mean Savard is the odd man out. On the other hand, the Blue Jackets missed their best opportunity to maximize a return for the veteran defensemen this past off-season, and having both he and Gavrikov on the same lineup is an attractive proposition for any coach, particularly on the penalty kill.  
Then there's Peeke, who was 29 games into his professional hockey career with AHL Cleveland before injuries to the big club prompted a callup. At 22, he's not looked out of place in the NHL, and his flexibility almost certainly ensures that he'll return to the AHL (assuming a healthy lineup) for further ripening. 
Speaking of Cleveland, don't sleep on Adam Clendening, who showed he could still play at the NHL level last spring when he played in a limited capacity in the Stanley Cup Playoffs. He was a part of the goal that ultimately clinched the series sweep over the Tampa Bay Lightning. The 27-year old is under contract through 2020-21. Also in Cleveland is former first-round pick Gabriel Carlsson. The 23-year old will be an RFA this summer. I would imagine Columbus will extend a qualifying offer, but regardless, it's hard to see how he'll figure into the club's future plans (though he did play in six games this year). 
Depth is a good thing, but we think it's certainly plausible that Seattle will come calling for a Blue Jackets' defenseman in next year's expansion draft. 
Blue Jackets Defensemen

| No. | # | Name |
| --- | --- | --- |
| 1 | 2 | Andrew Peeke |
| 2 | 3 | Seth Jones |
| 3 | 4 | Scott Harrington |
| 4 | 6 | Adam Clendening |
| 5 | 8 | Zach Werenski |
| 6 | 27 | Ryan Murray |
| 7 | 44 | Vladislav Gavrikov |
| 8 | 46 | Dean Kukan |
| 9 | 53 | Gabriel Carlsson |
| 10 | 58 | David Savard |
| 11 | 65 | Markus Nutivaara |
Wanted: Prospects
While the current depth chart is flush with talent, the prospect pipeline, particularly among defensemen, is a bit bare. The Blue Jackets selected Eric Hjorth with the 104th pick (4th round) in the 2019 NHL Draft. Hjorth was seen at the time as a risky play, as the Swede played in just 10 games a season ago due to injuries. In 2019-20, he played well in Sarnia (OHL), leading his team in points among defensemen. Tim Berni, drafted by the Blue Jackets in the 6th round of the 2018 NHL Draft, recently signed his entry-level deal and should play a decent role in Cleveland next season. The 20-year old captained Team Switzerland at the World Junior Championships this past winter and could turn into another late-round gem. The Blue Jackets also recently signed Jake Christiansen to an entry-level contract. The WHL over-ager played in nine games with the AHL Stockton Heat this season, and he, like Berni, will look to find his footing in Cleveland next season.  
Conclusion
The Blue Jackets have done well to build a solid foundation on the blueline. Blending star power (Jones, Werenski), tenacity (Savard, Gavrikov), puck-movers (Kukan, Nutivaara), and youth (Peeke), the organization is as strong as they've ever been at the position. However, we were all witness this season to how quickly depth can evaporate due to injuries, and the club will be careful to part with any of their players. As mentioned with the centers and wingers piece, I believe that acquiring a bonafide top-six center or a high-end scorer is paramount, and that could mean parting with a defenseman.