John Tortorella has said it time and time again.
In a five-game series, there's no room for error. One loss puts you immediately behind the eight-ball. So in a situation where everything matters, any possible margin or advantage must be exploited by the Blue Jackets if they want to advance to the Stanley Cup playoffs – and that includes special teams.
A healthy Columbus roster means that the aggressive, offensively-minded penalty kill should be able to return to form, but for many seasons now, the power play has struggled. When the 2019-20 season hit pause, the Blue Jackets ranked 27th in the league in power play conversion (16.4%), shot quality (4.51 expected goals per 60), and 26th in goals for per 60 (5.45). 
But as the second training camp of the season began, in a league where a four forward-one defenseman lineup dominates the NHL, a new look showed up on the first power play unit: Zach Werenski and Seth Jones together. 
It's early, but this may be a look to stick with going into the Stanley Cup Qualifiers against the Toronto Maple Leafs. Let's look at why.
But how much faith should we have in this approach? Perhaps a lot.
The Why
Werenski says he and Jones were admittedly surprised when they came into the locker room and saw that they were going to play together on the power play, but it's something he is definitely in favor of. 
"I'm putting people on the ice and (will) fill 'em with ice time if I think they can help us win that particular game."– John Tortorella
"I like it a lot," Werenski said. "I think our chemistry together is really good, and even on the power play today, I could feel that. I knew what he was going to do with (the puck). We talked about it before how we want a real chance at it together to show what we could do. He shoots the puck really hard so if we can work Bjorky's side, use Gus (Nyquist) in the middle and then get it over to Jonesy for a big shot, it's definitely going to be hard for other teams to stop."
Their head coach agrees for all those reasons and more. He's going to use his best players as much as he can to make the most of the minutes available in games where every second can matter.
"This is a best-of-five series," Tortorella said. "I'm putting people on the ice and (will) fill 'em with ice time if I think they can help us win that particular game. We're going to get them on the ice as much as we can. Good things happen on the ice when they're together, so we want to take a look at them as far as the power play."
And let's not forget to mention that keeping Jones and Werenski together on the power play means defensive pairs don't need to jumble to "catch up" after a power play as whoever was just out needs time on the bench to recover before their next shift. Your top pair remains in the same lineup cycle if they are put out at the same time on the power play. 
But even more interesting? This concept has been tested, and it works!
Proven Results
This isn't the first time Jones and Werenski have been on the ice at the same time when Columbus has the man advantage. For a brief period this season in late November, the two were on the same power play unit and it bore results. 
On Nov. 21 against Detroit, the Columbus power play went 2-for-5 including this Cam Atkinson tally assisted by Jones and Werenski.
2-1 #CBJ

Atkinson tap-in on the power play. Hes pretty jacked to get that one.

Assists to Jones, Werenski pic.twitter.com/MkZYi7APhr

— Alison (@AlisonL) November 22, 2019
In the very next game, Nov. 23, Jones got his own power play score in a game where the Blue Jackets went 3-for-5 for a 60-percent conversion rate, the second-highest rate of the season when Columbus had two or more power plays in a game.
I am here for Jones-Werenski on the power play.

Jones makes it 2-2 #CBJ #rovers pic.twitter.com/o6IEk6LTIa

— Alison (@AlisonL) November 24, 2019
The experiment may have continued, but two games later in Long Island, Zach Werenski went down with a shoulder injury, and by the time he returned, an injury-ravaged roster piecemealed its way through the balance of the season.
But the fact of the matter was, with Jones and Werenski on the power play, things were clicking.
The Rovers
For years now, Tortorella hasn't really referred to his two top blueliners as defensemen. He's called them "rovers" and defined a position that isn't like other defensemen or forwards, for that matter. Playing the role of a rover means Jones and Werenski have different rules, and it applies again to this possible power play configuration.
While back in November, Jones played the point and Werenski played the half-wall, the looks we've seen in Phase 3 have the two switched positionally. But that may not matter.
"(Assistant coach) Paul MacLean told us we can switch, we can move, we can read off each other," Werenski said. "If I end up on the half-wall, I'm on the half-wall. It doesn't really matter, which is why I like having me and (Jones) there because we work so well together in terms of reading off each other, jumping into plays, getting into areas."
And Jones and Werenski already know how to do this.
Here's a look courtesy of HockeyViz.com at where Werenski and Jones respectively take shots on the power play when they are quarterbacking the special teams unit.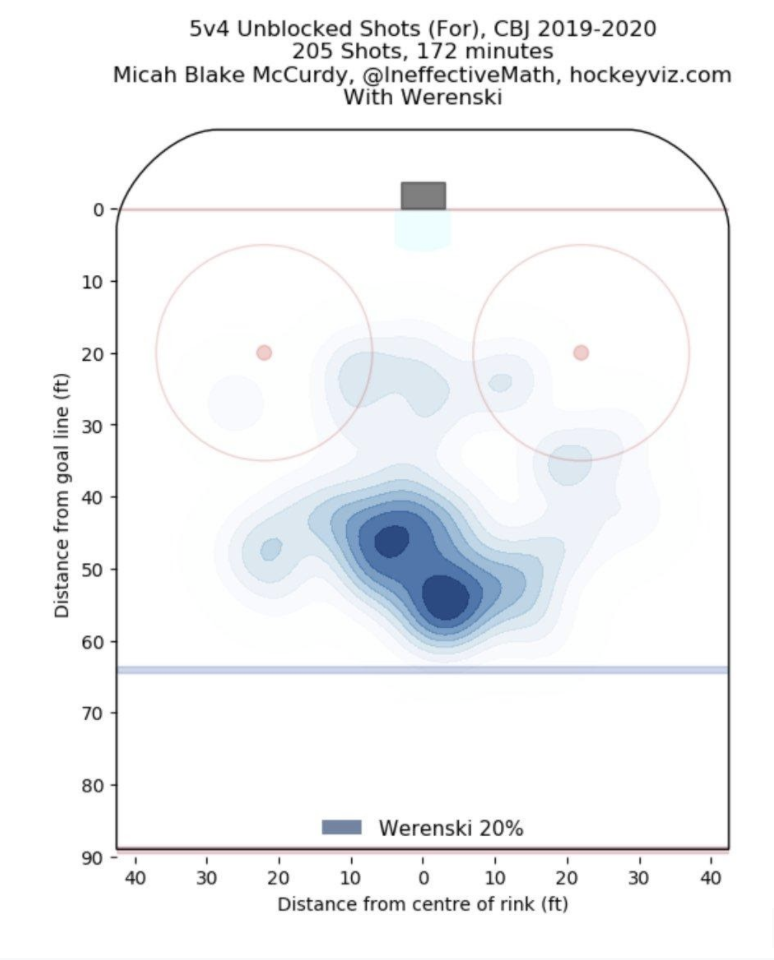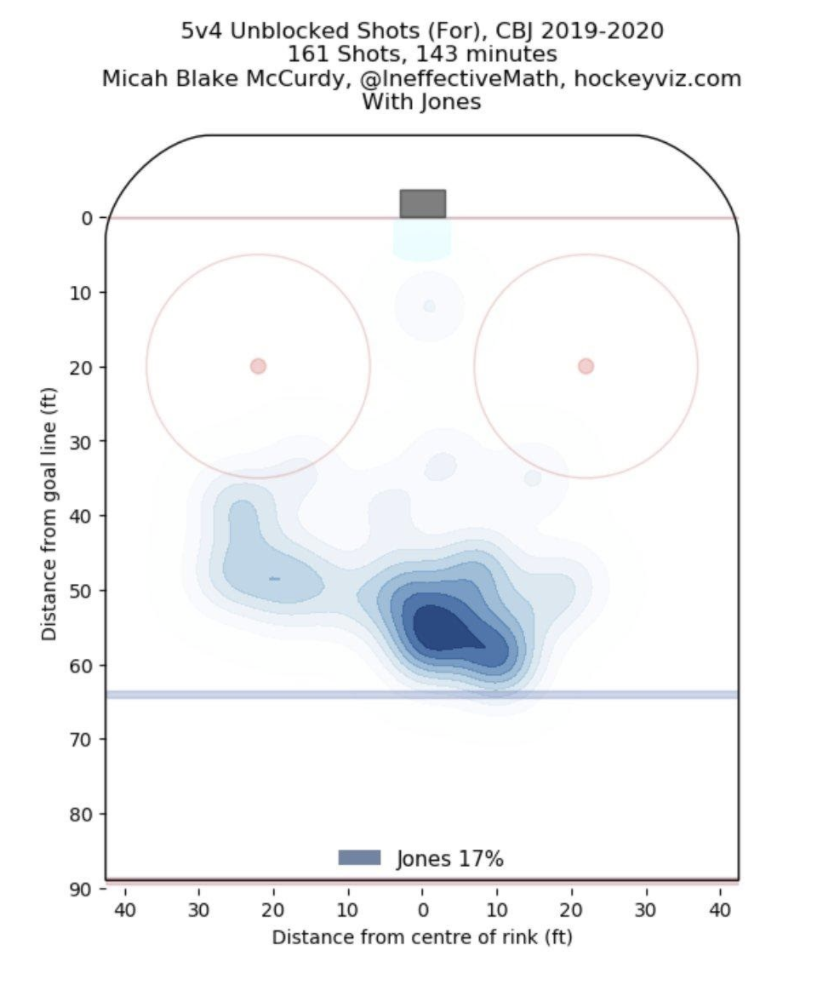 We see that for the most part, both fill the traditional role of a power play defenseman, firing shots from the point.
But put them together and everything changes.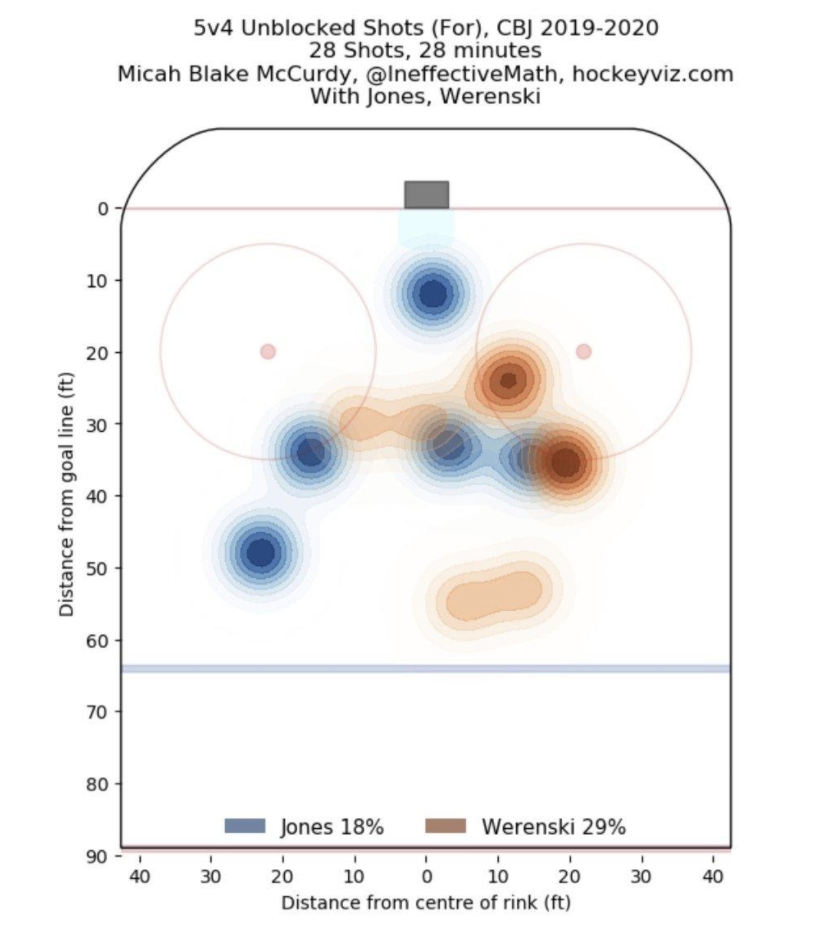 And that's the key, according to Werenski. The power play unit becomes unpredictable and that much more difficult to defend.
"Those unpredictable power plays are the hardest ones to stop," Werenski said. "You don't know what's going to happen. We can start moving around, zipping the puck around, finding each other, working off each other like I said. It could work really well and we're excited to see what happens."
Final Thoughts
It's early and a week before Game 1 (meaning everything could change), but in concept and execution, Jones and Werenski together on the Blue Jackets power play could be a valuable weapon if Columbus wants to take its best shot at beating the Leafs and advancing to the playoffs.
---
All data via evolving-hockey.com; visualizations via hockeyviz.com.