The Columbus Blue Jackets likely have the best defensive unit in the NHL - which is why we can have this conversation.
Otherwise, talking about trading a 23-year-old defenseman who just broke your franchise record for goals scored by a blueliner and led the all defenseman in the NHL in scoring is just plain ridiculous. 
And maybe it's still ridiculous. But because of how bad the Blue Jackets' offense is, I think it's something we can at least entertain. 
Zach Werenski's breakout offensive campaign this past regular season came as a bit of a surprise, only considering he had 11 goals the year prior, and that was in 82 games.
This year, though, the fourth-year Michigan product popped off for 20 goals in 61 games, with the closest defenseman behind him in scoring with just 16. Werenski has averaged about 40 points every season for his career thus far but was on track for 50+ if the season would have run its normal course.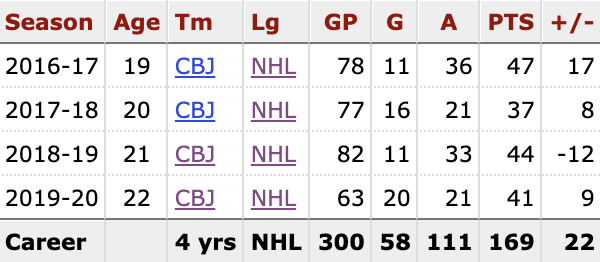 (stats courtesy of hockey-reference.com)
And with the Blue Jackets bolstering a stellar defensive unit, but while also having the fourth-worst scoring offense in the league, maybe it's time to discuss who can be on the trade block. 
Obviously, the easy answer is one of the two budding goalies, and I think that's the right answer. But should Werenski's name also be in the conversation? Scoring-threat defensemen like him are starting to gain heavy value, thanks to the likes of John Carlson and Roman Josi.
Let me sober up for a minute, though, and play my own devil's advocate. In past years, Werenski's defensive play was nothing to write home about, but that narrative changed a bit this 2019-2020 campaign. Werenski was first on the club in defensive point shares and total point shares, led defenseman (who played more than 40 games) in offensive zone start %, and had nearly a 50 CF%. In short, he wasn't a scrub in his own zone.
I say this because the easy target to Werenski is that he is lazy defensively, and therefore can be dealt with the highest bidder, but he has surely improved in that category. He's not elite there but could be eventually.
All this to be said, I think it could be wise to test the market for the kid, who has two years left on a 5 million AAV contract. It's fairly team-friendly, and his scoring presence could make a team like the Toronto Maple Leafs, Edmonton Oilers or Florida Panthers overpay for blue line help.
At the very least, I suppose I am saying Werenski isn't untradeable. In my opinion, Pierre-Luc Dubois and Seth Jones are the only ones who can claim that title. But, what do you think?