As details surrounding the 2020-21 NHL season begin to get slightly less hazy, it's easier to think about what might be asked of a team this year.
And with a 56-ish game schedule being proposed, along with the known intent to get back to a "regular" NHL season calendar-wise, it's easy to think that this coming year might be the most compressed docket yet with games coming at a team fast and furious.
One of the more interesting challenges is in the net. If more games are being played in less time, will teams have to use their backup goaltenders more, and, if so, are there teams that are uniquely poised to benefit from that (looking at you, Blue Jackets)?
Let's dig in.
This isn't about finding the "best" goaltender, because the "best" goaltender with a lacking backup means the team may suffer more unless it plays its starter until his groins explode. And this also wasn't about finding the "best" tandem; what we wanted to see is which teams show the most consistency in their current tandems.
To do this, we looked at the presumed NHL goaltenders for each team in the 2021 season (in cases where multiple NHL ready netminders are on the roster and have played, meaning there was no clear-cut starter-backup tandem, we went with the top two in terms of games played).
Then, we looked at each goaltender's performance last year using Evolving Hockey's Wins Above Replacement (WAR) metric, which measures how many more wins a goaltender earned his team compared to a replacement-level player and rated it out by game.
Next, we looked the differential between the two goaltenders' WAR per game. Presumably, the closer the two players' WAR, the more equivalent their performance.
For what it's worth, the Blue Jackets were. 16th in the League in goaltender WAR per game differential (.412).
That might make some people say "whoa! Are the two goaltenders that different?" Remember that the first pass included every NHL team's tandem – whether the starter played 60% of the games or 40% of the games. Let's account for that, too.
We then pulled out every tandem where the game played differential last season was 10 games or fewer – meaning, teams that qualified had the closest to 50-50 split in workload. Nine teams made the cut: Arizona, Boston, Buffalo, Columbus, Calgary, Colorado, Edmonton, New Jersey, and Nashville. (Washington also qualified based on the math, but with two changes in net – Henrik Lundqvist signing and Braden Holtby departing, we removed them from our list).
Here's how those nine teams ranked in terms of WAR differential between their two presumed goaltenders for 2020-21.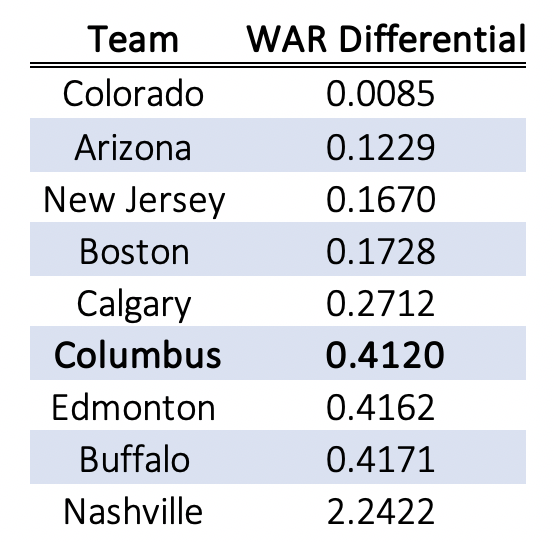 So, among the teams that share their workload most evenly, Columbus ranks in the middle of the pack in terms of overall goaltending consistency.
That's all fine, but consistent and bad compared to consistent and good are two different things. So, how do these consistent Blue Jackets netminders stack up against the league? Below are rankings of every team if you total WAR for the two presumed NHL goaltenders. (Note: teams excluded due to lack of data for rookies: Chicago, New York Islanders, St. Louis, Pittsburgh)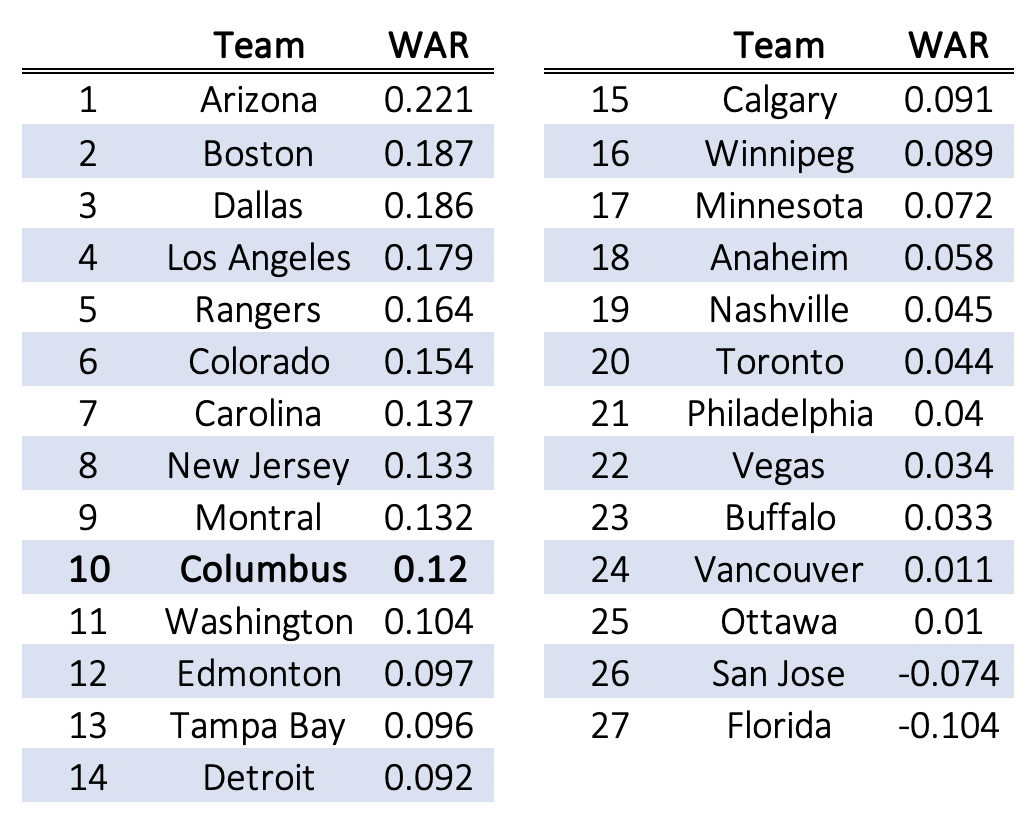 Now it gets interesting. Columbus is not only consistent, but also, based on last season, ranks in the top 10 for goaltender WAR per game.
This is not a guarantee, of course. Every team and every goaltender can progress or regress season to season – and the preparation for this pending one is certainly unprecedented. On a micro level, as well, how will the Columbus goaltenders fare behind a defense that perhaps doesn't need to be a staunch as last season? Will they hold up when the training wheels come off?
Playing the games will answer all of these questions, but it does look like based on the premise that we'll be facing a different kind of season in 2020-21 schedule-wise, Columbus may have an extra weapon to wield in its fight for success.
All data via EvolvingHockey.com and represents five-on-five data.