If you're reading this, you've heard the reports that Pierre-Luc Dubois wants to play somewhere other than Columbus, and since he's not even close to UFA status, the only way that happens is via a trade.
This kind of news means the internet goes crazy with trade proposals, so, we decided to take a look at what kind of trades might actually get Columbus the kind of return a player like Dubois deserves. We asked our 1OB team along with some other NHL analysts for their ideas and then ran those through Prashanth Iyer's Trade Machine (It relies on CapFriendly cap data and Dom Luszczyszyn's GSVA values to estimate current contract value).
A few quick but important notes before we begin:
As Iyer notes on the use of his Trade Machine: trading RFA's is cloudy because if they don't have a contract that covers their entire time under contract, it may underestimate their value. That means Dubois' value is likely even higher that estimated below.
We are not here to debate IF Pierre-Luc Dubois will be traded, nor are we here to debate SHOULD Pierre-Luc Dubois be traded or to where he MIGHT be traded. This is purely an exercise in understanding the value the player has on the open market (while under his current contract).
---
It Was One-for-One
Dubois for Patrik Laine (F-Winnipeg Jets) – 1OB Staff
This one rumbled around instantly. Two players who seemingly want out of their current organization. Does it make sense?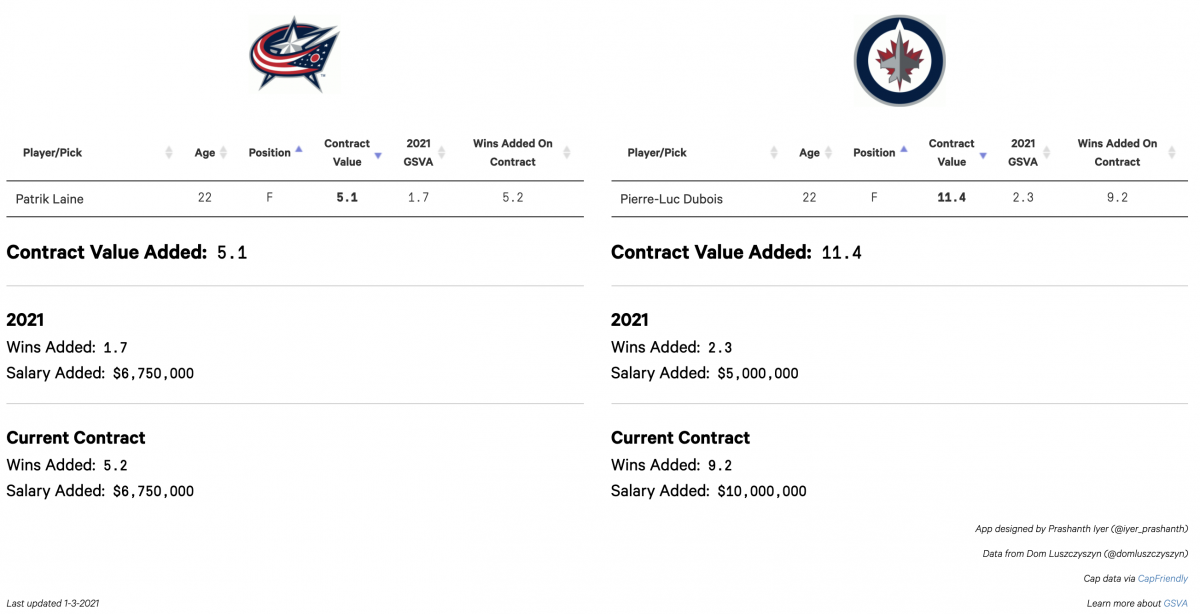 Verdict: No.
Moving on.
Dubois for Mathew Barzal (C-New York Islanders) – Twitter 
Another idea ran up the flagpole of a swap of players not currently easing their way through long-term contract negotiations.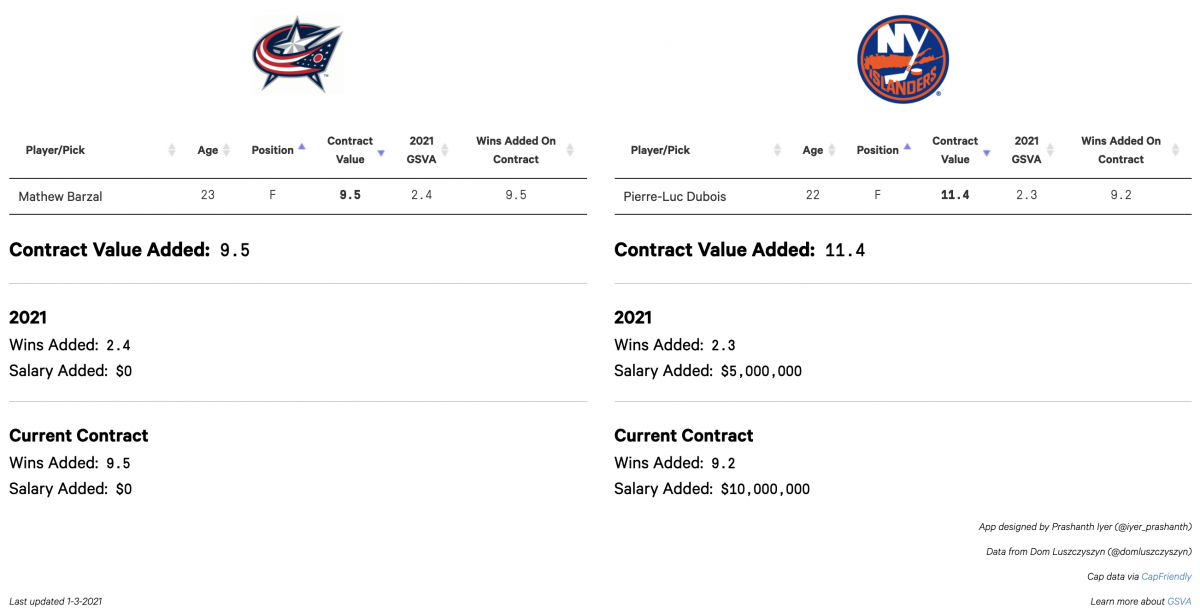 Verdict: Close, but the Islanders get more help than Columbus. Even if you factor in Barzal's projected next contract (per Evolving Hockey) his contract value bumps up just 9.6 (and he better come with a contract).
The Package Deals
Dubois for William Nylander (F-Toronto) and Nick Robertson (F-Toronto) – 1OB Staff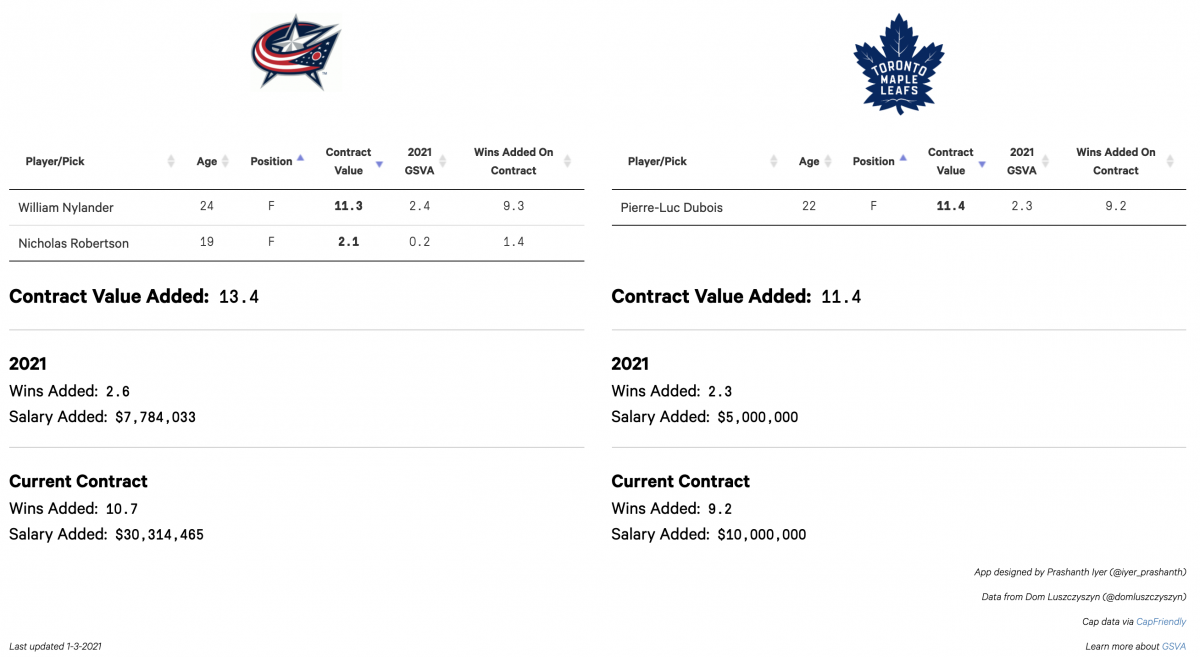 Verdict: Evvvveerrrybody likes to go after Nylander, and yeah, it's probably unrealistic. But if you get this kind of deal? Accept. Particularly if you had already done some deck clearing cap-wise like the Blue Jackets have.
The Boston Bruins
Shawn Ferris mentioned Dubois being the kind of asset Boston would like so we asked for what he thought the price might be:
Option 1: Jake DeBrusk (F), Charlie Coyle (C), Urho Vaakanainen (D) and a 2nd.
Ferris' take: DeBrusk is only a year older than Dubois and is a decent second line left wing. DeBrusk doesn't come with a lot of term, but Coyle does and is a legit second line center who can play powerplay and penalty kill and would likely replace Dubois. Both add goal scoring. Urho is a 21 year-old left-handed Finnish defenseman who could be a decent puck mover but may not process the game at an elite level. Ferris added a second round pick to "make it fair."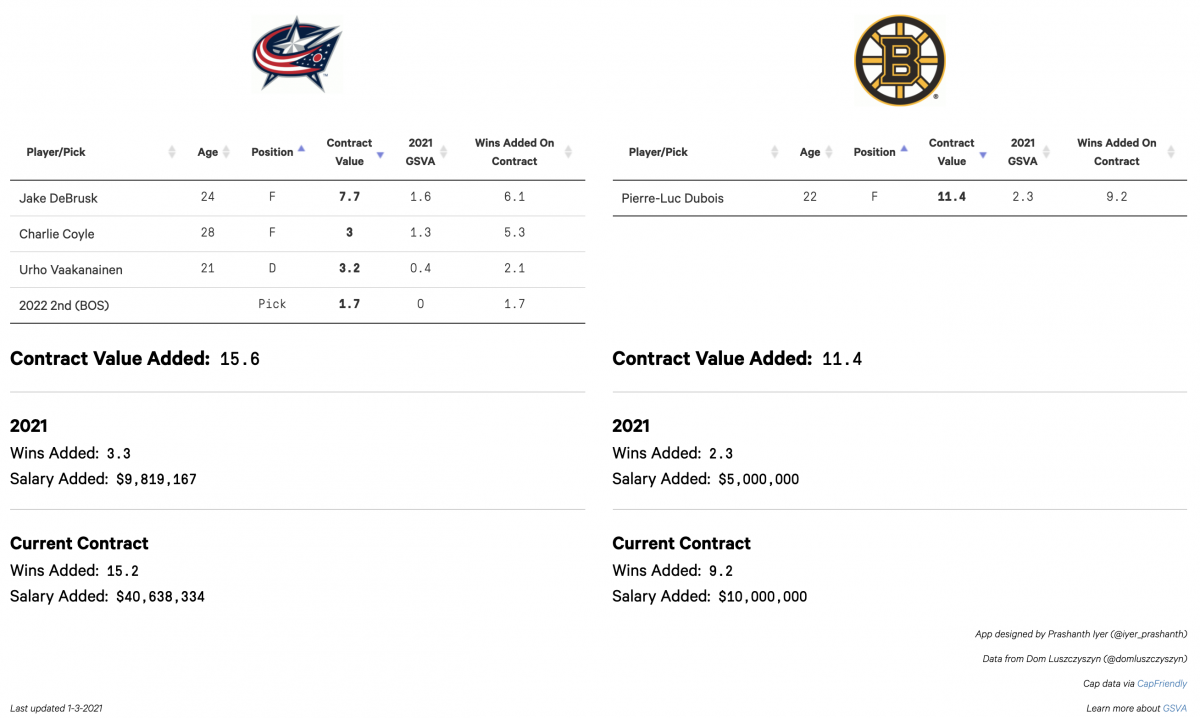 Verdict: Straight value wise? Take the deal. A center as well? TAKE THE DEAL.
if you say Columbus may not need defense….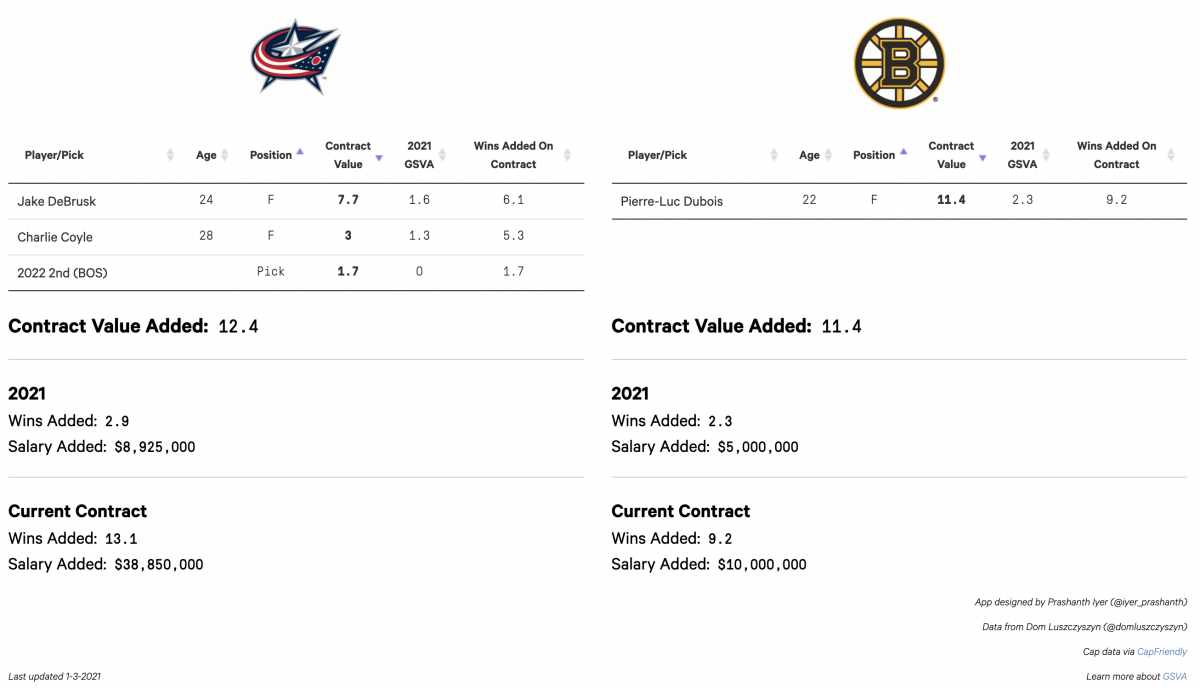 Verdict: Take the deal. Maybe a lower round pick for sweetener, too?
Option 2: Jack Studnicka (C ), a First Round Pick plus…
If we assume DeBrusk and Coyle are untouchable, this is another option. People have high hopes for Studnicka but Boston could hedge their bets and get a guaranteed good player now. This move would likely expose a good player for the Bruins in the expansion draft, so the team takes on added risk. This might be too little, so perhaps Ondrej Kase or Craig Smith are included, as well.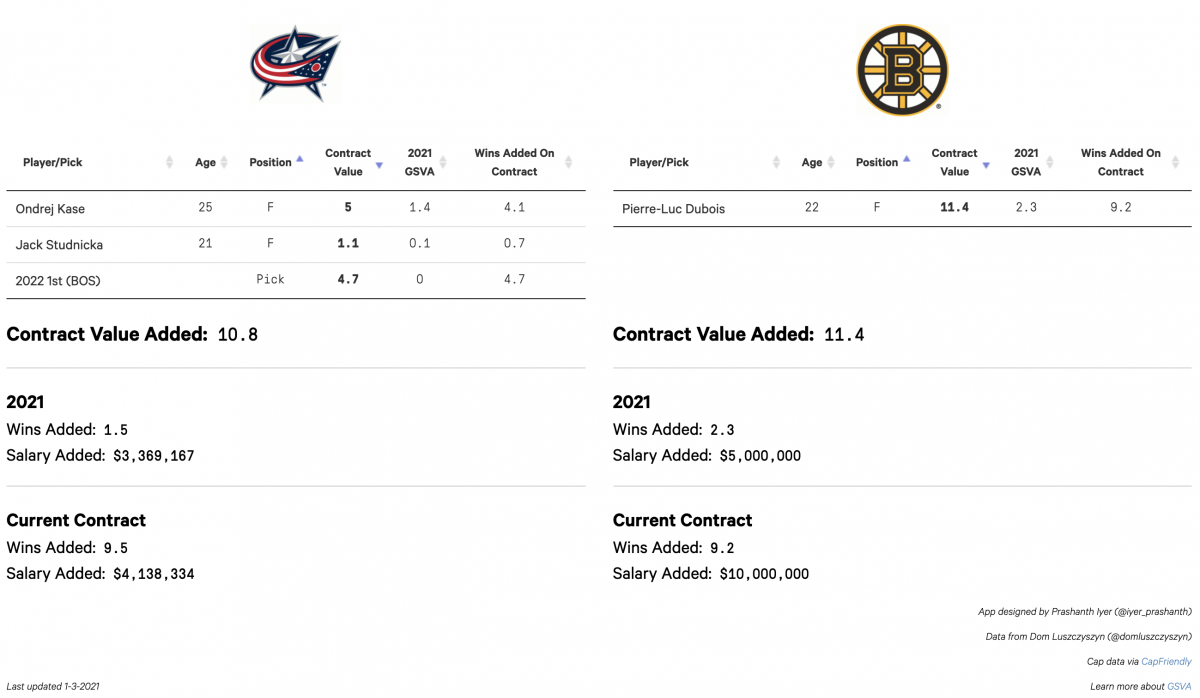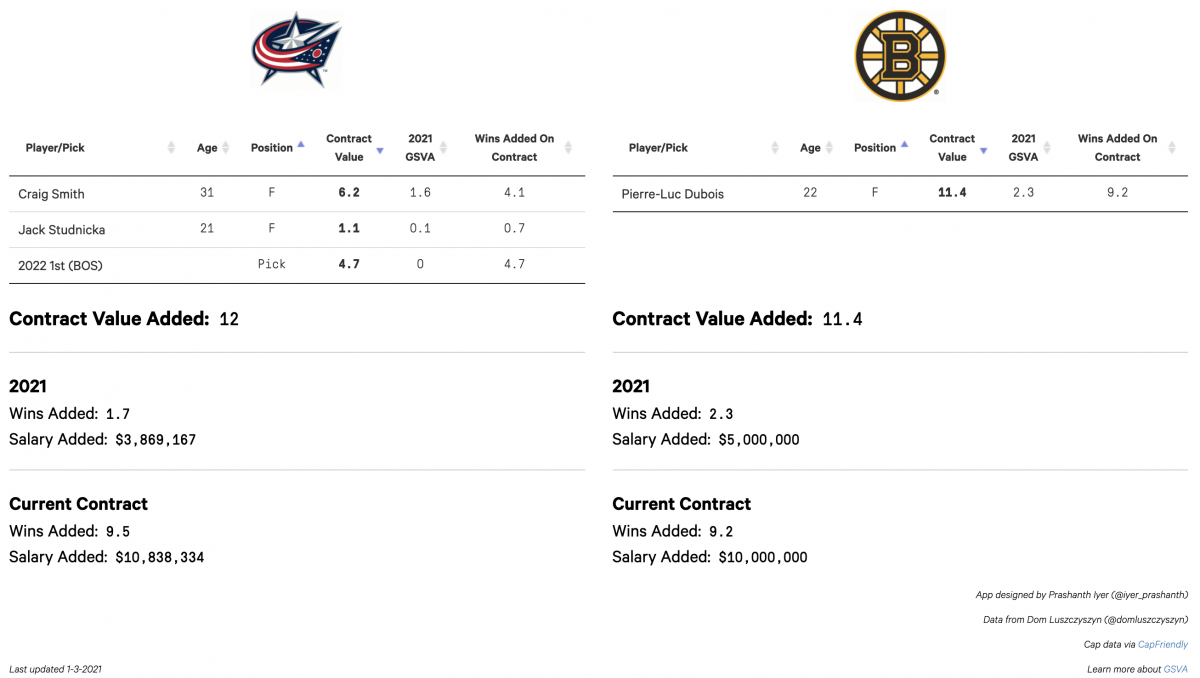 Verdict: These are close but may not be locks. Kase is a nice option, but Smith probably doesn't get it done due to age, and with the idea that Dubois may be undervalued due to his short contract, Columbus is at a disadvantage. Move along even with that shiny first round pick in front of your eyes.
j'aime la maison
Dubois is from Quebec and there just happens to be an NHL team there (that is one of the most historic in the NHL). So, what might that organization do to bring a prized son home? We reached out to Laura Saba for her suggestions.
First, she shot down the 1OB proposal of Montreal for Nick Suzuki and a prospect (B+ to A-): "I absolutely do not think the Habs would part with Nick Suzuki, Cole Caufield, or Jesperi Kotkaniemi, or even Alexander Romanov," Saba said. "Those players are now in the highest tier."
But, she knows you have to give to get.
Option 1:  Phillip Danault (F), Kaiden Guhle (D)
Saba's take: Guhle is a promising prospect, and Columbus would LOVE Danault, as long as he comes with some assurance that the player would re-sign or with a sign and trade.Verdict: We're not far off, and this assumes Columbus wants defensive depth, but again, Dubois might be worth MORE….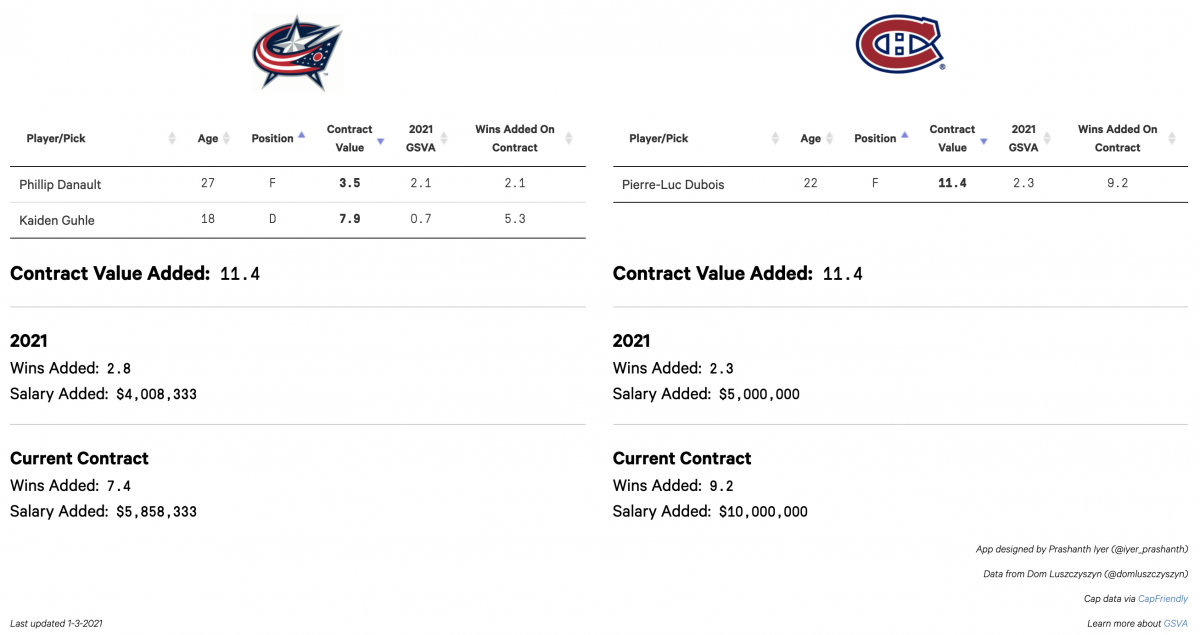 Option 2 - Saba: They would need to throw in someone like Ryan Poehling (F) maybe?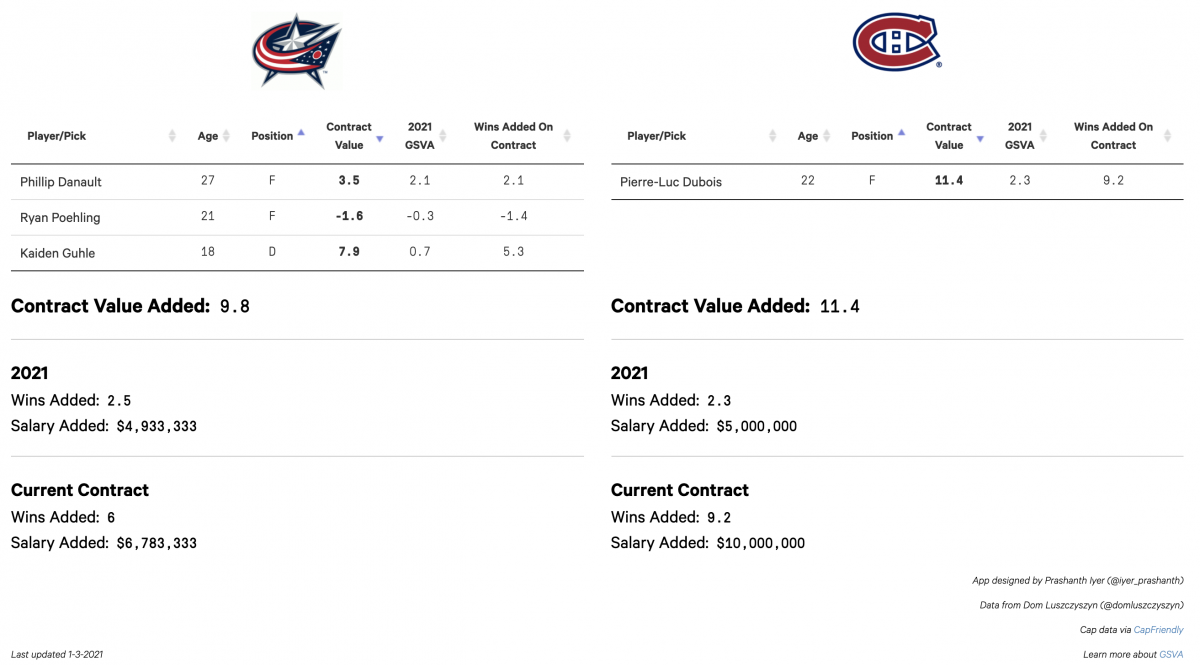 Verdict: There's negative value here, so we keep going.
Option 3 - Saba: I'm thinking another promising prospect, or maybe a pick so I won't have to choose one player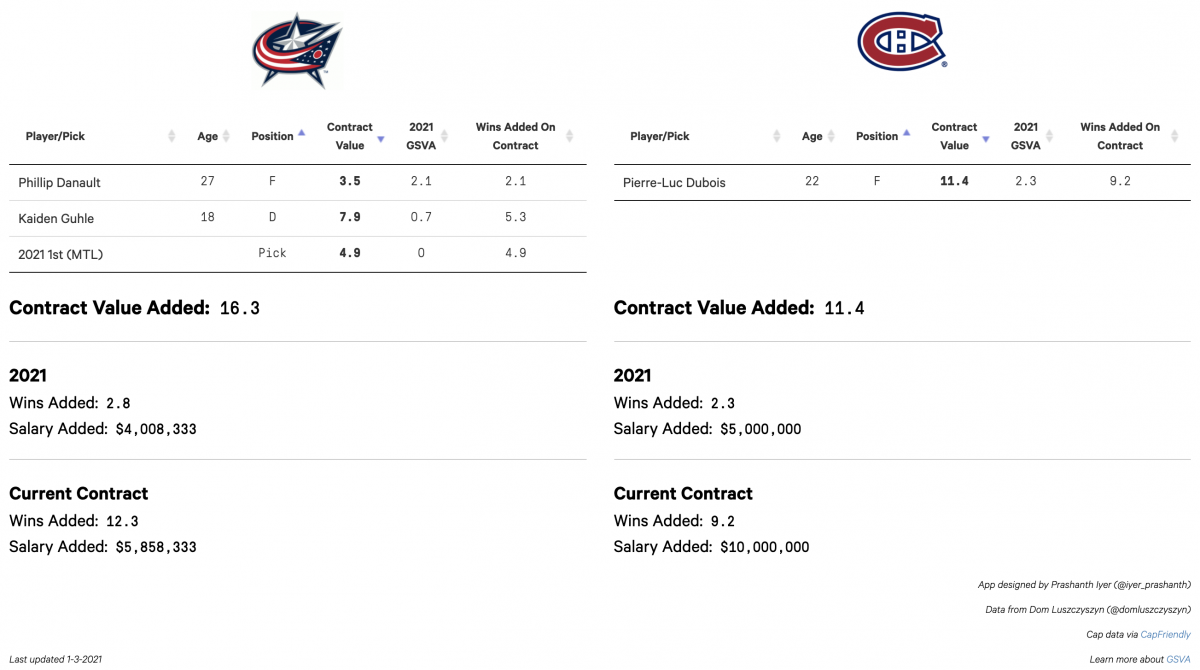 Verdict: Now we're talking.
Overall: Again, these proposals aren't meant to suggest directions the Blue Jackets will follow  – if they move Pierre-Luc Dubois at all; after all, do we think Jarmo Kekalainen would keep Dubois in the East if he can help it? But what we can see more clearly now is the kind of value the player should command on the market.
Sound off on Twitter or in the comments if there are more trades you want to see.