Cam Atkinson deservedly has received a lot of attention for his penalty killing – specifically his ability to generate offense.
This season alone, he leads the NHL in shorthanded goals (4), his career total of 16 is a franchise record in Columbus, and in the nine seasons Atkinson has been an NHL regular, only Brad Marchand has more shorthanded goals (22).
"One of Cam's biggest attributes as a penalty killer is his quickness, not only with his feet but he has anticipation skills," head coach John Tortorella said. "He anticipates plays and (that) gives him opportunities."
Heres Atkinsonjust another #PowerKill for him https://t.co/S0xtwcSgoW pic.twitter.com/B9xzVqmuHz

— Alison (@AlisonL) March 18, 2021
But this is about more than just Atkinson. It's about Tortorella's overall penalty-killing philosophy and why the Blue Jackets have had one of the best "Power Kills" in the league for a few years now. Atkinson has long been recognized as one of the best forwards on the Columbus roster, a status that contributes to Tortorella using him when the team is down a player.
Tortorella believes the more a top forward can stay involved in a game – at any state of play – the easier it is for him to keep going at his own individual game.
"I like using top players killing penalties if they're able to do it," Tortorella said. "I don't know if the top forwards in the league kill penalties; it may be more than you think about, but it's a huge part of (Atkinson's) game for us."
So, is Tortorella right? Are top forwards seeing increased usage on penalty kill? Furthermore, could this be part of why we are seeing increased offense on penalty kills across the league (as first identified by Meghan Hall in 2019) thus creating the new Power Kill approach?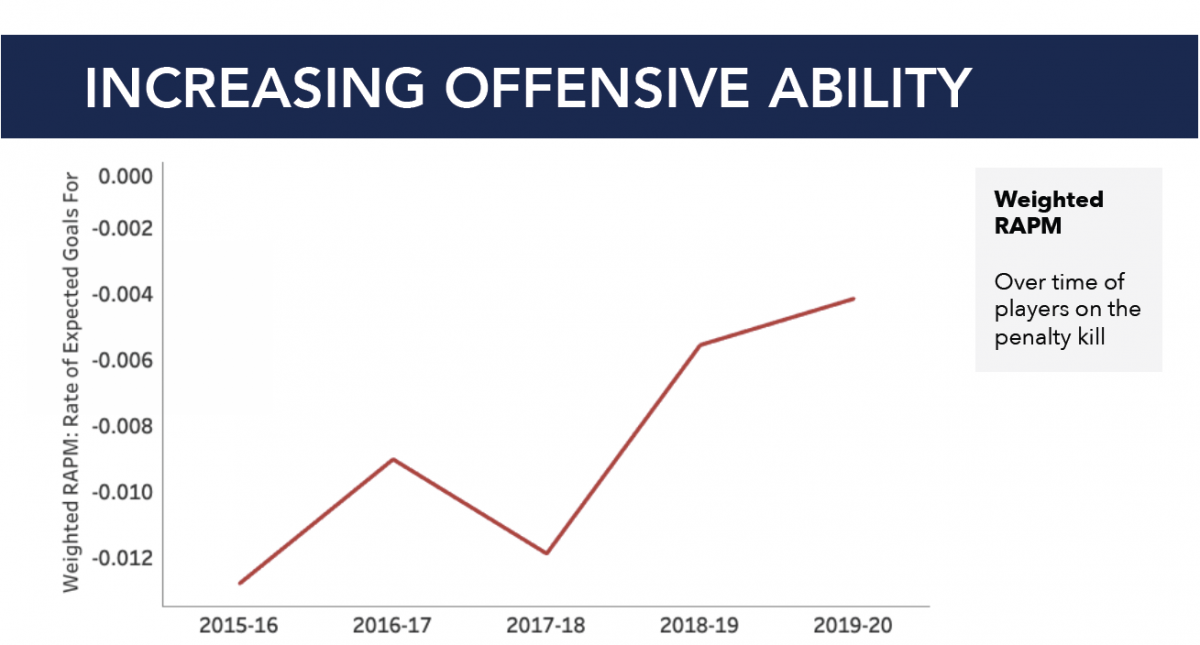 Visual from Meghan Hall presentation "Anatomy of a Power Kill," Blue Jackets Hockey Analytics Conference, 2020
Let's take a look.
The answer to this question is something Hall was already exploring in 2020. During her talk on Power Kills at the 2020 Blue Jackets Hockey Analytics Conference (SLIDES, VIDEO). Hall took a quick look at which forwards were getting the most time playing shorthanded: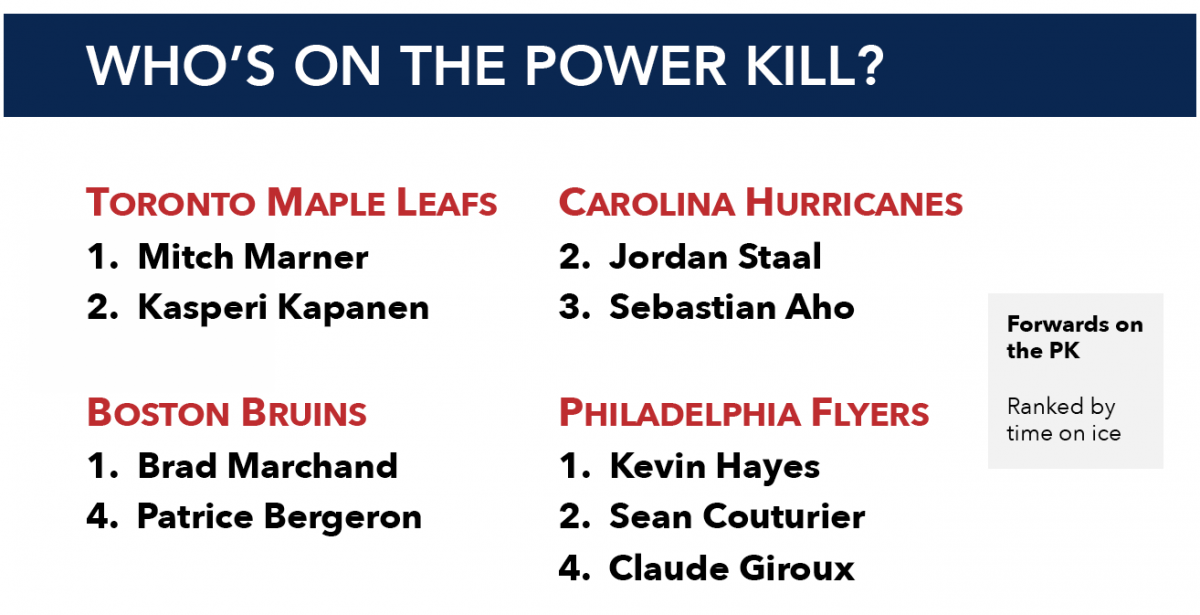 Visual from Meghan Hall presentation "Anatomy of a Power Kill," Blue Jackets Hockey Analytics Conference, 2020
Just a cursory review of these names tells us that this is a departure from deploying "defensive forwards" on the penalty kill.
But how widespread is this approach?
Using data from Evolving-Hockey.com (as of Mar. 22, 2021) and replicating Hall's question from last year's talk, I first asked the question of a team's top six forwards (minimum 250:00 TOI) who contribute the most offensively (as measured by weighted RAPM rate of expected goals for), how much time do they get on the penalty kill (as measured by percent of overall time a team spent shorthanded)?
Here's how teams ranked (note: as we assume a penalty kill unit includes two forwards, a team's total maximum usage could be 200%).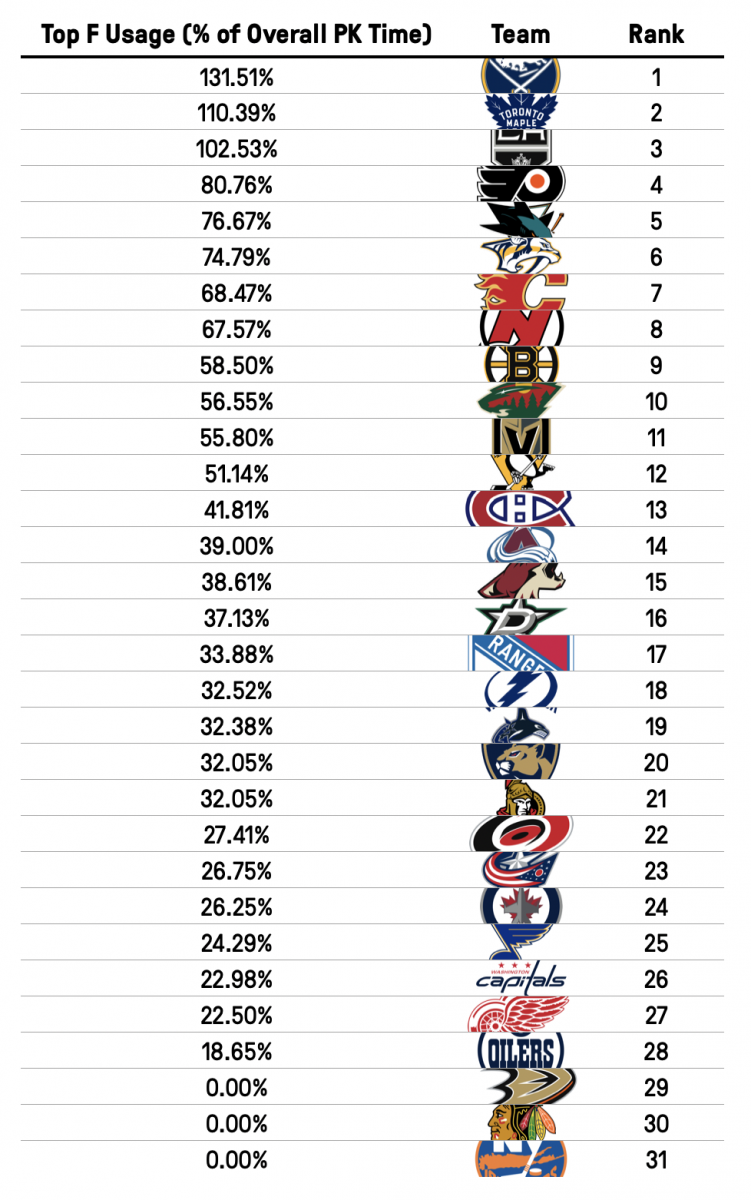 Data from Evolving-Hockey, viz by Shayna Goldman
This is interesting. Of note, the Blue Jackets are hampered here by their overall offensive struggles this season, but as Hall found last year, look at teams like Toronto and Boston ranking in the top 10, showing once again that teams with elite forward talent are, in fact, using them on the penalty kill.
But does this yield anything?
Here are how all 31 teams ranked in terms of producing unblocked shot attempts (Fenwick for per 60) when playing a man down – the most frequently-used measure of a Power Kill.

Data from Evolving-Hockey, viz by Shayna Goldman
So that brings us to the money question: If a team is using its best (or most offensively capable) forwards on a penalty kill, are they getting offensive results?
The chart below shows how teams rank in terms of generating offense (left to right reads worst to best) along with top forward usage (top to bottom reads best to worst).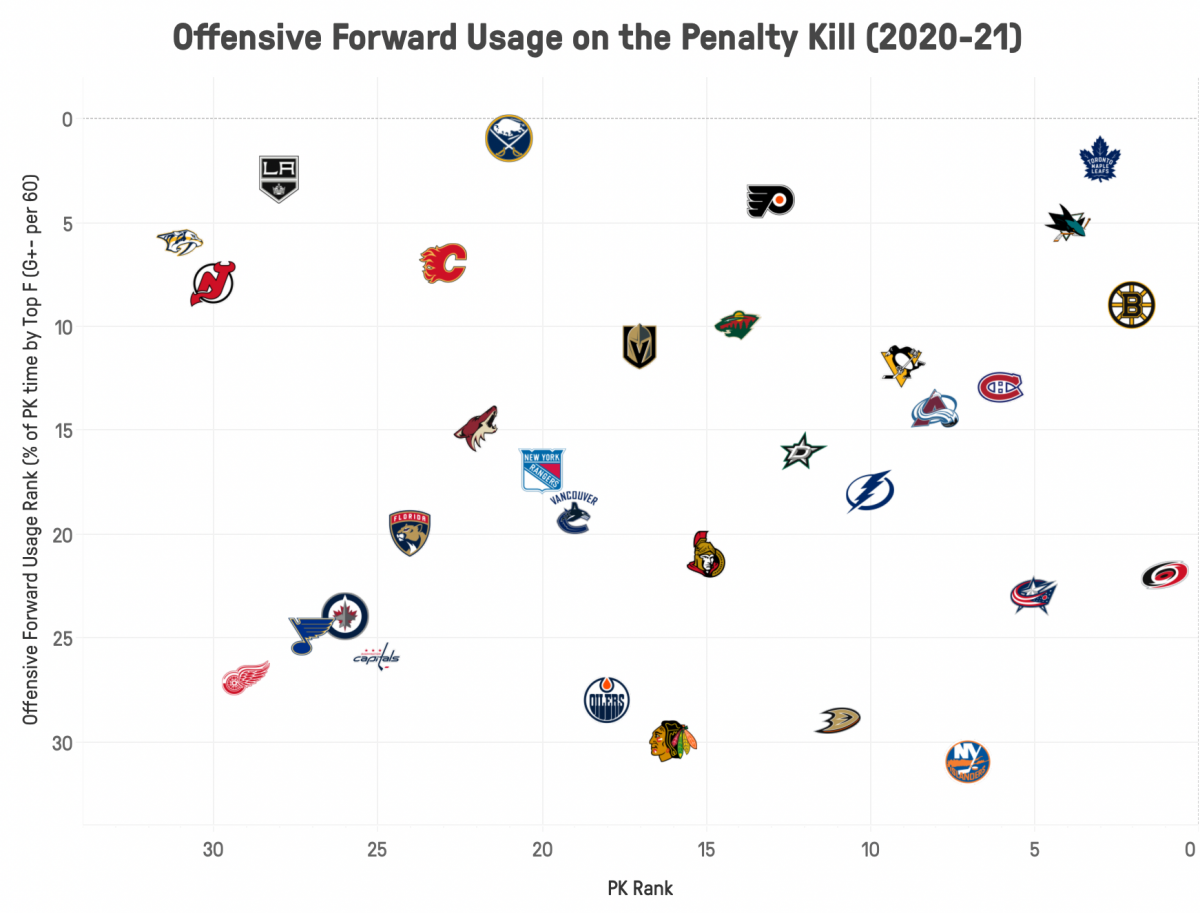 Data from Evolving-Hockey, viz by Shayna Goldman
While this was not the subject of great statistical rigor, we do see that teams like Toronto and Boston are seeing the benefits of playing their top forwards, and if you're definitely not playing your best forwards, well, your penalty kill may not be offensively potent (looking at you Detroit, St. Louis, Winnipeg). And poor Buffalo just can't seem to get anything right this year.
There's no clear trend halfway through this season, but some teams are getting what they "deserve."
Let's be clear: there's a lot that this quick analysis does NOT address. A team like Edmonton for example, is most likely not going to play Connor McDavid on the penalty kill. Additionally, a team's overall systems could greatly affect how a team performs on special teams regardless of who is playing in them. Further to that point, an opponent's power play structure (Hall's work notes the rise in a four forward power play) is not considered here. We also didn't look at year to year trends – which could provide even greater insight.
So there is still work to do. But for now, it's worth watching which teams are employing a strategy like Tortorella in terms of rolling out top forwards to play in a more aggressive penalty killing unit. Three of the top ten teams in short-handed offense are also in the top ten in top forward deployment, and while the RAPM model hasn't looked favorably on Atkinson (or fellow top four penalty killers Nick Foligno and Boone Jenner) this season, there's no question that Tortorella's approach is yielding offensive dividends in Columbus.
All data via Evolving-Hockey.com