When the Columbus Blue Jackets acquired Patrik Laine from the Winnipeg Jets, the expectation was the 22-year old sniper would - at least partially - fix their scoring woes.
That hasn't happened, and the Blue Jackets have fewer than 20 games remaining in the regular season before what is (likely) their first playoff miss in five years. We've already discussed how this team should be a seller at or before the trade deadline, and how this is likely John Tortorella's swan song with the organization. 
But when the postmortem on this season is written, there will be a sizable chapter about how Laine was handled. To be clear, Laine isn't bigger than the organization, but he does symbolize the Blue Jackets' perceived "star problem". From his benching(s!) to his upcoming contract status, there's a lot at play.  
---
In his most recent blog post, former Toronto Maple Leafs staffer Jack Han wrote about the 'Player Development Matrix'.
In contrasting how "smart" and "dumb" teams handle players, he wrote:
Dumb teams:

Fixate on weaknesses at the expense of leveraging strengths
Spend valuable time & energy attempting to influence low-frequency, low-value skills
Double down on poor process by accusing the player of being uncooperative
Strip down the player's unique identity, then sell him/her at a discount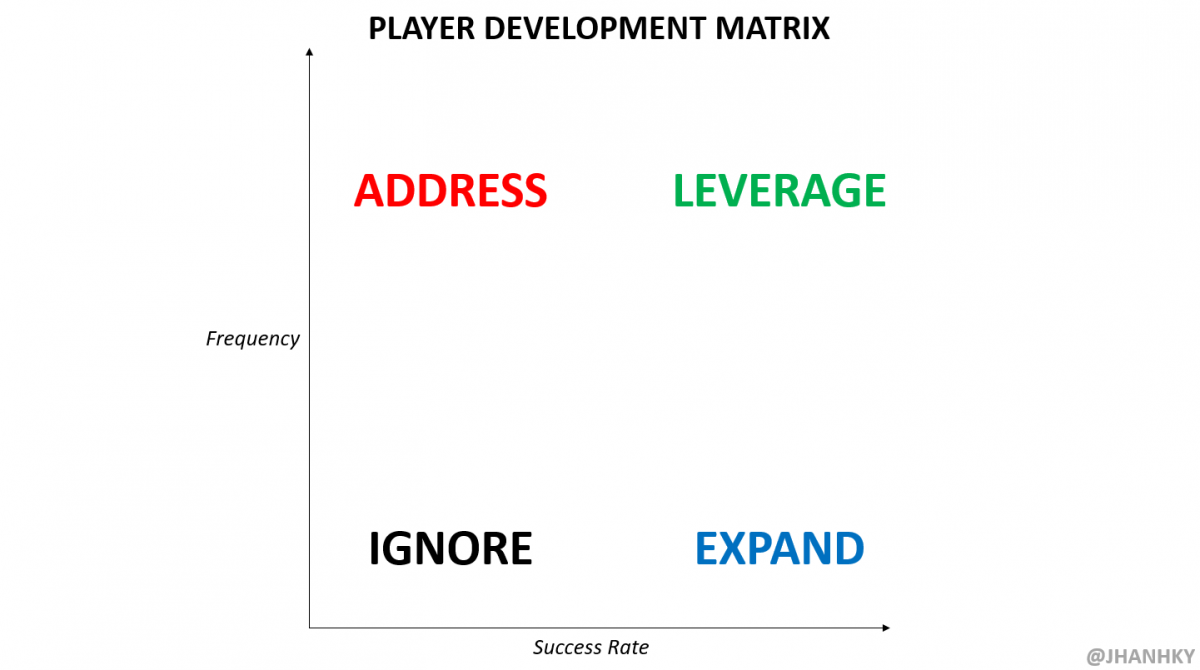 As Han suggests, Laine (and the Blue Jackets) should leverage a player's high-success, high-frequency plays. For Laine, that is his shot. Through 306 regular-season games with the Jets, Laine averaged 5.7 shot attempts per game, including a career-high 6.1 in 2019-20. His low-water mark, unsurprisingly, came as an 18-year old rookie, where he averaged just 4.9 shots per game. Over the course of his time in Winnipeg, the Jets rightfully leveraged Laine's best attribute, to the tune of 140 goals in 306 games (0.76 goals/game).
Through 27 games with the Blue Jackets, his shot attempts/game (3.6) and goals/game (0.26) are way down. 
Laine Total Shot Attempts & Goals Per Game

| Season | Team | GP | TSA | TSA/G | G | G/G |
| --- | --- | --- | --- | --- | --- | --- |
| 2016-17 | WPG | 73 | 360 | 4.9 | 36 | 0.49 |
| 2017-18 | WPG | 82 | 466 | 5.7 | 44 | 0.54 |
| 2018-19 | WPG | 82 | 470 | 5.7 | 30 | 0.37 |
| 2019-20 | WPG | 68 | 416 | 6.1 | 28 | 0.41 |
| 2020-21 | WPG | 1 | 6 | 6.0 | 2 | 2.00 |
| 2020-21 | CBJ | 27 | 98 | 3.6 | 7 | 0.26 |
I came up with three easy-to-identify potential causes for this steep decline. First, coming to a new team doesn't necessarily yield instant results. As mentioned, Laine's previous lowest shot attempts/season came when he was a rookie and in a new environment. Coming to a new organization, in a compressed schedule (with even fewer practices than a normal season) couldn't have been easy. 
Causes number two and three are perhaps less forgiving to the Blue Jackets as a franchise. Number two is the notion that Tortorella wants to transform Laine into a power forward. While it's the coach's job to give a player new tools in the toolkit, Han's first bullet point (fixate on weaknesses at the expense of leveraging strengths) is theoretically at odds with that premise.
Kekalainen pushed back on that, telling The Athletic's Aaron Portzline that "based on my conversations with (Laine), he understands exactly what's asked of him and nobody's trying to make him into a grinder. Being a power forward certainly doesn't mean that. It just means you use your size to an advantage to stay on pucks. You'll create more if you have the puck more."
I understand what Kekalainen is saying here. But shouldn't the organization be just as interested (if not more interested?) in leveraging Laine's key strengths? Ah, right. The third issue at hand here is that the Blue Jackets aren't able to leverage Laine's strengths because Laine's strengths are somewhat incumbent upon a teammate setting him up. The Blue Jackets don't appear to have that playmaker on the roster, whereas the Jets did (and do). While the lack of playmaking is evident at 5v5, it's even more pronounced on the power play, where opposing teams shade so intensely to Laine that he is more or less neutralized. 
Some argue that a player that can't consistently create his own scoring chance (to say nothing of his so-so defensive impacts) should not command top dollar in his next contract. That is to say, some Blue Jackets fans don't think that Laine re-signing in Columbus is a necessity, as his (estimated) $10M+ AAV contract overvalues a player that is so one-dimensional. I hear that argument but would push back on it. Laine is one of the very few people on the planet who can score an easy goal. Put simply, Laine is a Ferrari being fueled by 87 octane gasoline. At the risk of comparing Laine to Alex Ovechkin, the greatest goal scorer in the history of the sport, I think the below Twitter thread sums it up nicely. 
Why would you trade for Patrik Laine if you want to make him into something that is not Patrik Laine?

— Adam Gretz (@AGretz) March 30, 2021
Just randomly thought about the years where the Capitals tried to turn Alex Ovechkin into a 200-foot player and he went from scoring 55 goals to scoring 30 goals for two years. Imagine he if misses Gretzky by 20 goals or something.

— Adam Gretz (@AGretz) March 30, 2021
When asked about what is being asked of him, Laine was blunt in his retort, saying "I've never really been a guy who's playing in the corners or behind the net too much. I'm usually the high guy looking for openings where I can maybe receive the puck and try to shoot it. That's what I'm good at." 
That may sound arrogant, but he's right. By attempting to leverage his best asset, he is maximizing his impact on the ice.
As the Blue Jackets - by way of coaching or composition - are unable to allow him to realize his potential, therein lies the problem.