It's been a while since the Blue Jackets were sellers at the trade deadline.
For the past four seasons, this has been an organization that wanted to add talent for a playoff push. When a team is bringing in players at the trade deadline, it's often easier to define what was or wasn't added to a team's overall talent pool, but when a team is just collecting draft picks – as the Jackets did this week – it's often harder to quantify.
But thanks to the work of Dom Luszczyszyn and his GSVA stat, and the development of the NHL Trade Machine by Prashanth Iyer, we can try to more accurately measure how a trade affected a team value-wise.
Before we start, it's important to understand the context of how the Trade Machine works: it's not about winning or losing trades, it's about assigning value to each move and evaluating if that value makes sense given where a team is at on their development timeline. [You can read more detail about the Trade Machine in this Twitter thread from Iyer].
Let's dig in.
TRADE #1 - Riley Nash to Toronto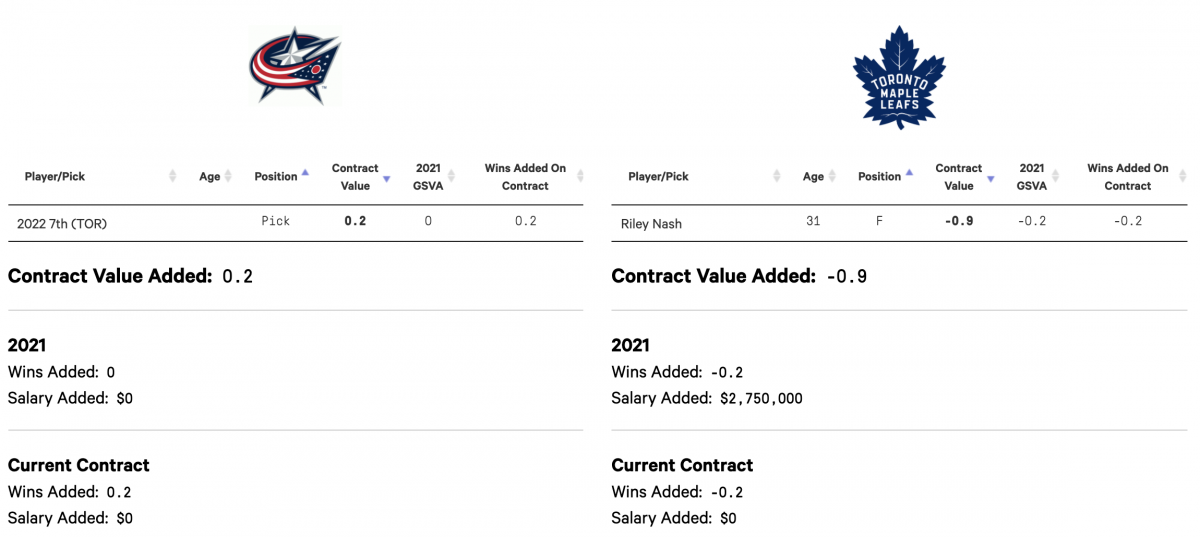 This trade brought Columbus its first "new" pick of the deadline and added 0.2 GSVA to the organization and freed up cap space. The pick is conditional, but it's worth noting that even if the pick moves up to the sixth round, the value added will stay the same.
TRADE #2: David Savard to Tampa Bay
The description really undersells the complexity of what happened here. Savard ended up in Tampa after a series of three moves that involved the Red Wings as a middleman to help alleviate money incurred by the Lightning and also sweeten the return for Columbus. Here's a step-by-step look at how this went down.
Part 1 - Savard to Detroit, Columbus holds salary and also gets Brian Lashoff

Part 2: Savard to Tampa Bay, a pick to Detroit (which also holds some of Savard's salary)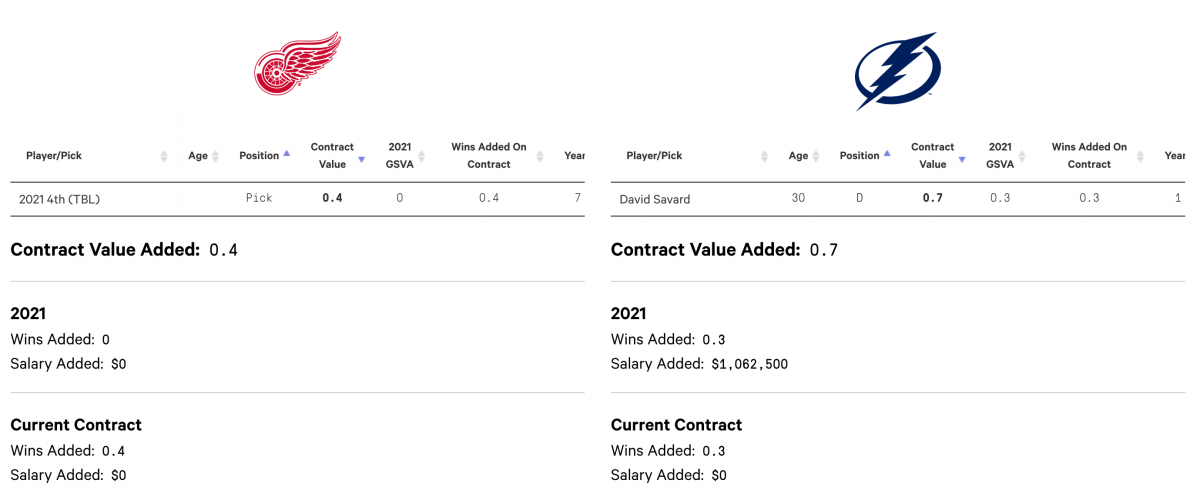 Part 3: Lashoff to Tampa Bay, two draft picks to Columbus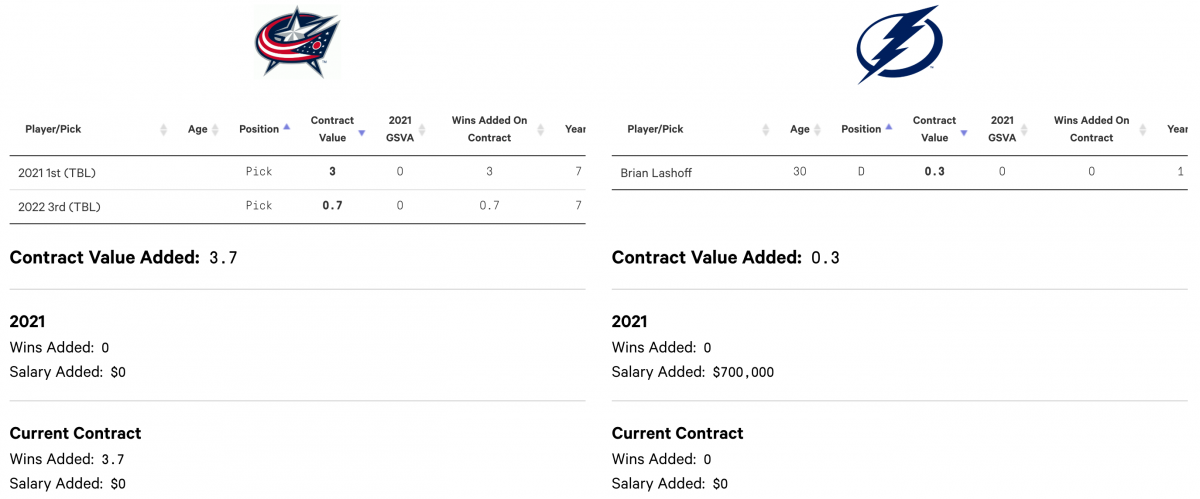 Here's where big value starts to come in. With two players moved, Columbus effectively added the value of almost four additional wins in a season–and that's not chump change. While Tampa Bay is surely not going to be sending over a top 10 pick in the 2021 NHL Draft, any first-round pick is going to be worth something of note.
TRADE #3: Foligno to Toronto
This was another multi-step move from Jarmo Kekalainen that brought another first round pick. Here's how the moves shook out.
Step 1: Foligno to San Jose, Noesen to Columbus. Columbus retains half of Foligno's cap hit

Step 2: Foligno to Toronto, San Jose gets a draft pick

Step 3: Noesen to Toronto, two draft picks to Columbus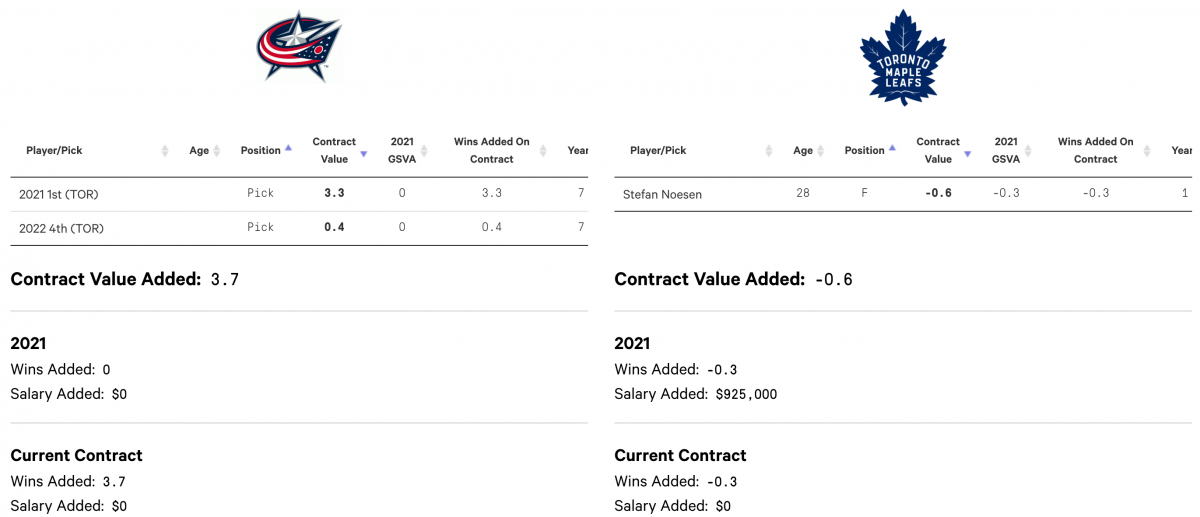 Again, we see the value of a first round draft pick, albeit another projected late one. Almost four more wins as a result. 
NOW WHAT? Context Matters
We started off by pointing out that "value" of any move is in part determined by the plan an organization has for itself moving forward. And this is where things get interesting.
Kekalainen said in his post-deadline comments that the Blue Jackets are "reloading" – a very intentional (and seemingly different) description than "rebuilding." So, while we know these 2021 moves brought in a projected 7.8 wins, the next question is "when?"
If Kekalainen uses these picks to select future players, as he most certainly could, that value trickles in over the next few years. BUT! What if these picks, bundled with other picks or current rostered Blue Jackets, become part of a trade for a "right now" player? You could potentially go big game hunting.
If you review Luszczyszyn's weekly player value predictions, you see that a player like Connor McDavid rates out at 5.16 GSVA. Auston Matthews is at 4.82, Adam Fox is the top defenseman at 3.88. If Kekalainen wants to go after a top forward – or, dare to dream, find a top center who is available – he's got the currency to give it a go.
Now GSVA certainly isn't simple enough to do straight math, and top players are top players for a reason (and it's highly unlikely that any of the examples I mentioned are available at any price on the free market), but if we look at the actual value of what Kekalainen added at the deadline, it's definitely as significant as our perception tells us it is. 
Now it's up to the Blue Jackets front office to make the most of it following the lines of what their reload strategy tells them to do.