The Athletic's Aaron Portzline wrote this week on the tough decision that the Blue Jackets have to make regarding trading one of their goaltenders. Portzline gathered a "who's who" of NHL goaltending knowledge to offer insights on which goaltender might be better–and why.
The article is a recommended read, for sure, but we decided to dig a little deeper than the traditional goaltending stats to explore some of the questions Portzline raised.
---
Who is the better goaltender on the ice?
Of course, it's a challenge to remove intangibles from any player evaluation, but if we seek to understand which goaltender gives Columbus a better chance to win, we can look at some different stats. Goals-against average and save percentage are nice and all, but they don't consider the types of shots coming his or her way, nor do they always account for a mismatch in workload.
For a deeper analysis, we'll look at numbers that explore how a goaltender fared considering the quality of shots faced. We can do this using Evolving-Hockey's dFSV%. This is a fancy acronym for "the difference between the what a goaltender was expected to save based on the shot quality against and what he actually saved."
This number does account for the quality (or lack thereof) of defense playing in front of the net. The higher this number, the better.
Here's Korpisalo: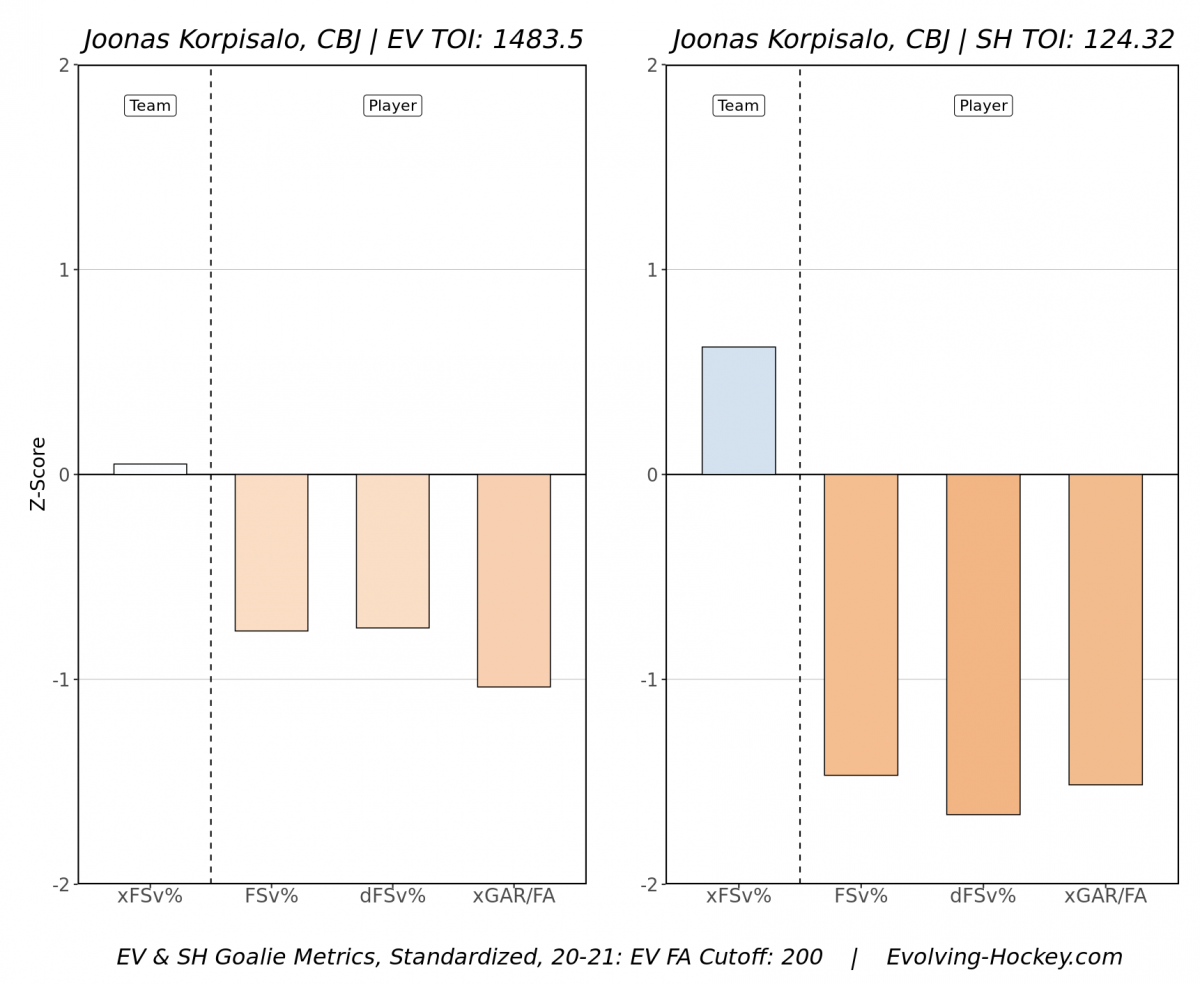 And here's Merzlikins: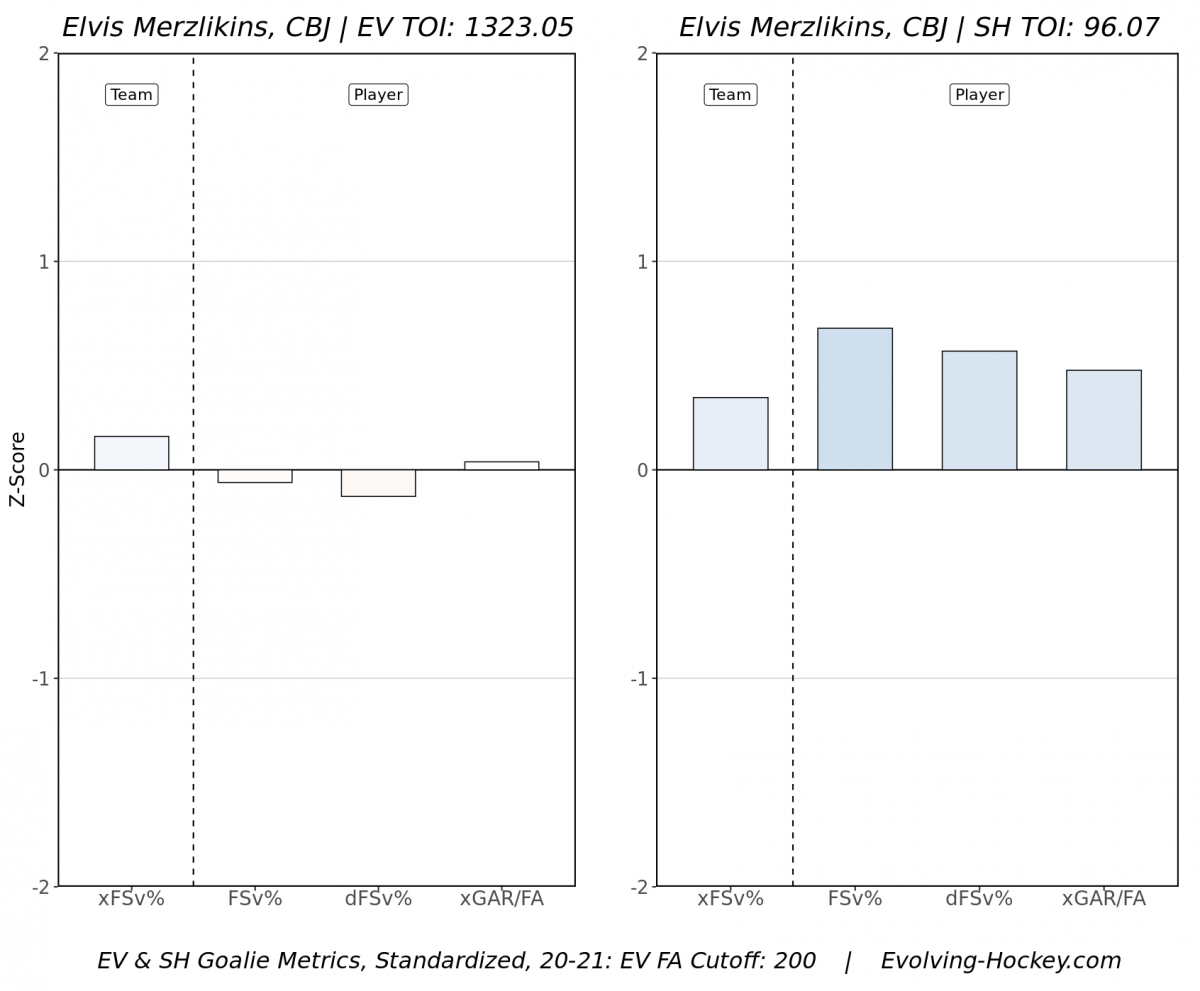 What we see is that while both goaltenders were expected to perform slightly above expectations, only Merzlikins did. And interestingly, he was even stronger in shorthanded situations.
Which goaltender is a true No. 1?
We know how the numbers stack up for each goaltender individually – but, where do they rank among all current NHL netminders? If we look at goaltenders who faced 750 unblocked shots or more this past season, Merzlikins' dFSV% of minus-.22 ranks 19th in the league, right behind Boston's Tuukka Rask.
It also translates, according to Evolving Hockey, to 7.94 goals against prevented as compared to if an average goaltender was in net.
Korpisalo, on the other hand, didn't have as strong of a campaign. His dFSV% for the year was minus-1.49, placing him 41st among 45 goaltenders who made our cut, equaling 12.87 goals against more than expected.
Of course, every player can have a not-great season, and neither Blue Jackets goalie is happy with their 2020-21 campaign. Both Korpisalo and Merzlikins have admitted as such– as has former head coach John Tortorella– and let's be real, it's not like they'd be the only names on an "underperforming" list this year, but Merzlikins' numbers were the only ones putting him closer to the top of the goaltending ranks.
Who is the better goaltender…off the ice?
We certainly don't pretend to know the ins and outs of any NHL player – how they are in the room, what makes them possibly great (or not great!). But part of what makes this a tough decision for many (an analyst or fan) is that these are, from what we can tell, two enjoyable individuals.
The only difference is the pizazz that Merzlikins brings, which shakes up the paradigm of what an NHL player – let alone a goaltender – is "supposed to be."
This is certainly a divisive topic, but surely we can all agree that as long as a player can play, and they're not a total jerk, it's probably OK to not worry as much about the personality right now (especially if that player is marketable).
Overall
Ultimately, even understanding what each goaltender is doesn't necessarily answer the question of which one should be traded. Numbers are never the end-all, be-all when it comes to evaluation. So many variables come into play: which goaltender nets the better return, what is the long term strategy in net for the Blue Jackets, that pesky "cultural fit," and so on. But it's important to understand what each player is as we undergo any analysis of which goaltender might stay and which might go this offseason.
All data via Evolving-Hockey.com