The Columbus Blue Jackets have the opportunity to send two players to the All-Star Game!
The NHL All-Star Game rosters were unveiled last week and Jake Voracek represents one of the eight 'Last Men In' nominees from the Metropolitan Division.
The All-Star Game will take place in Las Vegas on Saturday, Feb. 5, and the Blue Jackets already have one representative heading west for the festivities in Zach Werenski.
Can No. 93 make it two?
If voted in, it would be Voracek's second career All-Star appearance after going to the 2015 game in Columbus. 
Currently, in COVID protocol, Voracek has 25 points (one goal, 24 assists) on the season. His 25 points are second on the Blue Jackets and he leads the club in assists, including 10 on the power play.
You can find the entire list of candidates alongside Voracek here including those making up the Metropolitan Division nominees:
Carolina Hurricanes: Forward Andrei Svechnikov — 12 goals, 16 assists, 28 points 
New Jersey Devils: Forward Jesper Bratt —10 goals, 22 assists, 32 points
New York Islanders: Forward Mathew Barzal — 7 goals, 15 assists, 22 points
New York Rangers: Forward Mika Zibanejad — 14 goals, 21 assists, 35 points
Philadelphia Flyers: Forward Cam Atkinson —15 goals, 13 assists, 28 points 
Pittsburgh Penguins: Forward Jake Guentzel — 20 goals, 18 assists, 38 points
Washington Capitals: Foward Evgeny Kuznetsov — 12 goals, 26 assists, 38 points
If you would have told me last year that #CBJ fans would be trying to get Jake Voracek into the All-Star Game and Flyers fans would be trying to get Cam Atkinson into the All-Star Game, I would have thought you were drunk.

But here we are.

— Mark Scheig (@markscheig) January 14, 2022
Interestingly enough, both Cam Atkinson and Voracek are equal in their points per game totals (0.74), as both players have been really good for their respective teams in what looks like a win-win trade for both.
Originally, the thought of this article was to make the case for why Voracek should be an All-Star. That's still the mission, however, further acknowledging Voracek likely faces an uphill climb considering his counterparts and their All-Star worthy production.
Though he might not have some of the offensive firepower such as the number of goals that others have, Voracek has undoubtedly been among the Blue Jackets' most important players.
Thanks to Shayna Goldman and Dom Luszczyszyn's player cards over at The Athletic, the below visual representation depicts exactly what Voracek has meant for his recent team, the Philadelphia Flyers, in prior seasons and his projection for the Blue Jackets coming into this season.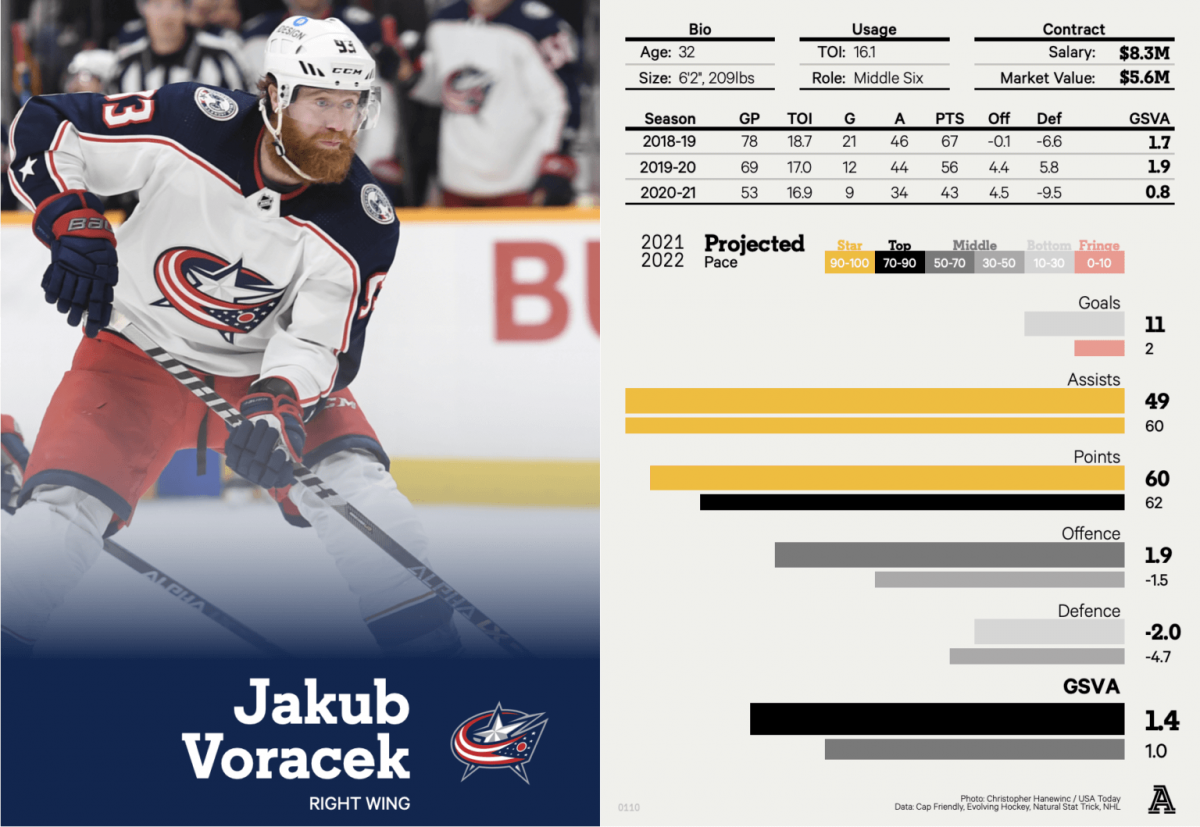 Per Evolving-Hockey, Voracek is tops among Blue Jackets regulars this season in goals above replacement, wins above replacement, and standing points above replacement. That's really good and showcases his value to the team based on their formulas for calculations.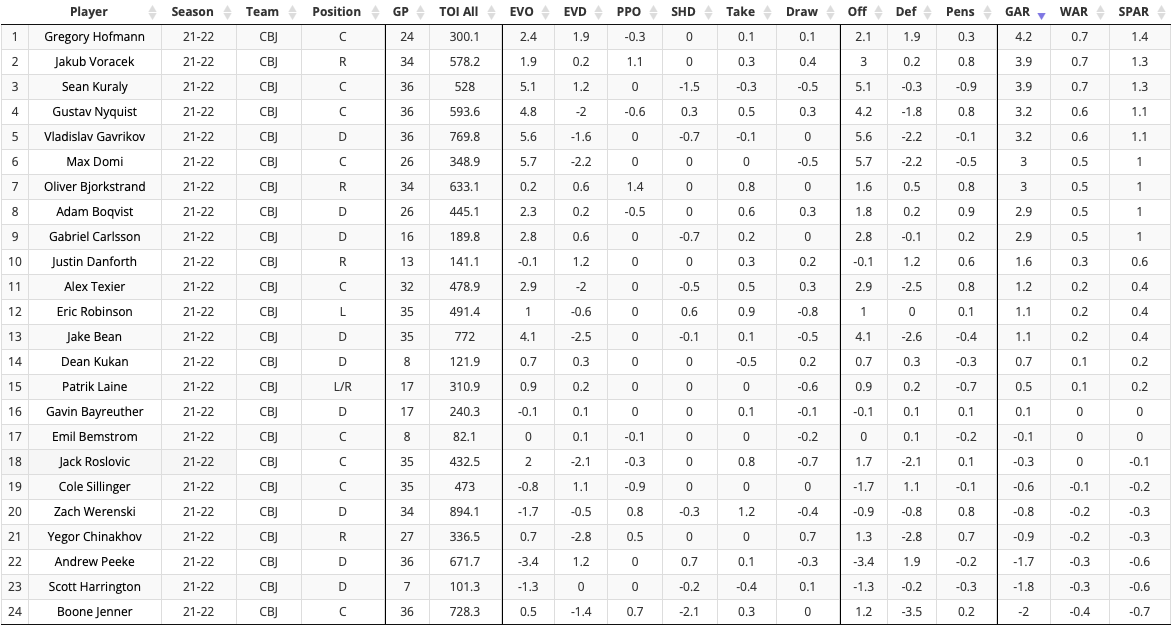 While Voracek's production has routinely shown up on the scoresheet many times this season, particularly on the assist side of things in helping create offense both 5v5 and on the power play, he's making an impact for the Blue Jackets, even if that ultimately means his teammates have to be aware of his on-ice presence.
When covering Oliver Bjorkstrand's recent two-goal game against the New Jersey Devils, he said this about Voracek:
"With him, I feel like you just have to find the open space and he'll give you the puck so I gotta try to find that space a little more often, he'll definitely pass it."
Among all situations, Voracek is fourth in the NHL with 20 primary assists and one off the pace for most primary assists on the power play with eight. 
Is Voracek going to make the trip to Vegas for the All-Star Game?
Honestly, probably not. But hey, it's an exhibition game and it would be cool to see him out there with his buddy Werenski.
Get Mr. 1000 to Vegas. Vote Jake Voracek for the All-Star Game today. #CBJ https://t.co/HiuQFs9Amn

— Jeff Svoboda (@JacketsInsider) January 16, 2022
Voting ended Monday, Jan. 17 at 11:59 pm ET so we hope Blue Jackets fans stuffed the box for Voracek.