Are we on record watch in 2022-23?
The Columbus Blue Jackets are getting closer to breaking in their 22nd year of NHL existence on the ice. Through the years, we've seen many milestones reached and records made to fall.
Who is on tap to make history this season?
Jake Voracek nearly made history when he finished the 2021-22 season with 56 assists, falling just three away from Artemi Panarin's record of 59 in 2018-19. Could Voracek do it again?
Voracek was also one of a few NHLers of all time to have as many as 40 assists with under 10 goals.
#CBJ F Jake Voracek finished the season with 6-56-62, the Blue Jackets leading point-getter.

The last NHL forward to have more than 60 points, but fewer than 10 goals?

None other than Wayne Gretzky, who had 9-53-62 for the New York Rangers in 1998-99, his final season.

— Aaron Portzline (@Aportzline) April 30, 2022
The newest Blue Jacket superstar, Johnny Gaudreau, can certainly make history as one of the league's best offensive talents.
Last season, Gaudreau finished tied for second in the league with 115 points and was third with 75 assists, both career highs. He led the league with 90 even-strength points, 56 even-strength assists, 72 5v5 points, and 46 5v5 helpers, all career markers. Even a 100-point campaign from Gaudreau in a Blue Jackets sweater would place him No. 1 in franchise history for any individual season. Panarin's 87 points in 2018-19 are the bar to beat.
Goals? Gaudreau can do that, too, as he scored a career-high 40 last season.
So can Patrik Laine, who looks to put it all together in a full season—already his third coming up—as a Blue Jacket. The current goals mark is Cam Atkinson's 41 in 2018-19 and Rick Nash also registered 41 tallies in 2003-04.
Can Laine push 50?
Spittin Chiclets podcast co-host Paul Bissonnette thinks that's a possibility. Nash (2008-09) and Atkinson (2018-19) also share the record for most even-strength goals in a season with 29.
Perhaps last season was a precursor in the number of goals scored if the Blue Jackets can score more than 258 to set a new franchise mark.
The Blue Jackets have been trying to find the right ingredients to spark a dormant power play over the last several seasons. Still, when you have an offense made up of the likes of Voracek, Laine, Kent Johnson, Cole Sillinger, and Zach Werenski, and you boost that mix with the addition of Gaudreau, there's certainly a feeling of optimism.
The record for most goals on the man advantage in any one season is Nash's 19 in 2003-04.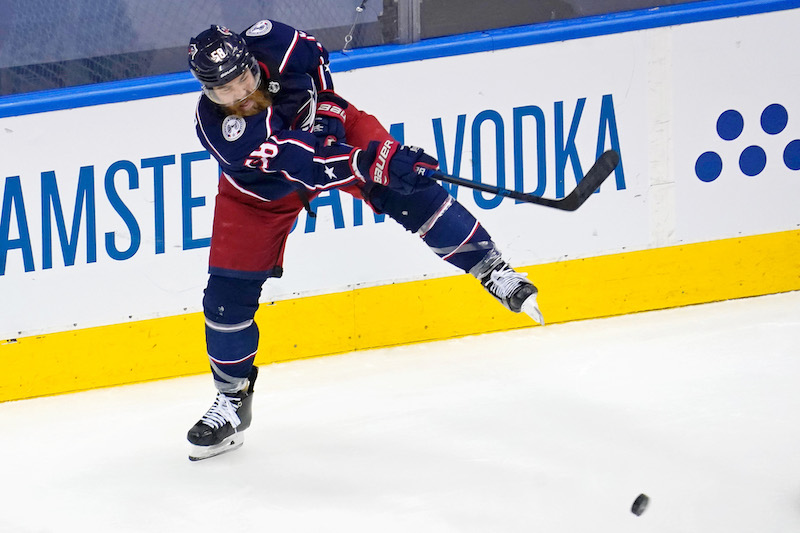 Plus-minus isn't as noteworthy of a statistic these days, but David Savard is the single-season leader with +33 in 2016-17, while Panarin holds the overall franchise mark (+37). Gaudreau's career-high +64 led the league last season.
Nash—continuing the theme–leads the franchise with five short-handed goals in 2008-09. Gus Nyquist took over for Atkinson as the team's short-handed wonder last season scoring four. Nyquist only had one in his career—in his first season with the Blue Jackets in 2019-20—prior to last season.
There is a four-way tie for most hat tricks in a Blue Jackets uniform in one season. That number is two and it's shared by Tyler Wright (2002-03), Nash (2008-09), Jeff Carter (2011-12)—impressive considering he only played in 39 games for the Blue Jackets—and Atkinson (2018-19).
Panarin led the team with 1.10 points per game in 2018-19 and Laine (1.00) was a point-per-game player for the first time in his career last season. Gaudreau was fifth in the league (1.40).
Coby Maeir looked at the potential milestones to watch out for, such as Laine's possible goal mark and looking ahead at his second full 82-game season in Columbus. Werenski has been one of the better offensive defensemen in the league. Since entering the league in 2016-17, Werenski ranks seventh in goals (76), 22nd in assists (161), and 17th in points (237) all among NHL defensemen.
Already, Werenski is the franchise leader for goals among defensemen (76) and can move into fourth place in games played among the position. He's currently at 403 games played and Jack Johnson is No. 4 at 445.
With 161 career assists, he can pass Seth Jones who is the current franchise leader with 173. Werenski can pad his points lead which currently sits at 237. He can also pad his franchise-leading marks in even-strength goals (57), even-strength points (157), power-play goals (18), and power-play points (78). Werenski needs one game-winning goal to break the franchise lead tie with Jones (12).
As Maeir mentioned, Johnson is still a rookie for the 2022-23 season. He can challenge for the Calder and with that, can look to become the first Blue Jackets rookie to set scoring marks in goals, assists, and points. Pierre-Luc Dubois scored 20 goals in 2017-18 and had 48 points, while Werenski holds the rookie assists number with 36 in 2016-17.
Voracek is 53 games away from his 1,100th. If Boone Jenner plays all 82 games, he'll be just three behind Nash (674) for most games played in franchise history. Jenner is currently fifth with 589 and will pass Nick Foligno (599) for third pretty soon.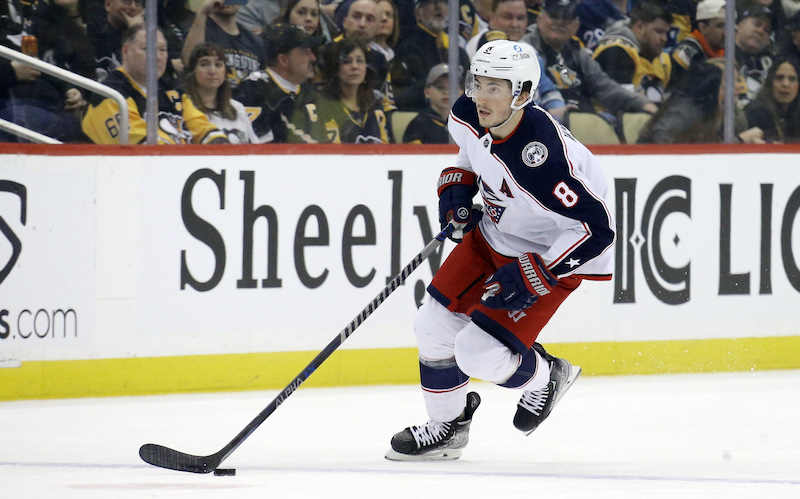 Voracek needs just 22 assists for 600 in his career and is 49 away from 200 in a Blue Jackets sweater, as well as 200 career points in Columbus. He's five points from tying Alexander Wennberg (201) for 11th all-time. Jenner is 16 points from 300 and is 50 points away from tying Foligno with 334 for third all-time. Currently, David Vyborny is fourth with 317. Jenner is 17 even-strength points from tying Foligno (247) for third in franchise history.
Werenski had his most assists in a season with 37 last year. If he gets 39 this year, he'll have 200 for his career. He's 13 points from tying R.J. Umberger (250) for sixth on the franchise list. In their respective careers, Vladislav Gavrikov is 37 points away from career No. 100, Jack Roslovic is 14 assists from the century mark, and Gaudreau is one assist from No. 400 in his career. Gaudreau enters the season third on the active ironman streak (294) behind Phil Kessel (982) and Brent Burns (679).
Joonas Korpisalo is 18 games from 200 and 36 starts from 200 in his career. He needs 24 wins to reach 100 career victories. Korpisalo is currently fourth on the franchise list for wins with 76 and trails Marc Denis (84) for third, with Steve Mason (96) second, and Sergei Bobrovsky (213) first. Erik Gudbranson is 59 games from 700, three goals from 30, three assists from 70, and six points from 100 for his career. Sean Kuraly is 53 games from No. 400 and two points from 100 in his career. Nyquist is 48 games from No. 700.