Ten games.
There are just ten games between now and the March 3rd trade deadline for the Columbus Blue Jackets. 
It's no secret that the Blue Jackets will look to be sellers at the deadline, and players ranging from Vladislav Gavrikov to Joonas Korpisalo could be on the move. 
But where might things stand in the standings when March 3rd rolls around? 
In short, expect the Blue Jackets to still be near or at the bottom of the league. As of Monday, Columbus and the Chicago Blackhawks are tied for a league-worst 34 points. The standings below, from NHL.com, have the Blackhawks in the last spot — but it's the Blue Jackets who have played three more games and thus have a lower point percentage.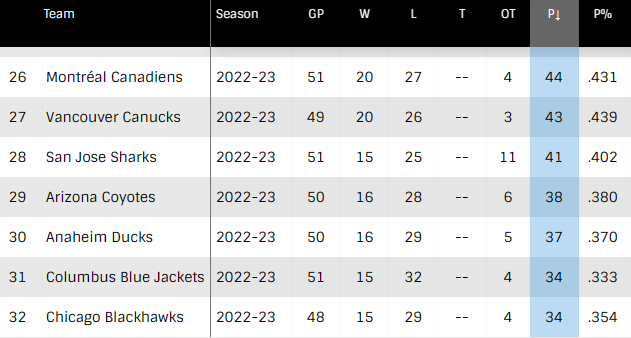 The February schedule does no favors for Columbus, either. Of the ten games on the schedule, eight of them are against teams that would currently be in the Stanley Cup Playoffs — and seven of those eight aren't even wildcard teams. Two against the Toronto Maple Leafs and the Minnesota Wild, and one each against New Jersey, Dallas, and Winnipeg.
The other three games? The Edmonton Oilers, who currently own the top wildcard spot in the Western Conference and have two of the five best players in the world. The Buffalo Sabres, who are a single point out of a wildcard spot in the Eastern Conference. And finally, the Arizona Coyotes — who beat the brakes off the Blue Jackets in an early-season loss for Columbus that was, in hindsight, the beginning of the end. And there's also this: six of those ten games come in miserable stretches of three games in four nights. 
For the Blackhawks, the schedule is a bit easier. Just five of their 12 games in February are against playoff teams: Vegas, Dallas, Winnipeg, and two against Toronto. Both the Ducks and the Coyotes are on the schedule twice.
Meanwhile, for Anaheim and Arizona, the two teams just above Chicago and Columbus in the standings, the schedule has its ups and downs. Anaheim has only three games in southern California and faces off against several top playoff teams, but for Arizona, the road is a bit easier — that includes the two against the Blackhawks, which can be seen as a win-win for Columbus fans. 
With just over two months left in the season, these games become well worth watching. There's a pretty good player available this summer for whoever is lucky enough to win the draft lottery, so keeping an eye on the standings isn't necessarily a bad idea. 
And whether or not one can find it in their fandom to be okay with the losses, there's one thing that even the most diehard Columbus fans can agree on:
Go Hawks. Go Yotes. Go Ducks.