First versus worst. The worst team in the league against a historically great team.
And it took 60:41 before the Boston Bruins emerged victorious, 2-1, over the Columbus Blue Jackets in overtime on Thursday at TD Garden in Boston.
David Pastrnak's team-leading 53rd goal sealed the game-winner at the 41-second mark in extra time. Pastrnak is on a three-game point streak (four goals, zero assists).
Tyler Bertuzzi also scored, while Pavel Zacha, Charlie McAvoy, Hampus Lindholm, and Tomas Nosek had assists.
McAvoy is on a three-game point streak (zero goals, four assists).
Jack Roslovic scored for the Blue Jackets and Liam Foudy had an assist.
Linus Ullmark made 25 saves to pick up his league-leading 37th victory while Michael Hutchinson had 29 stops.
Boston clinched the Presidents' Trophy for the fourth time in franchise history and with the victory, set a franchise high with their 58th win. The Bruins took the season series versus Columbus 3-0-0 with the Jackets picking up one point in the three games. 
---
Black And Blue Jackets
Stop us if you've heard this one.
The Blue Jackets are among the most injured hockey teams in the entire league and in all of their franchise history. The most man games lost to injury for Columbus is 508 dating back to the 2014-15 season, per Aaron Portzline of The Athletic.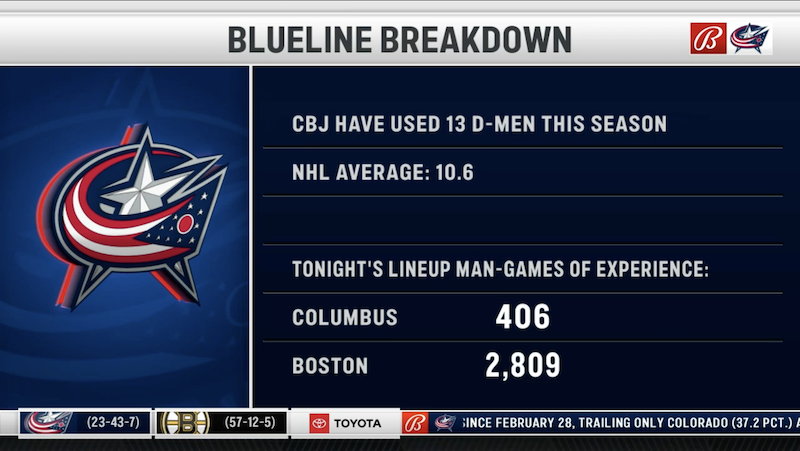 Hutchinson will start for the #CBJ tonight in Boston, per Larsen this morning. He took a hard shot from Fix-Wolansky off his right knee and was in some discomfort for a bit during the skate, but he appeared to be fine after shaking it off.

— Brian Hedger (@BrianHedger) March 30, 2023
Hutchinson did make the start and didn't seem any worse for wear after Thursday's practice and taking a shot off the knee.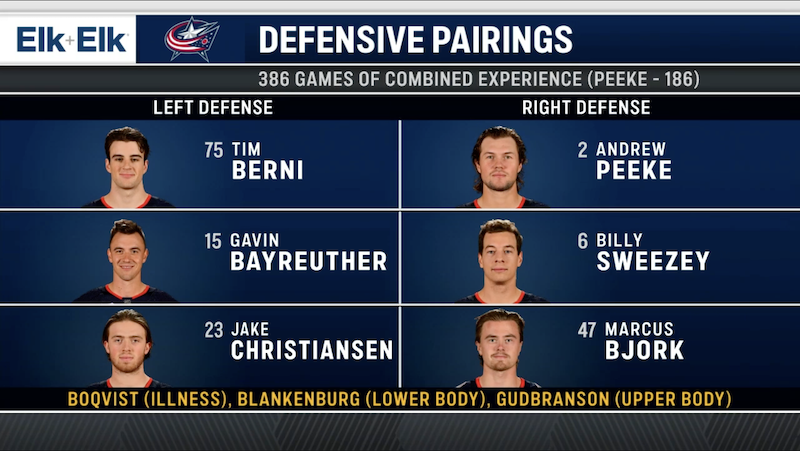 The Blue Jackets have utilized 13 different defensemen this season which is tied with the Washington Capitals and Arizona Coyotes for the fourth most.
Then there was the illness that made its way into the Blue Jackets dressing room, forcing Adam Boqvist out of the lineup and prompting the recall of Marcus Bjork. Jake Christiansen was considered a game-time decision but did make the start. He finished the game with two shots, one hit, and one takeaway in 17:52. Bjork had one shot and two hits in 17:53. 
Jake Christiansen is in for #CBJ tonight after missing morning skate with illness. Adam Boqvist is out with illness.

— Jeff Svoboda (@JacketsInsider) March 30, 2023
In the second period, Lane Pederson got into a fight with Trent Frederic but the tilt was short-lived after one punch knocked Pederson down and subsequently off to the dressing room to be evaluated.
#CBJ pic.twitter.com/FZTMsVhfsc

— 1st Ohio Battery (@1stOhioBattery) March 31, 2023
The fight came on the heels of a two-minute minor to Pederson after he caught Patrice Bergeron up high with a cross-check that left the Bruin bleeding from the right ear.
For the night, Pederson was +1 with one blocked shot, a game-high nine penalty minutes, and two hits in 7:58.
A third fight between Boone Jenner and Brandon Carlo in the third period set a season-high for fights in a game by Columbus.
#CBJ pic.twitter.com/3z32g4vVvw

— 1st Ohio Battery (@1stOhioBattery) March 31, 2023
According to Hockey Fights, that scrap earlier was Boone Jenner's first fight since March of 2017.

— Jeff Svoboda (@JacketsInsider) March 31, 2023
Jenner had three shots, seven penalty minutes, four hits, and two takeaways in 20:51.
Somewhat miraculously, considering the injuries on defense, the Blue Jackets limited the best team in the league to two goals. This breaks a string of allowing at least five goals in a game, which Columbus had done in each of the previous six games coming in. You'd have to go all the way back to Feb. 23 (2-0 loss to the Minnesota Wild) which is the last time the Blue Jackets kept an opponent to two goals. 
---
Boston Homecoming
Gavin Bayreuther and Billy Sweezey had special ties to tonight's contest.
Bayreuther is from Canaan, New Hampshire, and played in his fifth game against the Bruins in his career, and second in Boston. He quarterbacked the top power play for Columbus with Boqvist out of the lineup.
Sweezey, from Hanson, Massachusetts, made his third career start and played in his first career game back in his hometown. He went to nearby Yale University.
pic.twitter.com/eEYfQMmFVi #CBJ

— 1st Ohio Battery (@1stOhioBattery) March 31, 2023
Bayreuther finished with two shots, one blocked shot, and two hits in 19:05. Sweezey finished with one shot, a game-high five blocked shots, and three hits in 16:33.

---
Roslovic Point-Streaking
Roslovic's first-period goal at 8:08 gave the Blue Jackets a 1-0 lead.
Roslovic from Foudy to make it 1-0. #CBJ pic.twitter.com/PuXyJ8g3wd

— 1st Ohio Battery (@1stOhioBattery) March 30, 2023
He now has 10 goals on the year and with the tally tonight, Roslovic matched a season-best five-game point streak. He also recorded points in five straight (one goal, five assists) from Jan. 14 through Jan. 21, which was part of an overall stretch of six points in seven games with an assist against the Tampa Bay Lightning on Jan. 10.
Roslovic left the game in the third period after an awkward collision with the boards but did return. He finished the game with the goal, a +1, two shots, and one hit in 17:38.
---
April Fools' Day
The Blue Jackets are at home to face the Florida Panthers on Saturday, Apr. 1 at 7:00 pm ET from Nationwide Arena. The Blue Jackets are 1-1-0 against the Panthers this season. The Panthers beat the Montreal Canadiens, 5-3, on Thursday at Bell Centre.